6 Outstanding Recipes By Chef Shireen Anwar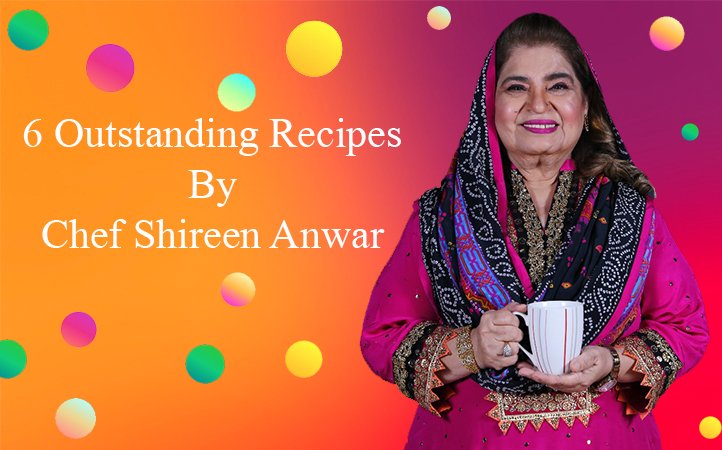 Aug 08, 2022 at 07:06 PM (GMT -04:00)
Certain people conquer a place in our hearts with just how beautiful they are on the inside as well as the outside.
These are the people who have a huge impact on our daily lives and how we operate in our day to day actions. They have the personalities that we look up to, we aspire to become and with each passing day, we thrive to become more like them.
Masala Tv has had the honor of having such a wonderful personality on board who impacts our lives and we couldn't be more grateful for existence. 
Chef Shireen Anwar, also known as Shireen Apa has had one such great personality and we are sure she has had a very positive impact on all her viewers as well.
Shireen Apa is a know-it-all kind of a person. Her experience in the field of cooking is commendable and there is no doubt that she is one of the best chefs our country has produced. 
Her work is exemplary and her determination defies all odds. Undoubtedly, she loves cooking, yet she thrives to create perfect tasting dishes every single day and it wouldn't be wrong if we say that her recipes taste incredible. 
Chef Shireen Anwar has created excellent tasting recipes for us and we have tried them out and loved them every single time.
Here are our favorite recipes created by Chef Shireen:
Shahjahani Chicken With Saffron Rice
Shahjahani chicken with saffron rice is a classic desi dish. The chicken is marinated till the core, its succulents, and tender. The rice has a delightful aroma that will add a reason for everyone to love this dish. 
Click on the image for recipe.
Prawn Salad Sandwiches
Shireen Anwar is a master of all, even when it comes to seafood. She knows exactly how to clean it up, cook it at the temperature that it'll be enjoyable and make a complete meal out of it. Prawn salad Sandwiches are not very common in Pakistan but doesn't the thought of this fabulous combination make you want to have them? 
Click on the image for recipe.
Smoked Seekh Kabab Biryani
Fusion foods are not a challenge for our spectacular chef. She knows precisely which combinations will turn out to be a hit. Just the idea of smoked seekh kabab with flavourful biryani rice is getting our mouth watery. Perhaps, you should give it a try as well to understand the true talent of Shireen Anwar. 
Click on the image for recipe.
Punjabi Butter Chicken
Punjabis love their food the tasteful way and with this amazing recipe of a Punjabi butter chicken, you can dwell into the richness of flavor as well. This is the replica of how butter chicken is served by butter chicken lovers and trust us, you wouldn't want to miss out on this one.
Click on the image for recipe.
Chocolate Milkshake 
Be it desi food, continental food, seafood, beverages or anything else, Shireen Anwar's recipes are the way to go. This Chocolate milkshake with satisfy your craving for the chilled cold chocolate-flavored milkshake. There is no better chocolate milkshake than this one. It's smooth, it's rich and everything that you have been looking for.
Click on the image for recipe.
Strawberry Cheese 
Shireen Anwar is a dessert expert as well. She makes one of the finest desserts in town and with her perfect recipes and tricks; these desserts always turn out to be flawless. This strawberry cheese dessert will give you one the best appetizing experience of your life. 
Click on the image for recipe.