Anda Murgh Cholay Recipe | Lazzat | Masala TV | Samina Jalil | Desi Food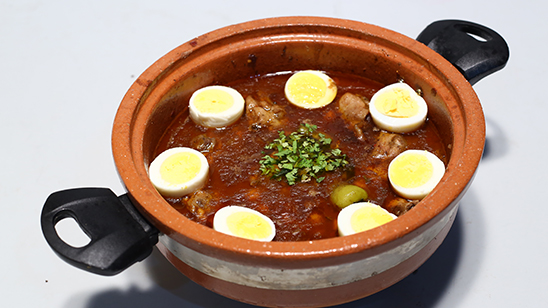 Mar 27, 2023 at 03:17 PM (GMT -04:00)

Check out the Anda Murgh Cholay Recipe in Urdu. Learn how to make best Anda Murgh Cholay Recipe , cooking at its finest by chef Samina Jalil at Masala TV show Lazzat. Check all the Pakistan Cooking recipes in Urdu of Masala TV. Also Check Anda Murgh Cholay Recipe , ingredients and complete Method.
Often times, Anda Murgh Cholay can make your meals taste so much more amazing. Anda Murgh Cholay is all you need to upgrade your basic weekday meals.
Watch this Masala TV video to learn how to make Anda Murgh Cholay, Masala Raita and Tikka handi biryani Recipes. This show of Lazzat with Chef Samina Jalil aired on 8 September 2021.
Ingredients:
Chicken ½ kg
Chopped onion 1
Ginger garlic paste 2tbsp
Green chilies ground 2tbsp
Black pepper 1tsp
Red pepper crushed 1tsp
Coriander powder 1tbsp
Salt as required
Turmeric ¼ tsp
Green chilies 4-5
Cloves ground ½ tsp
Star anise ground ½ tsp
Cinnamon ground ¼ tsp
Boil eggs ¾ cup
Clarified butter ¾ cup
Boiled chickpeas 2-1/2 cup
Method:
Melt the clarified butter and fry the onions.
Add ginger garlic paste, chopped green chilies, salt turmeric, coriander powder and red pepper mix and cook well until oil is oozing out.
Add chicken and add 1 cup water cook chicken until tender.
Add boiled chickpeas; add grounded cloves, grounded anise seed & green chilies.
Now add half cup water and simmer for 15 minutes and garnish with boiled eggs.
Ingredients:
Yogurt 1 cup
Red chili powder ¼ tsp
Black pepper powder ½ tsp
Cumin powder ½ tsp
Chopped onion 1
Chopped coriander, green chilies 2 tbsp
Chaat masala ½ tsp
Salt to taste
Black salt 2 pinches
Method:
Beat yogurt and mix all ingredients.
Ingredients:
Chicken boneless 600 gm
Tenderizer powder 1 tbsp
Ginger garlic paste 1 tbsp
Yogurt ½ cup
Salt to taste
Tikka masala 1 tbsp
Chili, turmeric as required
All spice powder ½ tbsp
Clarified butter 4 tbsp
Red chili powder 1 tbsp
Fried blended onion 2 tbsp
Coal 1
For the rice:
Sela rice ½ kg
Green chilies 2-3
Salt as per taste
Mixed whole spice 1 tbsp
For the garnish:
Fried onion 4 tbsp
Mint leaves 4 tbsp
Lemon juice 4 tbsp
Yogurt ½ cup
Yellow color ¼ tsp
Lemon slices as required
Hot clarified butter ½ cup
Method:
Marinate chicken with the above ingredients for about 2-3 hours. Then add it to the pan, cover and cook well. Now in rice add salt, green chili and mix whole spice. Boil well until it becomes tender. Then strain it. In the clay pot add ½ cup water and heat 2 tbsp clarified butter. Add half quantity of rice. Now add cooked chicken and add the garnish ingredients. Then in yogurt mix yellow color and add the remaining rice and hot clarified butter. Now mix little yellow color in the water and add in the rice. Cover and cook well. In the end serve hot.

Anda Murgh Cholay Recipe in Urdu and English
At Masala TV you can check complete Anda Murgh Cholay Recipe in Urdu and English. This is one of the best recipes by chef Samina Jalil at Masala TV show Lazzat. Check out the other best recipes of chefs Samina Jalil.
Top relevant recipes of Anda Murgh Cholay Recipe in Urdu