Angoori Zafrani Rasmalai Recipe | Masala Mornings | Shireen Anwar | Dessert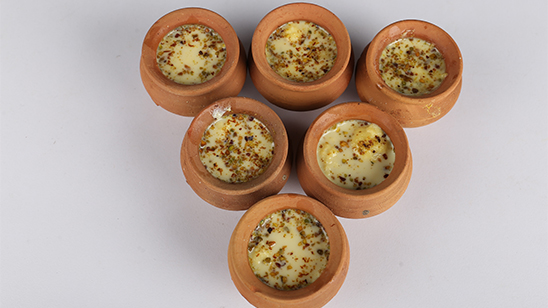 Nov 28, 2023 at 09:34 AM (GMT -05:00)

Check out the Angoori Zafrani Rasmalai Recipe in Urdu. Learn how to make best Angoori Zafrani Rasmalai Recipe , cooking at its finest by chef Shireen Anwar at Masala TV show Masala Mornings. Check all the Pakistan Cooking recipes in Urdu of Masala TV. Also Check Angoori Zafrani Rasmalai Recipe , ingredients and complete Method.
Angoori Zafrani Rasmalai is all we need this season to crave your sweet cravings. It has the softest Rasmalai texture that you'll fall in love with.
Watch this Masala TV video to learn how to make Angoori Zafrani Rasmalai , Gosht Kay Dahi Baday and Hyderabadi Green Biryani Recipes. This show of Masala Mornings with Shireen Anwar aired on 29 December 2020.
Ingredients:
Dry milk 2 cups
Baking powder 2 tsp slightly heaped
Plain flour 1 tsp leveled
Clarified butter melted 2 tbsp
Egg 2
Milk 2 liter
Sugar 2 cups
Green cardamom 8-10
Pistachio as required
Saffron ½ tsp
Method:
Boil 2 litre milk with 8-10 cardamom and 2 cups sugar till get dissolved, cook milk for 5-10 mins, make dough by mixing 2 cups dry milk, 2 tsp baking powder, 1 tsp plain flour, 2 tbsp melted ghee and 2 eggs, spread very well then make small balls, add these balls into milk which is prepared earlier and cook over high flame for 5 mins, then lower the flame and cook it for 10-15 mins, garnish with pistachio slices and serve chilled in a clay pot.
Ingredients:
Mince 250 gm
Bread crumbs 4 tbsp
Salt 1 tsp
Allspice 1 tsp
Chili powder 1 tsp
Ginger garlic paste 1 tsp
Turmeric ½ tsp
Coriander leaves chopped 3 tbsp
Mint chopped 2 tbsp
Whipped yogurt 1 kg
Sugar 3 tbsp
Salt ½ tsp
Chili powder ½ tsp
Cumin powder ½ tsp
Chat masala ½ tsp
Oil for frying
Method:
Mix mince and bread crumbs well, add ginger garlic paste, salt, chili powder, turmeric, allspice, coriander and mint leaves chopped, mix well, make into flat kebabs and shallow fry till golden brown. Beat yogurt till creamy, add in salt, sugar, arrange kebabs on a platter, pour yogurt over them garnish with chili powder, cumin powder, chat masala and coriander leaves.
Ingredients:
Tikka boti 1packet
Rice soaked and boiled 750 gm
Plums 15
Whole spices 1 tbsp
Coriander leaves ½ bunch
Mint leaves 25
Green chilies ground 30
Yogurt 1 ½ cup
Oil ¾ cup
Ginger garlic 2 tbsp
Brown onion ¾ cup
Green chili garlic sauce 3 tbsp
Cashew nuts 10
Almonds 2 tbsp
Pistachio 2 tbsp
Grinded nutmeg ¼ tsp
Grinded mace ¼ tsp
Cardamom powder ½ tsp
Screw pine essence 1 tbsp
Method:
Heat oil, add brown onion with ginger garlic paste and chicken, cook for 10 mins, add grinded hara masala with green chili garlic sauce, cook for 5 mins, cover and cook for another 10 mins, add in cashew nuts, almonds and pistachios.
To assemble:
In a pan put a layer of half rice then chicken with gravy, top with yogurt, mace, nutmeg, green cardamom all grinded, remaining brown onion, soaked aalu bukhara, top with remaining rice, kewra and ¼ cup extra oil, cook on dum for 15 mins, serve hot.

Angoori Zafrani Rasmalai Recipe in Urdu and English
At Masala TV you can check complete Angoori Zafrani Rasmalai Recipe in Urdu and English. This is one of the best recipes by chef Shireen Anwar at Masala TV show Masala Mornings. Check out the other best recipes of chefs Shireen Anwar.
Top relevant recipes of Angoori Zafrani Rasmalai Recipe in Urdu