Apricot Dessert Recipe | Lazzat | Samina Jalil | Dessert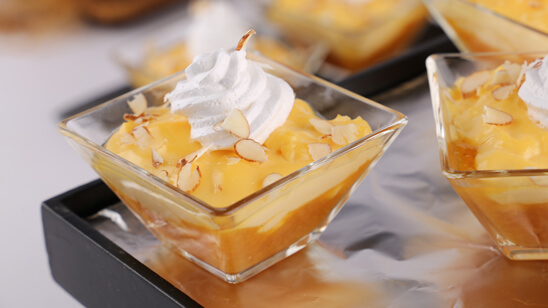 Dec 01, 2022 at 02:55 AM (GMT -05:00)

Check out the Apricot Dessert Recipe in Urdu. Learn how to make best Apricot Dessert Recipe , cooking at its finest by chef Samina Jalil at Masala TV show Lazzat. Check all the Pakistan Cooking recipes in Urdu of Masala TV. Also Check Apricot Dessert Recipe , ingredients and complete Method.
Apricot Dessert is fluffy, creamy and delightful. This will curb your dessert craving like no other thing. Have this one today!
Watch this Masala TV video to learn how to make Apricot Dessert , Corn Pulao and Kabab Karahi Recipes. This show of Lazzat with Samina Jalil aired on 14 December 2020.
Ingredients for Base:
Apricot Plum 1 cup
Lemon Juice 2 tbsp
Sugar ½ cup
Yellow Food Color 1 pinch
Gelatin ½ tsp
Ingredients for Custard:
Milk 1/2 litre
Sugar 6 tbsp
Vanilla Custard Powder 2 tbsp
Cream ½ packet
Almond (chopped) as required
Cream (whipped) as required
Almonds for garnish
Method:
• In a pan, add apricot plum and all the given ingredients and cook until thick.
• Then add gelatin and mix, cook for few minutes.
• Now in a small bowl add apricot mixture and leave until set.
• Then in a milk add sugar and cook.
• After this, in a water add custard and dissolve it.
• Then add in milk and cook until thick.
• Now add ½ cup cream and mix well.
• Then in a apricot mixture add custard and leave it until cool.
• In the end, decorate with cream and garnish with almonds.
Ingredients:
Rice ½ kg
Capsicum 1
Onion 1
Bay Leaf 1
Chicken Stock ¾ cup
Corn 2 cups
Oil ½ cup
Yogurt ½ cup
Fennel Seeds 1 tsp
Ginger Garlic Paste 1 tbsp
Mix all spice 1 tbsp
Butter 2 tbsp
Nutmeg, Mace Powder ½ tsp
Method:
Heat oil add onion and fry.
Add ginger garlic paste, mix garam masala, yogurt, fennel seeds and fry.
Now add chicken stock and boil.
Add rice , when dries the water. In separate pan heat butter add corn and fry.
Add in rice.
In the end, add finely chopped capsicum and let it simmer for few minutes.
Corn pulao is ready.
Ingredients:
Chicken mince ½ kg
Bread slices 1
Green chilies 5-6
Green coriander ½ bunch
White pepper ¾ tsp
All spices powder ¾ tsp
Oil for frying
Karahi ingredients:
Green chilies 2-3
Tomato slices 2
Onion 2
Oil 4 tbsp
Green coriander for garnishing
For Oil tempering:
Oil 4 tbsp
Long cut green chilies 2-3
Crushed garlic 1 tbsp
Method:
All kabab ingredients mix and grind .now make small kabab make and fry in oil .then in a woke heat oil and fry onion, tomatoes slices and green chilies spread and then place kabab and then on high heat fry tomatoes and then dish out .for tempering heat oil and long cut green chilies and crushed garlic fry and then do the oil tempering .Finally garnish with green coriander and serve .

Apricot Dessert Recipe in Urdu and English
At Masala TV you can check complete Apricot Dessert Recipe in Urdu and English. This is one of the best recipes by chef Samina Jalil at Masala TV show Lazzat. Check out the other best recipes of chefs Samina Jalil.
Top relevant recipes of Apricot Dessert Recipe in Urdu