Bakmi Gorang Recipe | Masala Mornings | Masala TV | Shireen Anwar | Fusion Food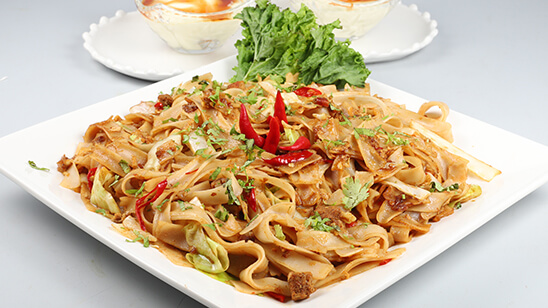 Sep 22, 2023 at 05:48 PM (GMT -04:00)

Check out the Bakmi Gorang Recipe in Urdu. Learn how to make best Bakmi Gorang Recipe , cooking at its finest by chef Shireen Anwar at Masala TV show Masala Mornings. Check all the Pakistan Cooking recipes in Urdu of Masala TV. Also Check Bakmi Gorang Recipe , ingredients and complete Method.
Bakmi Gorang is a must have. It's soft and creamy texture is what we all aspire to achieve when we make this. Give this step by step recipe a try.
Watch this Masala TV video to learn how to make Bakmi Gorang , Fiery koftay and Southern banana pudding Recipes. This show of Masala Mornings with Chef Shireen Anwar aired on 23 June 2021.
Ingredients:
Soaked Rice stick noodles no. 10 ½ packet
Fresh red chilies chopped 4
Garlic chopped 1 tbsp
Chicken tikka chunks ½ packets
Chicken powder 1 tsp
Cabbage coarsely sliced 1 cup
Oil ¼ cup
Egg 1
Oyster sauce 2tbsp
Dark soya sauce 1tbsp
Bean sprouts ½ cup
Ingredients for ginger sauce:
Oil ¼ cup
Ginger finely chopped 2tbsp
Garlic finely chopped 1tbsp
Thai red chilies finely chopped 4
Crushed red pepper 1tbsp
Chicken powder 1tsp
Sweet chili sauce 4 tbsp
Method for ginger sauce:
Heat oil, add chopped ginger garlic with thai red chilies chopped, crushed red pepper, fry for 2 mins, add chicken powder, sweet chili sauce, remove and keep aside.
Method:
Heat oil, add chopped garlic, brown, add boiled and chopped chicken with chicken powder, cabbage, fry for a min and remove. In the same wok, add ¼ cup oil, add in 1 egg, stir to mix, add in prepared red ginger sauce half quantity to the removed chicken and cabbage with oyster sauce, soya sauce, toss and remove.
Ingredients:
Beef mince ½ kg
Bread crumbs 1 cup
Onion chopped 1 cup
Milk ½ cup
Egg beaten 1
Salt 1tsp
Worcestershire sauce 1tbsp
Black pepper 1 tsp
Crushed red pepper 1 tsp
Allspice ½ tsp
Ingredients for sauce:
Sweet chili sauce ½ cup
Chili garlic sauce ¼ cup
Vinegar 2tbsp
Tomato puree 4tbsp
Sugar 1tbsp
Oil ¼ cup
Garlic crushed 1tbsp
Onion 1 small
Capsicum 1 small
Method:
Mix all the given ingredients in mince and chopperize very well until smooth, make into small koftas.
Method for sauce:
Heat oil, add garlic, fry, add veggies with all the rest, add in koftas, toss, cook for 10 mins, serve garnished with coriander leaves.
Ingredients:
Milk chilled 2 cups
Vanilla pudding mix 1 packet
Cookies 8 ounce
Bananas 3 sliced
Whipped cream ½ cup
Caramel sauce ½ cup
Method:
Pour milk into a sauce pan, add pudding mix, cook until thick, arrange biscuits on bottom and upside of mini shot glasses, top with layers of banana slices and pudding, repeat and cover with whipped cream, serve chilled, drizzled with caramel sauce.

Bakmi Gorang Recipe in Urdu and English
At Masala TV you can check complete Bakmi Gorang Recipe in Urdu and English. This is one of the best recipes by chef Shireen Anwar at Masala TV show Masala Mornings. Check out the other best recipes of chefs Shireen Anwar.
Top relevant recipes of Bakmi Gorang Recipe in Urdu