Barbecue Fish Burgers Recipe | Tarka | Rida Aftab | Fast Food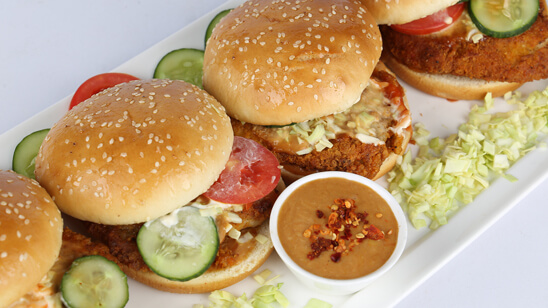 May 20, 2022 at 05:28 PM (GMT -04:00)

Check out the Barbecue Fish Burgers Recipe in Urdu. Learn how to make best Barbecue Fish Burgers Recipe , cooking at its finest by chef Rida Aftab at Masala TV show Tarka. Check all the Pakistan Cooking recipes in Urdu of Masala TV. Also Check Barbecue Fish Burgers Recipe , ingredients and complete Method.
Have yourself some easy to make, delicious and crispy Barbecue Fish Burgers to celebrate the weekend in full swing!
Watch this Masala TV video to learn how to make Barbecue Fish Burgers , Mutton Achaari and Lauki Aur Khoya Ka Halwa Recipes. This show of Tarka with Chef Rida Aftab aired on 23 December 2020.
Ingredients:
Fish Fillets 1 packet
Burger Bun 4
Bread Crumbs 1 cup
Barbecue Sauce 2 tbsp
Black Pepper ½ tsp
Salt ½ tsp
Paprika Powder 1 tsp
Rice Flour 4 tbsp
Egg 1
Oil (for frying) as required
Garlic Paste 2 tsp
Ingredients For Sauce:
Mayonnaise ½ cup
Tomato Ketchup 1 tbsp
Red Chili (chopped) ¼ tsp
Lettuce as required
Tomatoes as required
Cucumber as required
Honey 1 tbsp
Method:
Marinate fish with, garlic paste, barbecue sauce, paprika powder, black pepper and leave it , and coat with rice flour.
Then coat with eggs and bread crumbs, fry in heat oil.
For The Sauce:
In a bowl, add mayonnaise, tomato ketchup, red chili, honey and mix.
Now cut bun in center and put in fish.
Then add tomatoes, cucumber and lettuce.
Ingredients:
Mutton ½ kg
Tomatoes (ground) 1 cup
Cumin 1 tsp
Mustard seeds 1 tsp
Fennel 1 tsp
Black caraway ½ tsp
Yogurt 250 gm
Coriander powder 2 tsp
Onion (ground) 1 cup
Ginger garlic 2 tsp
Fenugreek seeds 1 tbsp
Turmeric powder 1 tsp
Green chilies 6
Salt 1 tsp
Lemon juice 3 tbsp
Clarified butter/oil 1 cup
Fresh coriander as required
Method:
In the mutton add ginger garlic. Boil it well. Then heat oil and fry onions until golden brown. Now add cumin, mustard seeds, fennel, black caraway, coriander powder, turmeric powder, salt and fenugreek seeds. Cook well. Then add tomatoes and boiled mutton. Cover and allow it to cook until the water gets dry. Now add yogurt, lemon juice and green chilies. Cover again and cook for another 10 minutes. Lastly add fresh coriander and sever hot.
Ingredients:
Bottle gourd 2 kg
Whole dried milk 375 gm
Green color 1 pinch
Sugar 1 cup
Mix dry fruits 100 gm
Sliver paper as required
Cardamom powder as required
Clarified butter 1 ½ cup
Method:
Boil bottle gourd. Once it gets tender allow it to dry the water. Then add green color, sugar, clarified butter and cardamom powder. Cook on a high flame. Once the water gets dry add whole dried milk and mix dry fruits. Mix well. Lastly add the mixture onto the dish and decorate with sliver paper. Serve hot.

Barbecue Fish Burgers Recipe in Urdu and English
At Masala TV you can check complete Barbecue Fish Burgers Recipe in Urdu and English. This is one of the best recipes by chef Rida Aftab at Masala TV show Tarka. Check out the other best recipes of chefs Rida Aftab.
Top relevant recipes of Barbecue Fish Burgers Recipe in Urdu