Bean Salad Recipe | Lazzat | Samina Jalil | Appetizer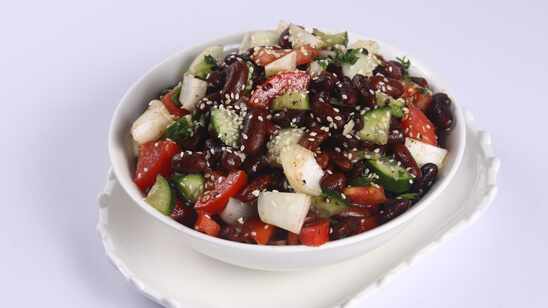 Apr 21, 2021 at 04:38 PM (GMT -04:00)

Check out the Bean Salad Recipe in Urdu. Learn how to make best Bean Salad Recipe , cooking at its finest by chef Samina Jalil at Masala TV show Lazzat. Check all the Pakistan Cooking recipes in Urdu of Masala TV. Also Check Bean Salad Recipe , ingredients and complete Method.
Bean Salad is one of the most amazing salad. You can have it as it is or with a rice dish; either way, it tastes great!
Watch this Masala TV video to learn how to make Bean Salad, Chicken Lazone and Mushroom and Pizza Chicken Bread Recipes. This show of Lazzat with Chef Samina Jalil aired on 17 March 2020.
Ingredients:
Boiled Beans 1 cup
Chopped tomatoes 1 cup
Cucumber 1 cup
Onion 1
Coriander, green chili as required
Black pepper powder 2 tbsp
Oil 3/4 tsp
Cumin powder 2 tbsp
Salt 1/2 tsp
Sesame seeds 1 tsp
Method:
Take boiled beans, chopped tomatoes, cucumber, onions, coriander and green chilies, black pepper, salt, oil, cumin powder and mix all the ingredients with consistency. In the end garnish the dish with sesame seeds on top.
Chicken marination Ingredients:
Chicken fillet 3
Garlic powder 1 tsp
Onion powder 1 tsp
Oregano ¾ tsp
Parsley as required
Melted butter 2 tbsp
Paprika 1-1/2 tsp
Olive oil 2 tbsp
For paste ingredients:
Crushed garlic 1 tsp
Butter 2 tbsp
Olive oil 2 tbsp
Cream 1 cup
Salt to taste
Flour 2 tbsp
Chicken stock ½ tbsp
Milk ½ cup
Black pepper to taste
Mushrooms ½ cup
Method:
In chicken fillet all ingredients mix then leave to marinate for 3 for 4 hours. Then grilled it .now in paste add salt and boil it .after this add butter and olives oil heat and fry garlic .then flour fry lightly .now add chicken stock, milk ,salt ,black pepper and cream add and mix till cook .when sauce thick .then add mushrooms mix and dish out and add the sauce .then place grill chicken and remaining sauce add and serve .
Ingredients:
Plain Flour ½ kg
Salt 1 tsp
Yeast 2 tbsp
Dry Milk 2 tbsp
Oil 4 tbsp
Egg 1
Caster Sugar 1 tbsp
Ingredients for Filling:
Chicken tikka (shredded) 1packet
Finely Chopped Onion 1
Black Pepper Powder 1 tsp
Finely Chopped Green Chilies 2
Plain Flour 1 tbsp
Butter 2 tbsp
Salt ½ tsp
Coriander (chopped) 1 tbsp
All spice Powder ½ tsp
Oil 1 tbsp
Cheddar Cheese 4 tbsp
Butter 2 tbsp
Milk 1 cup
White Sesame Seeds for garnishing
Butter for brushing
Method:
For dough ½ cup of Luke warm water ,yeast and sugar mix and leave some time for rise .now in flour add salt ,dry milk ,oil ,half egg and yeast mixture mix and knead soft and leave for rise .for filling heat butter and oil then fry onion and green chili fry .now flour mix and fry lightly .then milk ,salt and black pepper mix .when thick then add chicken ,green coriander mall spices and chadder cheese mix and cool it .now dough roll it like paratha then fill mixture then cut and fold it .now brush with egg and spread the sesame seeds then bake in preheated oven at 180 degree till than golden colour .then remove and brush with butter .

Bean Salad Recipe in Urdu and English
At Masala TV you can check complete Bean Salad Recipe in Urdu and English. This is one of the best recipes by chef Samina Jalil at Masala TV show Lazzat. Check out the other best recipes of chefs Samina Jalil.
Top relevant recipes of Bean Salad Recipe in Urdu