Beef Badyani Pulao Recipe | Lazzat | Samina Jalil | Desi Food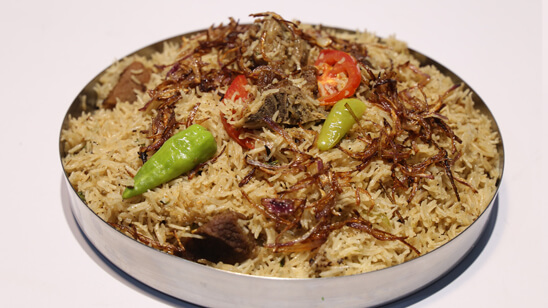 May 12, 2021 at 11:07 PM (GMT -04:00)

Check out the Beef Badyani Pulao Recipe in Urdu. Learn how to make best Beef Badyani Pulao Recipe , cooking at its finest by chef Samina Jalil at Masala TV show Lazzat. Check all the Pakistan Cooking recipes in Urdu of Masala TV. Also Check Beef Badyani Pulao Recipe , ingredients and complete Method.
Beef Badyani Pulao is a classic desi dish that works well at all times. Try it because you'll love it!
Watch this Masala TV video to learn how to make Beef Badyani Pulao ,Kachomer Salad Raita and Palak Paneer Recipes. This show of Lazzat with Chef Samina Jalil aired on 12 August 2020.
Ingredients:
Beef ½ kg
Onion 1
Whole red chilies 5-6
Ginger garlic 2 tbsp
White cumin, coriander 2 tbsp
Salt to taste
All spice powder 1 tbsp
Bay leaf 1
Whole coriander 1 tbsp
Ingredients for Rice:
Rice ½ kg
Onion sliced 1
Ginger garlic paste 1 tbsp
Yogurt ½ cup
Green chili paste 2 tbsp
Salt as required
Nutmeg, mace powder ½ tsp
Chopped star anise 1 tbsp
Green chili 4-5
Tomato sliced 1
Lemon sliced 3-4
Oil ¾ cup
Whole all spice 1 tbsp
Tamarind paste 1 tbsp
Green coriander as required
Ingredients:
Yogurt 1-1/2 cup
Chopped onion 1
Chopped tomato 1
Chopped cucumber r 1
Chopped green chili 1
Chopped green coriander 1 tbsp
Red chili powder for garnish
Crushed cumin 1 tsp
Salt to taste
Ingredients for Tempering:
Whole red chilies 3
Oil 2 tbsp
Mustard ½ tsp
Curry leaves 3-4
Ingredients:
Spinach 1 kg
Green Fenugreek 4-5 tbsp
Green Chillies 2-3
Garlic 2 cloves
Cottage Cheese 1 cup
Sugar 1 tsp
Tomato Paste ½ cup
Salt as required
Cumin Seeds Powder 1 tsp
Butter 4 tbsp
Flour1 tsp
Oil 4 tbsp
Cream 4 tbsp
Method:
Cook spinach, fenugreek leaves, garlic, sugar and green chilies till spinach get full done. Now remove water and chop it. Now heat butter and oil in a pan and add chopped spinach, tomato paste, cumin powder and salt. Now add flour and cream and mix well then leave it on dum. Now fry square pieces of cottage cheese. Now take spinach in a dish and put cottage cheese on top and serve.

Beef Badyani Pulao Recipe in Urdu and English
At Masala TV you can check complete Beef Badyani Pulao Recipe in Urdu and English. This is one of the best recipes by chef Samina Jalil at Masala TV show Lazzat. Check out the other best recipes of chefs Samina Jalil.
Top relevant recipes of Beef Badyani Pulao Recipe in Urdu