Beef Nihari Recipe | Mehboob's Kitchen | Mehboob Khan | Desi Food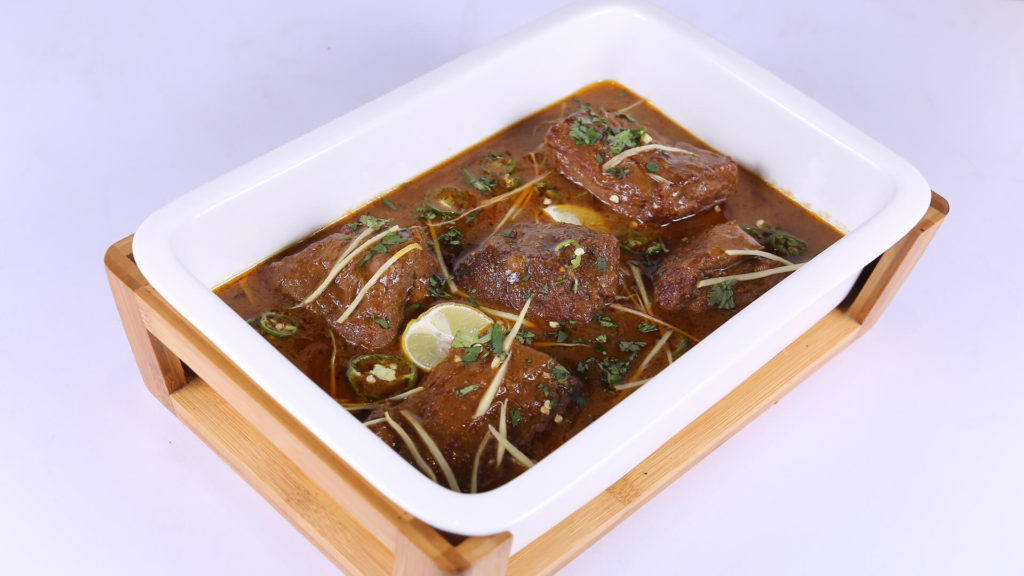 Dec 11, 2023 at 04:19 AM (GMT -05:00)

Check out the Beef Nihari Recipe in Urdu. Learn how to make best Beef Nihari Recipe, cooking at its finest by chef Mehboob Khan at Masala TV show Mehboob's Kitchen. Check all the Pakistan Cooking recipes in Urdu of Masala TV. Also Check Beef Nihari Recipe, ingredients and complete Method.
This Beef Nihari will melt on your tongue and satisfy your Nihari cravings like never before.
Watch this Masala TV video to learn how to make Beef Nihari ,Mooli ka paratha and Quick sabzi achaar Recipes. This show of Mehboob's Kitchen with Chef Mehboob Khan aired on 16 January 2020.
Ingredients:
Beef leg boneless) 1kg
Beef bones 1kg
Oil 1cup
Garlic 1tbsp
Salt 1-1/2tsp
Aniseed 5tbsp
Ginger powder 3tbsp
All spices powder 2tbsp
Turmeric 1tsp
Red chili powder 2tbsp
Flour ` 1/2cup
Lemon 4
Green chili sliced 6
Ginger sliced 6tbsp
Coriander chopped 6tbsp
Onion sliced 1 large
Method:
Heat oil in a pan and fry onions. After that fry ginger and garlic. Than fry meat and bones for 5mins. Now fry red chili powder and turmeric for a minute. Add salt and 2 liter water and cook at medium flame. then in it add aniseed, ginger powder and all spices powder to cook for 2mins. Then add flour in 2 cups of water and add it in the gravy and remove the bones from it. lastly garnish it with green chili, clove, coriander and ginger to garnish and serve.
Ingredients:
Flour 1/2kg
Oil 1cup
Salt 2tsp
Radish (graded) 1/2kg
Red chili (powder) 1tbsp
Turmeric 1tsp
Green chili (slice) 4
Coriander (chopped) 5tbsp
Cumin 1tbsp
Coriander (powder) 1tbsp
Onion (chopped) 1
Garlic (chopped) 1tbsp
Ginger (chopped) 1tbsp
Method:
•  For the making dough refined flour, 5 tbsp of oil and 1 tbsp salt mix and knead.
•  Then make balls and rolling and spread some oil and fold it and make again balls and keep a side.
•  Then in a bow remaining ingredients mix and pour on chapatti and keep second chapatti and press it .
•  In a pan heat oil and fry paratha 8 minutes from both sides then serve hot.
Ingredients:
Carrot 2
Green chili 6
Garlic 12-15
Ginger 2tbsp
Peas 1cup
Radish 1
Oil 1
Salt 1tbsp
Vinegar 1-1/2cup
Fenugreek seed 1tsp
Turmeric 1-1/2tsp
Red chili powder 2tbsp
Aniseed (crushed) 4tbsp
Nigella 1tbsp
Cumin crushed 2tbsp
Method:
Firstly chop all the vegetables in a chopper. Now in a pan heat oil and add nigella, fenugreek seed, cumin, turmeric and red chili powder and cook for 30secs. Now mix all the vegetables, vinegar and salt. Then cook at medium flame for 5mins and serve when its cooled down.

Beef Nihari Recipe in Urdu and English
At Masala TV you can check complete Beef Nihari Recipe in Urdu and English. This is one of the best recipes by chef Mehboob Khan at Masala TV show Mehboob's Kitchen. Check out the other best recipes of chefs Mehboob Khan.
Top relevant recipes of Beef Nihari Recipe in Urdu