Beef Puff Sticks Recipe | Dawat | Abida Baloch | Continental Food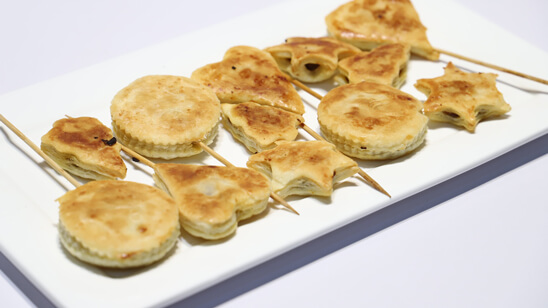 Jul 24, 2021 at 01:23 AM (GMT -04:00)

Check out the Beef Puff Sticks Recipe in Urdu. Learn how to make best Beef Puff Sticks Recipe , cooking at its finest by chef Abida Baloch at Masala TV show Dawat. Check all the Pakistan Cooking recipes in Urdu of Masala TV. Also Check Beef Puff Sticks Recipe , ingredients and complete Method.
Beef Puff Sticks  makes an amazing serving dish for the guests. Impress everyone with your cooking skills by making this dish at home!
Watch this Masala TV video to Learn how to make Beef Puff Sticks and Chocolate Dessert Pizza Recipes. This show of Dawat with Chef Abida Baloch aired on 24 September 2020.
Ingredients:
Ground beef 300gm
Oil 1 tbsp
Onion (diced) 1 (medium)
Garlic (minced) 2 cloves
Salt to taste
Black pepper 1 tsp
Mustard paste ½ tsp
Ketchup 1/2 cup
Worcestershire sauce 1 tsp
Puff pastries (thawed) 4
Egg (beaten) 1 large
Cheddar cheese (shredded) 1/2 cup
Ice pop sticks as required
Method:
Preheat the oven to 200°C.Heat oil in a medium pan over medium heat. When the oil is shimmering, add the onion and cook until translucent, about 3 minutes. Add the garlic and cook until fragrant, about 1 minute more. Add the ground beef and season with the salt, pepper, and mustard paste. Cook until the beef browns.
Add the ketchup and Worcestershire sauce. Stir .Line 2 baking sheets with parchment paper. Lay the thawed puff pastry sheets on a flat surface lined with parchment paper. Using a 3-inch (7 cm) heart-shaped cookie cutter.
Transfer the hearts to the prepared baking sheets. Spoon about 1 tablespoon of the beef mixture into the center. Brush the edges of each cut-out with the beaten egg, then place an ice pop stick at the bottom of each heart, Gently lay the remaining cut-outs over each of the filled hearts. With a fork, carefully crimp the edges together all around to seal, .Once all are sealed, brush egg wash over the tops of each and then sprinkle the cheddar cheese on top. Bake for 15 minutes, or until the pastry is puffed and golden. Serve hot.
Ingredients:
Butter (melted) 2 tsp
Chocolate spread 1/4 cup
Dark chocolate (cut into chunks) 1/2 cup
Dark chocolate chips 2 tbsp
White chocolate chips 2 tbsp
Chopped nuts (toasted) 2 tbsp
For Pizza Dough:
Warm water 1/2 cup
Active dry yeast 2 tsp
All-purpose flour 2 cups
Salt 1 tsp
Oil 3 tbsp
Sugar 2 tsp
Method:
Preheat oven to 450 degrees.
For Pizza Dough:
In a bowl add water and yeast, mix well and leave it for about 5 minutes until well dissolved. Then in a food processor add flour and salt. Mix well by adding oil. Now add yeast mixture and prepare dough. Then knead the dough for a minute. Transfer the dough to a large oiled bowl and turn the dough to coat with the oil. Cover the bowl with plastic wrap and set aside in a warm draft-free area until the dough doubles in volume, about 1 hour. Punch the down dough and form into ball. Then roll out the dough to a 9-inch-diameter round. Transfer the dough to the prepared baking sheet. Using your fingers, make indentations all over the dough. Brush the dough with butter, then bake until the crust is crisp and pale golden brown, about 20 minutes. Immediately spread the chocolate-spread over the pizza then sprinkle all the chocolate over. Now bake it again just until the chocolate begins to melt, about 1 minute. Sprinkle the nuts, chocolate chips dark or white over the pizza. Cut into wedges and serve.

Beef Puff Sticks Recipe in Urdu and English
At Masala TV you can check complete Beef Puff Sticks Recipe in Urdu and English. This is one of the best recipes by chef Abida Baloch at Masala TV show Dawat. Check out the other best recipes of chefs Abida Baloch.
Top relevant recipes of Beef Puff Sticks Recipe in Urdu