Beef Pulao Recipe | Tarka | Rida Aftab | Desi Food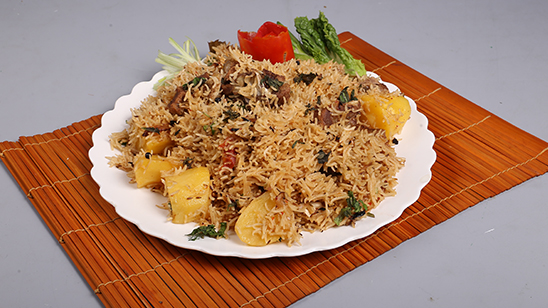 May 14, 2021 at 06:10 AM (GMT -04:00)

Check out the Beef Pulao Recipe in Urdu. Learn how to make best Beef Pulao Recipe , cooking at its finest by chef Rida Aftab at Masala TV show Tarka. Check all the Pakistan Cooking recipes in Urdu of Masala TV. Also Check Beef Pulao Recipe , ingredients and complete Method.
Beef Pulao is a forever favorite. Achieve the perfect taste and texture of Pulao with this flawless recipe.
Watch this Masala TV video to learn how to make Beef Pulao , Fried Drumsticks and Schezwan Chicken Pasta Recipes. This show of Tarka with Chef Rida Aftab aired on 29 March 2021.
Ingredients:
Beef (boiled) ½ kg
Rice ½ kg
Potatoes ½ kg
Tomatoes 4
Green chilies 10
Fennel seeds (crushed) 2 tsp
Star anise 2 tsp
Black peppercorn 1 tsp
Black cumin seeds 2 tsp
Bay leaves 2
Salt ½ tsp
Ginger garlic 2 tsp
Onions 2
Mint leaves 1 bunch
Biryani essence few drops
Red chili flakes 1 tsp
Oil ½ cup
Method:
First fry onions and potatoes. Once they are golden brown add ginger garlic, bay leaves, tomatoes, black peppercorn, red chili flakes, black salt and salt. Cook well. Now add 2 cups of water, boiled beef, green chilies and mint leaves. Once the water is dry, add crushed fennel seeds and star anise. Cover and cook properly. Lastly add biryani essence , mix well and serve hot.
Ingredients for marination:
Chicken drumsticks 6
Salt 1 tsp
Red chili powder 1 tsp
Cumin powder ½ tsp
All spice powder 1 tsp
Yogurt ¼ cup
Lemon juice 2 tbsp
Orange food color a pinch
Ingredients for coating:
Crispy fry 1
Egg 1
Flour 1 cup
Clarified butter for frying
Bread crumbs as required
Method:
Mix all marination ingredients in a bowl. Then add chicken drumsticks, mix well and leave for 2 hours. Heat oil in a wok. Now coat chicken in flour and crispy fry, then in egg and bread crumbs and fry them in oil till golden brown. Serve.
Ingredients:
Chicken ½ kg
Macaroni (boiled) 1 packet
Capsicum 1
Onions 2
Spring onions 2
Fresh red chilies 2
Sesame seeds oil 1 tbsp
Garlic 1 tbsp
Salt ½ tsp
Black pepper ½ tsp
Ingredients of Chili Sauce:
Stock 1 cup
Brown sugar 1 tsp
Chili sauce 1 tbsp
Corn flour 1tbsp
Soy sauce 2 tbsp
Oil 2 tbsp
Method:
Heat sesame oil and cook chicken on a high flame. Then add garlic, black pepper and salt. Cover and cook well. For chili sauce, in a bowl add stock, brown sugar, chili sauce, corn flour, soy sauce and oil. Mix well. Now in the chicken add boiled macaroni, onions, capsicum, fresh red chilies, spring onions. Cover and cook for 5 minutes. Lastly add the sauce and sesame oil. Serve hot.

Beef Pulao Recipe in Urdu and English
At Masala TV you can check complete Beef Pulao Recipe in Urdu and English. This is one of the best recipes by chef Rida Aftab at Masala TV show Tarka. Check out the other best recipes of chefs Rida Aftab.
Top relevant recipes of Beef Pulao Recipe in Urdu