Beef Stew Recipe | Tarka | Rida Aftab | Desi Food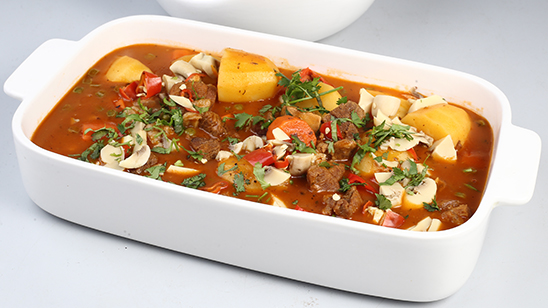 Jul 07, 2022 at 03:05 AM (GMT -04:00)

Check out the Beef Stew Recipe in Urdu. Learn how to make best Beef Stew Recipe , cooking at its finest by chef Rida Aftab at Masala TV show Tarka. Check all the Pakistan Cooking recipes in Urdu of Masala TV. Also Check Beef Stew Recipe , ingredients and complete Method.
Beef Stew will melt on your tongue and satisfy your Stew cravings like never before. Pair it with hot tandoori naan to double the flavor!
Watch this Masala TV video to learn how to make Beef Stew , Qeema Karelay and Spicy Meat Balls with Yogurt Dip Recipes. This show of Tarka with Chef Rida Aftab aired on 29 June 2021.
Ingredients:
Beef boiled ½ kg
Salt 1 tsp
All purpose flour 2 tbsp
Black pepper crushed 2 tsp
Butter 50 gm
Mushrooms 1 cup
Chicken stock 4 cups
Tomato paste ½ cup
Thyme ½ tsp
Basil ½ tsp
Oregano ½ tsp
All spice powder ½ tsp
Potatoes small 4
Carrots 1
Peas 1 cup
Onion 1
Coriander 2 tbsp
Garlic ground 1 tsp
Ingredients:
Beef mince ½ kg
Bitter gourd ½ kg
Ginger paste 1 tbsp
Garlic paste 1 tbsp
Tomatoes chopped 4
Red chili powder 1 tbsp
Salt to taste
Oil ½ cup
Green chilies 3 to 4
Coriander powder 1 tbsp
Turmeric powder 1 tsp
Coriander leaves chopped 2 tbsp
Cumin 1 tsp
Onion slices 2
Method:
Take wok add oil zeera, chicken pieces, fry chicken for a minute add onions, ginger garlic paste, red chili powder, turmeric powder, coriander powder, salt, green chilies, cook for few minutes until oil is visible. Set aside. In another deep pan fry the bitter guards till golden brown . And take out and mix with chicken add green chilies. Serve hot with naan and rice enjoy.
Ingredients for Meat Balls:
Meat Balls (chicken) 1 packet
Oil as required
For The Dip:
Yogurt ½ kg
Chopped garlic 1 tbsp
Chopped green chili 2
Chopped mint leaves 2 tbsp
Roasted sesame seeds 2 tbsp
Salt 1 tsp
Method:
In a bowl add all the ingredients of meat balls except oil, mix well. Make small balls. Heat oil in a pan; fry the meat balls for 5 to 6 minutes. Add 1 cup water, cover and cook on a low heat. Uncover and dry all the liquid, set aside. In a bowl, add all the ingredients of the dip, mix well and serve with meat balls.

Beef Stew Recipe in Urdu and English
At Masala TV you can check complete Beef Stew Recipe in Urdu and English. This is one of the best recipes by chef Rida Aftab at Masala TV show Tarka. Check out the other best recipes of chefs Rida Aftab.
Top relevant recipes of Beef Stew Recipe in Urdu