Behari Karhai Recipe | Dawat | Abida Baloch | Desi Food | Masala TV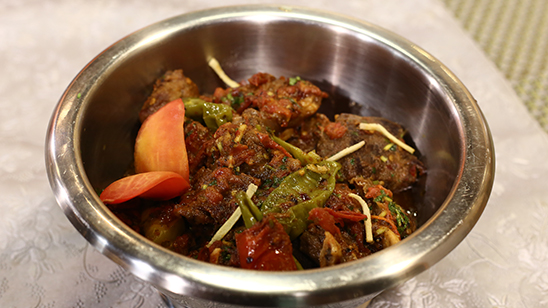 Aug 04, 2021 at 11:02 AM (GMT -04:00)

Check out the Behari Karhai Recipe in Urdu. Learn how to make best Behari Karhai Recipe , cooking at its finest by chef Abida Baloch at Masala TV show Dawat. Check all the Pakistan Cooking recipes in Urdu of Masala TV. Also Check Behari Karhai Recipe , ingredients and complete Method.
Behari Karhai will fulfill all your cravings of a well made spicy Karhai. Try this recipe at home, you'll love it!
Watch this Masala TV video to learn how to make Behari Karhai And BBQ Pasta Recipes. This show of Dawat with Chef Abida Baloch aired on 19 July 2021.
Ingredients:
Beef 1 Kg
Fresh Tomato 1 Kg
Garlic ginger paste 100 gm
Crushed Chili 80 gm
Garam Masala 50 gm
Crushed Black Pepper 15 gm
Fresh Coriander 1 Bunch
Ginger Whole 1 Pcs.
Ghee 200 gm
Fresh Green Chili 100 gm
Method:
Wash and rinse beef piece take a wok add beef pieces, tomato slices, ginger and garlic paste and salt and then place wok on fire and cover it and open high flame and cook about 30 min after that add crushed chili, green chili, garam masala and ghee & sauté it well. In last ginger and green coriander for Garnish
Ingredients:
Chicken cubes 300grams
Pasta ½ packet
Capsicum (chopped) 3
Boneless Chicken pieces 8
Hot Sauce ¼ cup
Vinegar 2 tbsp
Garlic (chopped) 2 cloves
BBQ Sauce 1 tbsp
Red chili Flakes ½ tbsp
Salt to taste
Crushed black pepper 1 tsp
Oil 2 tbsp
Sugar 1 tsp
Method:
Take some oil in the pan and boil pasta along with 1 tbsp oil. When the pasta is boiled drain the water and put cold water in it to bring the pasta in room temperature and put some oil in it. Mix chopped garlic, BBQ sauce. ½ tbsp red chili and salt with chicken pieces and grill them. When the water dries take out the chicken and cut it into small pieces. Put pasta in one bowl, add in 1 tsp hot sauce, salt, 1 tsp crushed black pepper, 1 tsp vinegar and 1 tsp sugar. Mix everything. Then add in 1 bottle, chopped capsicum and chicken cook and serve.

Behari Karhai Recipe in Urdu and English
At Masala TV you can check complete Behari Karhai Recipe in Urdu and English. This is one of the best recipes by chef Abida Baloch at Masala TV show Dawat. Check out the other best recipes of chefs Abida Baloch.
Top relevant recipes of Behari Karhai Recipe in Urdu