Breakfast Pie Recipe | Masala Mornings | Masala TV | Shireen Anwar | Fusion Food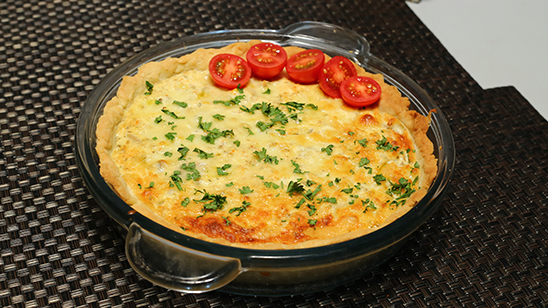 May 23, 2022 at 01:17 AM (GMT -04:00)

Check out the Breakfast Pie Recipe in Urdu. Learn how to make best Breakfast Pie Recipe , cooking at its finest by chef Shireen Anwar at Masala TV show Masala Mornings. Check all the Pakistan Cooking recipes in Urdu of Masala TV. Also Check Breakfast Pie Recipe , ingredients and complete Method.
Breakfast Pie is an easy way of preparing something extremely succulent. It has all the flavor to make you go mad for it!
Watch this Masala TV video to learn how to make Breakfast Pie , Colorado omelet and Hawaiin bun Recipes. This show of Masala Mornings with Chef Shireen Anwar aired on 23 August 2021.
Ingredients for short crust pastry:
Butter 4 ounce
Flour 8 ounce
Egg yolk 1
Salt ¼ tsp
Cold water to knead
Ingredients for filling:
Hunter chicken 1 cup
Eggs beaten 3
Cream 1 packet
Grated cheddar & mozzarella ½ cup
Onion chopped 2 tbsp
Sweet corn 3 tbsp
Capsicum chopped 3 tbsp
Mushrooms 4 chopped
Salt ¾ tsp
Crushed red pepper 1 tsp
Mixed herbs 1 tsp
Method:
Make short crust pastry, spread in a greased pie plate, prick and bake for 10 mins on 180 d, spread with hunter chicken, sprinkle with cheese in a bowl, beat eggs, creams, seasonings, add in mushrooms, capsicum, onion and corn, pour over cheese, bake for 35 – 40 mins.
Ingredients:
Eggs 3
Salt & pepper ¼ tsp
Chicken tikka chunks chopped 2 tbsp
Sausages cooked and sliced 2-3 tbsp
Onion 2-3 tbsp
Capsicum 2-3 tbsp
Tomatoes 2-3 tbsp
Cheddar cheese grated ½ cup
Water 2 tbsp
Butter 2 tbsp
oil 2 tbsp
Method:
Melt butter in a fry pan, add onion, capsicum, sauté for a min, remove in a bowl. In a bowl beat eggs, water, salt and pepper, add eggs to the fry pan, spread with onion, capsicum, tomatoes, all the meat and cheese, fold the omelette in half, top with more cheddar cheese, serve with salsa and sar cream in two small bowls.
Ingredients for dough:
Flour 4cups
Powder milk ½ cup
Yeast 1packet
Pineapple juice ½ cup
Warm milk ½ cup
Melted butter 4tbsp
Eggs 2
Sugar 7tbsp
Salt 1-1/2 tbsp
Ingredients for egg wash:
Method:
Mix all ingredients for dough and pour this on grease tray . proof for 10 min , now egg wash and bake for 25 min and serve.

Breakfast Pie Recipe in Urdu and English
At Masala TV you can check complete Breakfast Pie Recipe in Urdu and English. This is one of the best recipes by chef Shireen Anwar at Masala TV show Masala Mornings. Check out the other best recipes of chefs Shireen Anwar.
Top relevant recipes of Breakfast Pie Recipe in Urdu