Brown Rice Bowl Recipe | Food Diaries | Zarnak Sidhwa | Pan Asian Food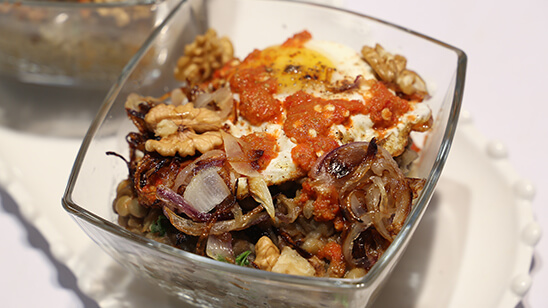 Apr 21, 2021 at 09:47 PM (GMT -04:00)

Check out the Brown Rice Bowl Recipe in Urdu. Learn how to make best Brown Rice Bowl Recipe , cooking at its finest by chef Zarnak Sidhwa at Masala TV show Food Diaries. Check all the Pakistan Cooking recipes in Urdu of Masala TV. Also Check Brown Rice Bowl Recipe , ingredients and complete Method.
This Brown Rice Bowl Recipe is the perfect blend of all our favorite ingredients and help you achieve the perfect taste.
Watch this Masala TV video to learn how to make Brown Rice Bowl ,Harissa Sauce and Snow White Pudding Recipes. This show of Food Diaries with Chef Zarnak Sidhwa aired on 14 September 2020.
Ingredients For The Mujadara:
Brown rice 1 cup
Brown lentil 1 cup
Vegetable stock 4 1/2 cups
Olive oil 3 tbsp
Onions, sliced 2
Garlic, minced 1 clove
Ground cumin 1 tsp
Parsley leaves, chopped 1/2 cup
Salt to taste
For The Bowls:
Eggs 4
Salt to taste
Ground black pepper to taste
Paprika 1 tsp
Harissa sauce 2 1/2 tbsp
Toasted walnuts 1/4 cup
Method:
Bring the stock to a boil. Add the rice, lentil, and a big pinch of salt. Cover and reduce the heat to a simmer. Cook until the rice and lentil are tender, adding more liquid a little at a time if all of it is absorbed before the rice and lentils are cooked. Heat 2 tablespoons oil in a large pan, add the onions and cook until deeply browned and beginning to caramelize, add the garlic and cook for 2 minutes more. When the rice and lentils are ready, remove from the heat and let sit covered for 10 minutes. Add 1/2 of the onion mixture, cumin, chopped parsley, and remaining 1 tablespoon of olive oil and gently fold to incorporate. Reserve the remaining onions for serving. Heat very little oil in another pan and fry the eggs one at a time. Season the eggs with salt, pepper, and a dash of paprika. Divide the rice and lentil mixture equally between 4 bowls. Place a fried egg on each bowl. Garnish with the remaining caramelized onions, harissa sauce and toasted walnuts.
Ingredients:
Red capsicums 2
Fresh red chilies 18
Garlic 6 cloves
Ground cumin 1 tsp
Ground coriander 1⁄2 tsp
Coarse salt 1 tsp
White vinegar 3 tbsp
Olive oil 2tbsp
Method:
Grill two red peppers until completely blackened, leave to cool, then peel away the skin and remove the core and seeds. Remove the stalks and seeds from the fresh red chilies and roughly chop. Put the chilies in a food processor with peeled garlic cloves, ground cumin and ground coriander and blend to a rough paste. Add the cooled, peeled peppers, coarse salt, white vinegar and olive oil. Blend for 1-2 minutes until the mixture is fairly smooth. Spoon into a small jar, cover with a layer of olive oil and refrigerate for up to three months.
Ingredients:
Milk 500 ml
Corn flour 3 tbsp
Sugar 4 tbsp
Condensed milk 2 tbsp
Butter 1 tbsp
vanilla essence 1 tsp
Method:
Boil milk, corn flour, butter and sugar till it turns glossy. Keep stirring continuously for 2 to 3 minutes till it turns thick. Add essence and let it cool down. Pour into rose shaped silicon moulds and keep in the refrigerator for 2 to 3 hours. Remove just before serving.

Brown Rice Bowl Recipe in Urdu and English
At Masala TV you can check complete Brown Rice Bowl Recipe in Urdu and English. This is one of the best recipes by chef Zarnak Sidhwa at Masala TV show Food Diaries. Check out the other best recipes of chefs Zarnak Sidhwa.
Top relevant recipes of Brown Rice Bowl Recipe in Urdu