Buffalo Chicken Sandwich Recipe | Masala Mornings | Shireen Anwar | Fast Food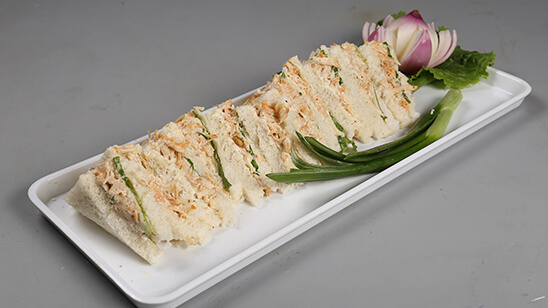 Nov 28, 2023 at 08:10 AM (GMT -05:00)

Check out the Buffalo Chicken Sandwich Recipe in Urdu. Learn how to make best Buffalo Chicken Sandwich Recipe , cooking at its finest by chef Shireen Anwar at Masala TV show Masala Mornings. Check all the Pakistan Cooking recipes in Urdu of Masala TV. Also Check Buffalo Chicken Sandwich Recipe , ingredients and complete Method.
Buffalo Chicken Sandwich is one of the easiest things to prepare and works well at any time of the day; be it a quick breakfast, a yummy lunch, an evening snack and a light and scrumptious dinner.
Watch this Masala TV video to learn how to make Buffalo Chicken Sandwich , Pistachio Roast Trifle And Stuffed Bundt Bread Recipes. This show of Masala Mornings with Shireen Anwar aired on 8 April 2021..
Ingredients for Ranch Sauce:
Mayonnaise ¼ cup
Butter 2 tbsp
Cream 4 tbsp
Cream cheese 2 tbsp
Salt & pepper ¼ tsp
Garlic powder ½ tsp
Chopped green chilies 1 tbsp
Ingredients for Buffalo Chicken:
Chicken breast 1
Hot sauce 3 tbsp
Sugar 1 tbsp
Apple juice 4 tbsp
METHOD:
Mix all together very well, keep aside.
METHOD FOR CHICKEN:
Marinate chicken with all the ingredients and cook for 10 mins covered then shred.
Ingredients for Sandwich
Bread sliced as required
Cheese sliced as required
Lettuce as required
TO ASSEMBLE:
Remove corners from bread slices, apply ranch sauce on bread slices, put cheese slice, lettuce, buffalo chicken, cover with another slice, cut sandwich into 4 triangles and serve.
Ingredients for Top Layer:
Vanilla custard prepared 1 liter
Pistachio essence few drops
Cream 200 gm
Pistachio chopped ½ cup
Green color few drops
Fruits cocktail 1 can
Ingredients for Middle Layer:
Readymade rabri 1 cup
Rose syrup 2 tbsp
Ingredients for Bottom Layer:
Pound cake sliced 1
Milk 1 cup
Evaporated milk ½ cup
Condensed milk ½ cup
Rose essence few drops
Rose syrup 2 tbsp
Ingredients for Final Layer:
Strawberry jelly as required
METHOD:
Cook custard as per instruction, when it gets cold, add cream, green color, pista essence and blend until smooth, fold in chopped pistachio, mix rabri, add rose syrup, mix well, arrange cake slices in a trifle bowl, mix together milk, evaporated milk, condensed milk and rose syrup, soak cake slices with this mixture, top with rabri layer, then shred fruit cocktail over it, finally pour over the pistachio flavored custard, top with jello cubes, serve chilled.
Ingredients for Dough:
Flour 4-½ cup
Salt 1-½ tsp
Caster sugar 3 tbsp
Butter 2 ounce
Oil 4 tbsp
Yeast 1 tbsp
Brown sugar 1 tbsp
Warm water as required
Ingredients for Stuffing:
Pepperoni or sausages chopperised 1-½ cup
Butter 1 tbsp
Chopped garlic 1 tbsp
Chopped onion ½ cup
Capsicum finely chopped ½ cup
Crushed red pepper 1 tsp
Black pepper ½ tsp
Oregano 1 tsp
Garlic powder 1 tsp
Salt 1 tsp
Tomato puree 3 tbsp
Mozzarella cheese grated 1 cup
Ingredients to Coat Pan:
Melted butter 2 ounce
Crushed red pepper 1tsp
Garlic powder 1 tsp
Chopped coriander 2-3 tbsp
METHOD:
Knead a soft smooth dough with all the ingredients, cover and leave it to rise for 2 hours.
METHOD FOR STUFFING:
Heat butter, fry garlic, add chopped pepperoni, all the veggies, and all the rest ingredients except for cheese, cook on high flame for 2-3 mins, remove and cool, roll out the risen dough into a large rectangle on a floured surface, place the shredded mozzarella along the long side of the rectangle and place stuffing, roll like swiss roll, grease a bundt pan generously with butter, sprinkle garlic powder, crushed red pepper and coriander leaves to coat the surface of the pan, carefully lift the bread, and put it in the bundt pan pressing together the two ends to form a ring, bake in a pre-heated oven on 180 D for 30-35 mins, fill the center of the bundt bread with some dip and serve

Buffalo Chicken Sandwich Recipe in Urdu and English
At Masala TV you can check complete Buffalo Chicken Sandwich Recipe in Urdu and English. This is one of the best recipes by chef Shireen Anwar at Masala TV show Masala Mornings. Check out the other best recipes of chefs Shireen Anwar.
Top relevant recipes of Buffalo Chicken Sandwich Recipe in Urdu