Carrot And Walnut Cake Recipe | Bake At Home | Season 2 | Dessert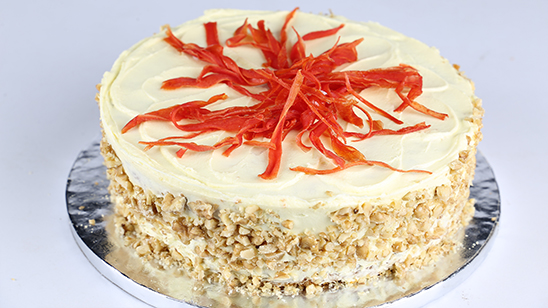 Jan 27, 2023 at 12:01 AM (GMT -05:00)

Check out the Carrot And Walnut Cake Recipe in Urdu. Learn how to make best Carrot And Walnut Cake Recipe , cooking at its finest by chef Abida Baloch at Masala TV show Dawat. Check all the Pakistan Cooking recipes in Urdu of Masala TV. Also Check Carrot And Walnut Cake Recipe , ingredients and complete Method.
Carrot And Walnut Cake for this season. Every slice of this will make you love it even more. Have this delightful tasting cake today !
Watch this Masala TV video to learn how to make Carrot And Walnut Cake , Bunny cookies and Lemon butter cream frosting Recipe. This show of Bake At Home Season 2 with Chef Romana Husain aired on 31 January 2021
Ingredients for Carrot curl:
Parchment paper 1
Vegetable cooking spray 1
peeled carrots 1 or 2 large
water 1 cup
sugar 1 cup
Ingredients for cake:
Flour 2 cups
Sugar 2 cups
Oil 1- ½ cups
baking powder 2 tsp
Baking soda ½ tsp
Ground cinnamon 1 tsp
Eggs 4
Grated carrots 2 cups
Chopped walnuts 1 cup
Method:
Grease and line two 9″ pans and preheat oven 180 , Sift together dry ingredients. Mix sugar and eggs till foamy. Add oil. Mix for a minute. Fold in flour. Add carrots and mix well. Add walnuts. Bake in for 30 – 40 minutes Method for curl Prepare carrots. Preheat the oven to 125°. Line a baking sheet with parchment paper, and lightly grease. Remove 15 to 20 long strips from carrots, using a vegetable peeler. Cook and drain. Bring 1 cup water and 1 cup sugar to a boil in a large heavy-duty saucepan over medium-high heat. Add carrot strips, and reduce heat to medium-low. Simmer carrot strips for 15 minutes. Drain in a wire-mesh strainer, and cool for 5 minutes. Bake the strips. Spread cooked carrot strips 1 inch apart in a single layer on the prepared baking sheet. Bake at 125° for 30 minutes. As the carrot strips bake, they will begin to look translucent. Remove from the oven. (strips will be warm but cool enough to handle.)Create the curls. Working quickly, wrap each carrot strip around the handle of a wooden spoon, forming curls. Gently slide off the spoon. Sprinkle with sugar, if desired. Let curls sit at room temperature until completely dry (about 30 minutes).
Ingredients:
Butter 1 cups
Sugar 1 cups
Egg 1
Vanilla 1tsp
Baking powder 1-½ teaspoons
Salt Pinch
Flour 3 cups
Butter cream as required
Shredded coconut as required
Chocolate as required
Method:
To make the cookies:
Preheat the oven to 350°f. Line a baking sheet with parchment paper and set aside.
Cream butter and sugar. In the bowl of your stand mixer fitted with the paddle attachment mix the butter and sugar together on medium speed for 2 minutes until light and fluffy.
Add in the eggs, vanilla, baking powder, and salt and continue mixing until combined and smooth, scraping the sides of the bowl as necessary.
Turn the mixer speed to low and add in the flour, mixing until the dough comes together.
Divide the dough into sections and on a floured work surface roll the dough to 1/3 inch thick. Using a cookie cutter, cut out shapes of the dough with your desired cutter(s) and place the cookies on the prepared baking sheet 1½ inches apart. Bake cookies for 8-10 minutes until the edges are lightly golden. Allow the cookies to cool on the baking sheet for 5 minutes and then transfer them to a wire rack to cool completely.
Spread with buttercream and dip in shredded coconut . Add chocolate eyes and nose , use marshmallows for ears.
Ingredients:
Butter 250gm
Icing sugar 500gm
Milk 2 tbsp
Lemon zest 2 tbsp
Lemon juice 2tbsp
Method:
Beat the butter and add the icing sugar gradually, add the lemons and mix till smooth, add the milk to reach desired consistency.
Fill and frost the cooled cake, add crushed walnuts to the sides and decorate with carrot curls.

Carrot And Walnut Cake Recipe in Urdu and English
At Masala TV you can check complete Carrot And Walnut Cake Recipe in Urdu and English. This is one of the best recipes by chef Abida Baloch at Masala TV show Dawat. Check out the other best recipes of chefs Abida Baloch.
Top relevant recipes of Carrot And Walnut Cake Recipe in Urdu