Carrot Cake Recipe | Dawat | Abida Baloch | Dessert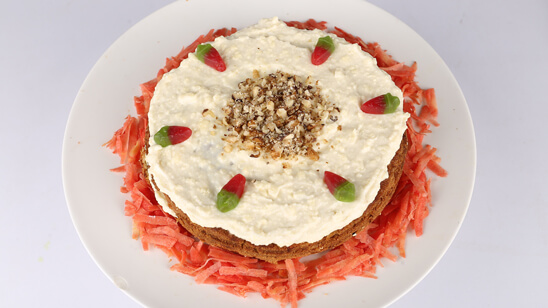 Feb 03, 2023 at 12:08 PM (GMT -05:00)

Check out the Carrot Cake Recipe in Urdu. Learn how to make best Carrot Cake Recipe , cooking at its finest by chef Abida Baloch at Masala TV show Dawat. Check all the Pakistan Cooking recipes in Urdu of Masala TV. Also Check Carrot Cake Recipe , ingredients and complete Method.
Carrot Cake is the cake for this season. Every slice of this will make you love it even more. Have this delightful tasting cake today!
Watch this Masala TV video to learn how to make Carrot Cake and Hari Mirch Qeema Recipes. This show of Dawat with Chef Abida Baloch aired on 1 January 2021.
Ingredients:
Carrot grated 1 1/2 cups
All-purpose flour 1 1/4 cups
Ground cinnamon 1 tsp
Allspice 1/8 tsp
Salt 1/2 tsp
Baking powder 1/2 tsp
Baking soda 1/4 tsp
Light brown sugar 1/2 cup
Granulated sugar 1/4 cup
Eggs 2
Vegetable oil 1/2 cup
Raisin 1/2 cup
Crushed walnuts 1/2 cup
Flour 1tbsp
For The Icing:
Unsalted butter 1/2 cup
Cream cheese 1/2 cup
Vanilla extract ½ tsp
Powdered sugar 1 cup
Method:
Preheat the oven to 180˚C
Grease round cake pans and line with parchment paper.
In a large bowl, sift together flour, the cinnamon, allspice, salt, baking powder, and baking soda. Whisk together. In a separate large bowl, beat the brown sugar, granulated sugar, and eggs together with an electric hand mixer on medium speed until just combined.
With the mixer running, gradually pour in the vegetable oil. Add flour mixture to the wet ingredients gradually. In a small bowl, toss the raisins with the remaining tablespoon of flour.
Add the raisin, grated carrots, and walnuts to the batter and fold to incorporate with a rubber spatula. Pour the cake batter in the prepared pan and smooth the tops.
Bake for 25-30 minutes, until a fork inserted in the center of a cake comes out clean.
Cool the cake on a wire rack.
For the icing, in a large bowl, beat together the butter, cream cheese, and vanilla until light and fluffy. Add the powdered sugar, mix well. Assemble the cake with icing
Chill for 30-60 minutes to let the icing set, then slice and serve.
Ingredients:
Beef mince ½ kg
Onion (sliced) 1 (medium)
Ginger garlic paste 1 tbsp
Oil ½ cup
Turmeric powder 1/2 tsp
Whole all spices 1tbsp
Salt to taste
Yogurt 1/2 cup
Ginger (julienne) 1 tbsp
Green chilies 8-10
Method:
In pot, add oil and onion, sauté to light golden along with whole spices. Then add ginger garlic paste. Along with beef mince and mix well. Now add yogurt, ginger, turmeric powder, green chilies, salt. Cover and cook until oil separates. Serve hot.

Carrot Cake Recipe in Urdu and English
At Masala TV you can check complete Carrot Cake Recipe in Urdu and English. This is one of the best recipes by chef Abida Baloch at Masala TV show Dawat. Check out the other best recipes of chefs Abida Baloch.
Top relevant recipes of Carrot Cake Recipe in Urdu