Chaat Recipe | Food Diaries | Zarnak Sidhwa | Desi Food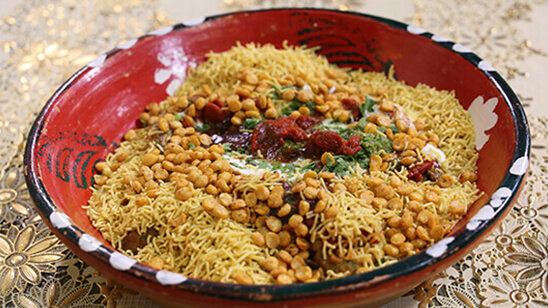 May 14, 2021 at 07:20 AM (GMT -04:00)

Check out the Chaat Recipe in Urdu. Learn how to make best Chaat Recipe , cooking at its finest by chef Zarnak Sidhwa at Masala TV show Food Diaries. Check all the Pakistan Cooking recipes in Urdu of Masala TV. Also Check Chaat Recipe , ingredients and complete Method.
We never knew Chaat could taste so good until we found this amazing recipe. Try it out this Ramzan!
Watch this Masala TV video to learn how to make Chaat , Chocolate cupcakes and Milkshake Recipes. This show of Food Diaries with Chef Zarnak Sidhwa aired on 12 April 2021.
Ingredients:
Boiled baby potatoes 4-6
Oil 3 tbsp
Chili powder 1 tsp
Coriander-cumin seeds powder 2 tbsp
Turmeric powder 1/4 tsp
Dried mango powder 2 tsp
Gram flour 2 tsp
Salt to taste
Chopped coriander 2 tbsp
Chaat ingredients:
curd 1/2 cup
Garlic chutney 2 tsp
Green chutney 4 tsp
Tamarind jaggery chutney 2 tbsp
Cumin powder 2 pinches
Chilli powder 2 pinches
Fried gram lentils 4 tsp
Sev 4 tbsp
Chopped coriander to garnish
Method:
Combine 2 tbsp oil, chilli powder, coriander-cumin seeds powder, turmeric powder, dry mango powder, gramflour, salt and coriander in a bowl and mix well. Add the potatoes, mix well and set aside to marinade for few minutes. Heat the remaining 1 tbsp oil, add the marinated potatoes, cook for 3 to 4 minutes stirring occasionally. To serve, place few tbsp of the potatoes in a plate and top with curd, garlic chutney, green chutney, tamarind jaggery chutney, sprinkle a pinch of cumin powder and chili powder, gram lentils and sev.serve immediately garnished with coriander.
Ingredients:
Flour 1 cup
Caster sugar 1 cup
Cocoa powder 1/2 cup
Baking powder 1 tsp
Baking soda 1/2 tsp
Salt 1/2 tsp
Egg 1
Buttermilk 1/2 cup
Oil 1/2 cup
Vanilla essence 1 tsp
Hot water 1/2 cup
Chocolate butter cream frosting
Ingredients:
Butter ½ cup
Icing sugar 1-½ cups
Vanilla essence 1 tsp
Cocoa powder 1 tbsp
Melted chocolate 2 tbsp
Method:
Mix the flour, sugar, cocoa powder, baking powder, baking soda and salt together. Combine the egg, buttermilk, oil and vanilla in another bowl. Add the wet ingredients to the dry ingredients and mix until combined. Add the hot water to the batter and mix again, until combined. Batter will be thin. Fill cupcake liners only 1/2 full, then bake at 180 degrees c for 18-21 minutes, until the tops bounce back when you touch them with a finger or a toothpick comes out with only a few moist crumbs attached. Cool completely before frosting. For the frosting, beat butter add in icing sugar, vanilla essence, melted chocolate and cocoa and chill. Pipe over cooled cupcakes.
Ingredients:
Red syrup 2 tbsp
Ice cubes as required
Vanilla ice-cream 2 scoop
Milk 2 cups
Method:
Blend all ingredients well in a blender and serve immediately.

Chaat Recipe in Urdu and English
At Masala TV you can check complete Chaat Recipe in Urdu and English. This is one of the best recipes by chef Zarnak Sidhwa at Masala TV show Food Diaries. Check out the other best recipes of chefs Zarnak Sidhwa.
Top relevant recipes of Chaat Recipe in Urdu