Chana Masala Recipe | Mehboob's Kitchen | Chef Mehboob Khan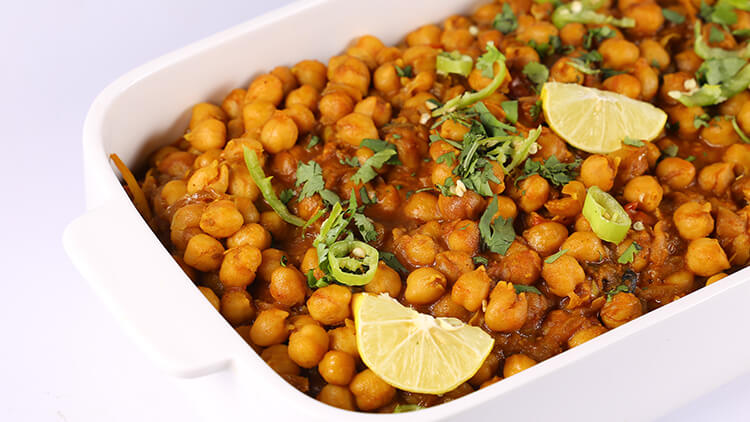 Apr 21, 2021 at 05:16 PM (GMT -04:00)

Check out the Chana Masala Recipe in Urdu. Learn how to make best Chana Masala Recipe, cooking at its finest by chef Mehboob Khan at Masala TV show Mehboob's Kitchen. Check all the Pakistan Cooking recipes in Urdu of Masala TV. Also Check Chana Masala Recipe, ingredients and complete Method.
Chana Masala, also popular as cholay, is a popularly available dishes in our country. Now you can also learn to ace this delicious dish and make it at home.
Watch this Masala TV video to learn how to make Chana Masala, Crispy Wontons and Turkish Pide Recipes. This show of Mehboob's Kitchen with Chef Mehboob Khan aired on 8 November 2019.
Ingredients:
Chickpeas (boiled) 2 cups
Oil 3 Tbsp
Onion (chopped) 1
Ground cumin 1 Tbsp
Salt 3/4 tsp
Garlic(crushed) 6 cloves
Ginger, sliced 2 Tbsp
Coriander leaves (chopped) 1/2 cup
Green chilies (sliced) 2-3 fresh
Ground coriander 1 Tbsp
Chili powder 1 tsp
Ground turmeric 1tsp
Diced tomatoes 2
garam masala 1 tsp
Lemon juices 2tbsp
Method:
• Heat a large pot over medium heat. Once hot, add oil, onion, cumin, and 1/4 tsp salt.
Add garlic, ginger, coriander, and green chilies to a mortar and grind into a rough paste Then, add to the pan with the onions.
• Next add ground coriander, chili powder, and turmeric and stir to coat and add tomatoes and chickpeas and remaining salt Increase heats to medium high until it reaches a rolling simmer, then reduce heat to low or medium-low and maintain a simmer for 15-20 minutes.
• When the chana masala is adjusting seasonings as needed, adding more salt, chili powder for heat, or a bit of sugar for sweetness and to offset the heat of the chilies.
• Remove from heat and add lemon juice and garam masala. Stir to mix, then let cool slightly before serving. Fresh coriander and lemon juice make an excellent garnish.
Ingredients:
Chicken (boiled & shredded) 250 grams
Mushrooms (chopped) 6
Olives (finely chopped) 6
Capsicum (chopped) 1
Salt to taste
Black pepper 1 tsp
Samosa Patti 2
Egg (beaten) 1
Oil for fry
Method:
In a bowl boiled shredded chicken, finely cut mushroom, finely cut olives, finely cut capsicums, salt and black pepper add and mix well .now now cut the samosa patti in square shape then add the mixture and make wonton shape and covered with beaten egg .then heat oil in a wok and deep fry wonton and serve.
Ingredients:
Flour, sifted 3 1/3 cups
Dried yeast 1 tsp
Sugar 1 tsp
Salt 1 tsp
Warm water 1-1/2 cup
Olive oil to grease
Sesame seeds 2 tsp
Nigella seeds 1 tsp
Egg yolk 1
Olive oil 1 tbsp
METHOD
• Combine flour, yeast, sugar and salt in a bowl and then add water bring the dough together in the bowl.Turn the dough onto a lightly floured surface and knead for 15 minutes or until smooth and elastic.
• Brush a bowl with oil to grease. Place dough in the bowl and lightly coat with oil. Cover with a damp tea towel. Set aside in a warm place for 1-1 /2 hours or until the dough has doubled in size.
• Place a baking tray on the middle shelf of the oven. Preheat oven to 230°C.
• Turn dough onto a lightly floured surface and cut in half. Flatten slightly with hands. Place each half on separate pieces of floured, non-stick baking paper. Cover with a damp tea towel and set aside in a warm, draught-free place for 15 minutes. With floured hands, stretch each piece of dough into a rectangle. Leave on non-stick baking paper. Cover with a damp tea towel and set aside in a warm, draught-free place for 10 minutes. Combine sesame and nigella seeds.
• Whisk egg yolk and oil in a bowl. Brush the top of each pide with egg mixture.
• Use floured fingers to make indentations on top and sprinkle with seeds. Remove tray from oven and slide 1 pide onto tray. Cook for 8-10 minutes or until golden. Cool on a wire rack.

Chana Masala Recipe in Urdu and English
At Masala TV you can check complete Chana Masala Recipe in Urdu and English. This is one of the best recipes by chef Mehboob Khan at Masala TV show Mehboob's Kitchen. Check out the other best recipes of chefs Mehboob Khan.
Top relevant recipes of Chana Masala Recipe in Urdu