Chapli Kabab Recipe | Dawat | Abida Baloch | Desi Food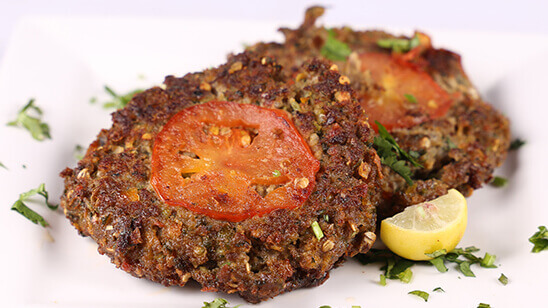 Feb 26, 2021 at 07:18 AM (GMT -05:00)

Check out the Chapli Kabab Recipe in Urdu. Learn how to make best Chapli Kabab Recipe , cooking at its finest by chef Abida Baloch at Masala TV show Dawat. Check all the Pakistan Cooking recipes in Urdu of Masala TV. Also Check Chapli Kabab Recipe , ingredients and complete Method.
Chapli Kababs are a traditional dish you'll enjoy every bite of. Try this one today!
Watch this Masala TV video to Learn how to make Chapli Kabab and Sindhi Style Tinday Recipes. This show of Dawat with Chef Abida Baloch aired on 22 October 2020.
Ingredients:
Beef Mince 300 gm
Onions chopped ½ cup
Pomegranate seeds (crushed, soaked and grind) 2 tbsp
All spice powder 1 tsp
Gram flour (roasted) 2 tbsp
Green chilies (chopped) 3-4
Salt to taste
Red chili flakes 2 tsp
Coriander seeds (roasted & crushed) 1 tbsp
Coriander leaves ½ cup
Egg 1
Tomatoes (chopped) ½ cup
Oil for frying
Method:
In a bowl, add beef mince, soaked pomegranate seeds, whole spice powder, roasted gram flour, green chilies, salt, red chili flakes, coriander seeds, coriander leaves, onion and egg. Mix well. Refrigerate mixture for 10-20 minutes. Mix well. Now make patty and place a tomato slice on top. Then heat oil and fry each side for 4-5 min on low flame until it done.
Ingredients:
Fistulous – Apple gourd (chopped into small cubes) 500gm
Onions (finely chopped) 300gm
Green chilies (finely chopped) 2-3
Oil 1/2 cup
Red chili powder 1 tbsp
Turmeric powder 1/4 tsp
Black pepper powder 1/4 tsp
All spice powder 1/4 tsp
Fresh coriander leaves (coriander) 2 tbsp
Cumin 1tsp
Garlic (chopped) 1tsp
Salt to taste
Method:
In a pan add onions,1 cup water salt, red chili powder, turmeric powder and apple gourd. Boil until onions and tinda become mashy. Then heat oil in another pan add Cumin, garlic, green chilies and then onion and tinda mixture. Give it a good mix and cook for few minutes until water disappears. Now garnish with chopped coriander leaves, all spice powder and black pepper powder. Serve hot.

Chapli Kabab Recipe in Urdu and English
At Masala TV you can check complete Chapli Kabab Recipe in Urdu and English. This is one of the best recipes by chef Abida Baloch at Masala TV show Dawat. Check out the other best recipes of chefs Abida Baloch.
Top relevant recipes of Chapli Kabab Recipe in Urdu