Cheesy chicken Boti Recipe | Evening With Shireen | Chef Shireen Anwar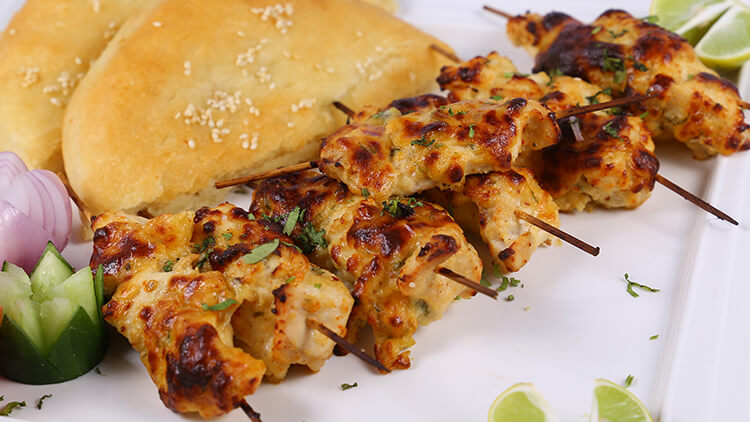 Oct 02, 2023 at 04:22 PM (GMT -04:00)

Check out the Cheesy chicken Boti Recipe in Urdu. Learn how to make best Cheesy chicken Boti Recipe, cooking at its finest by chef Shireen Anwar at Masala TV show Evening with Shireen. Check all the Pakistan Cooking recipes in Urdu of Masala TV. Also Check Cheesy chicken Boti Recipe, ingredients and complete Method.
These coal smoked chicken boti consist of mozzarella, cheddar and cream cheese and well marinated with different ingredients. It is then naked in pre-heated oven. Try it out
Watch this Masala TV video to learn how to make Cheesy chicken Boti,Roasted chicken tikkay,Soft pillow Nan,Chef Shireen Anwar,13 November 2019,Evening With Shireen
Ingredients:
Chicken breast cut into strips / flatten 500 gm
Mozzarella cheese ½ cup
Cheddar cheese 2 tbsp
Cream cheese 2 tbsp
Corn flour 2 tbsp
Egg yolk 1
Salt ½ tsp
Green chili grinded 1 tbsp
Crushed red pepper 1 tsp
Ginger garlic paste 1 tbsp
Vinegar 1 tbsp
Meat tenderizer 1 tsp
Dried fenugreek crushed 1 tsp
Coriander leaves 2 tbsp
Method:
Cut strips from breast, flatten like we make for behari chicken, add to it ginger garlic, vinegar and salt, keep it for 15 mins, mix together all the 3 cheese, mash well, add in corn flour, egg yolk, mix everything together, add to it all the remaining ingredients, marinate chicken in this for 2 hour, put to bake in a pre-heated oven on a grill in a standing hanging position, bake on 200 d for 30 mins, 15 mins on each side, give dum of coal, serve hot with soft nan.
Ingredients:
Chicken cut into 4 tikka pieces 1 kg
Onion finely chopped 2 tbsp
Ginger finely chopped 1 tsp
Garlic finely chopped heaped 1 tsp
Almonds grinded 2 tbsp
Desiccated coconut grinded 2 tbsp
Oil 2/3 cup
Chili powder 1 tsp heaped
Allspice 1 tsp leveled
Salt 1 ½ tsp
Yogurt ½ cup
Coriander leaves finely chopped 2 tbsp
Lemon cut into wedges 1
Method:
Heat oil in a wok, fry the onion until light golden. Put ginger garlic, chili powder, allspice and salt in a bowl, mix in the yogurt and grounded almonds and coconut, mix well, add the fried onion to the spice mixture, blend and keep aside, arrange the chicken tikka pieces in the bottom of a oven proof dish, spoon the blended mixture over the chicken, mix well, cook in a pre heated oven on 190 d for 40 mins, turning the chicken tikka pcs after 20 mins, garnish with coriander leaves, lemon wedges and serve with kachoomber.
Ingredients:
Tikka boti shredded ½ packet
Ingredients to make dough :
Flour 2 ½ cup
Boiled and mashed potato 1
Yeast 1 ¼ tsp
Salt ½ tsp
Sugar 1 tbsp
Yogurt 3 tbsp
Melted butter 1 tbsp
Baking powder ¼ tsp
Lukewarm water as required
Clarified butter for brushing
Sesame seeds as required
Method:
Put all the ingredients in a bowl, mix and knead to a soft dough, leave it to rise to double, make into 4 balls, roll to a thick nan, size of a quarter plate, mark with fingers, leave them to rise again for 20 mins, fill the shredded tikka filling then grill on high flame until done about 8-10 mins.

Cheesy chicken Boti Recipe in Urdu and English
At Masala TV you can check complete Cheesy chicken Boti Recipe in Urdu and English. This is one of the best recipes by chef Shireen Anwar at Masala TV show Evening with Shireen. Check out the other best recipes of chefs Shireen Anwar.
Top relevant recipes of Cheesy chicken Boti Recipe in Urdu