Cheesy Noodles Kabab Recipe | Masala Mornings | Shireen Anwar | Fusion Food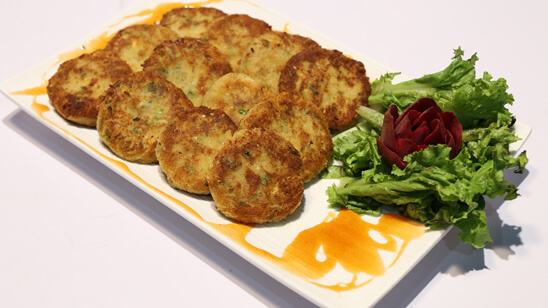 May 26, 2022 at 10:14 PM (GMT -04:00)

Check out the Cheesy Noodles Kabab Recipe in Urdu. Learn how to make best Cheesy Noodles Kabab Recipe , cooking at its finest by chef Shireen Anwar at Masala TV show Masala Mornings. Check all the Pakistan Cooking recipes in Urdu of Masala TV. Also Check Cheesy Noodles Kabab Recipe , ingredients and complete Method.
Cheesy Noodles Kabab are a wonderful combination of cheese and noodles that no one can resist! Try these and let us know how you liked these!
Watch this Masala TV video to learn how to make Cheesy Noodles Kabab ,Yellow Curry Pasta and Green Manchurian Recipes. This show of Masala Mornings with Chef Shireen Anwar aired on 5 August 2020.
Ingredients:
Rice noodles ½ packet
Sweet corn ½ cup
Green chilies chopped 2
Coriander leaves chopped 2 tbsp
Spring onions finely chopped 4 tbsp
French fries sauce 3 tbsp
All spice ½ tsp
Chicken tikka boti boiled 1 cup
Cheese grated 3 tbsp
Bread crumbs chopped 1 ½ cup
Salt ½ tsp
Black pepper ½ tsp
Red pepper crushed ½ tsp
Thick white sauce ½ cup
Bread crumbs (for coating) as required
Egg beaten (to coat) 1
Oil for frying
METHOD:
Put all ingredients in bowl except bread crumbs and egg and mix it nicely. Now give shape of patti or balls. Then coat with bread crumbs and egg. Then shallow fry it on both sides until light golden. Serve with french fries sauce.
Ingredients:
Beef undercut 2
Garlic 1 tsp
Lemon juice 2 tbsp
Thai yellow curry paste 1 tbsp
Red pepper crushed 1 tbsp
Salt ½ tsp
Oil ¼ cup
Butter 2 tbsp
Onion chopped ½ cup
Flour 2 tbsp
Cream 1 cup
Milk ½ cup
Coriander leaves 2 tbsp
Thai rice stick noodles 2 cups
Oregano 1 tsp
Red pepper crushed 1 tsp
METHOD:
Marinate beef undercut with garlic, lemon juice, yellow curry paste, red pepper and salt. Now heat oil and butter, add onion and fry until soft. Then put beef and cook for 5 minutes. Then add flour, oregano, milk and cream and cook until thick. Now put noodles. Then toast it until saucy. Now garnish with coriander leaves and 1 tsp red pepper and serve.
Ingredients:
Chicken boneless ½ kg
Corn flour 2 tbsp
Egg 1/2
Crushed garlic 1 tbsp
Chopped green chili 1
Green chili garlic sauce ¼ cup
Salt 1 tsp
Finely chopped onion 2 tbsp
Vinegar 2 tbsp
Light soy sauce 2 tbsp
Green curry paste 2 tbsp
METHOD:
Cut chicken into cubes and marinate with salt, egg, corn flour and vinegar. Now heat oil in pan, fry chopped onion, put garlic, green chili and marinated chicken and cook it. Then put green chili sauce, green curry paste, soya sauce and vinegar and fry it. Now put 1 cup water and corn flour paste and served with boiled rice in sizzler.

Cheesy Noodles Kabab Recipe in Urdu and English
At Masala TV you can check complete Cheesy Noodles Kabab Recipe in Urdu and English. This is one of the best recipes by chef Shireen Anwar at Masala TV show Masala Mornings. Check out the other best recipes of chefs Shireen Anwar.
Top relevant recipes of Cheesy Noodles Kabab Recipe in Urdu