Chicken Bread Pakora Chaat Recipe | Masala Mornings | Shireen Anwar | Desi Food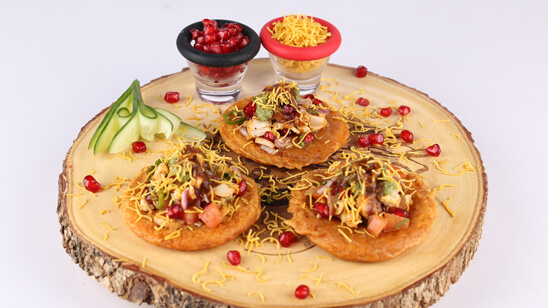 Jun 13, 2021 at 10:48 AM (GMT -04:00)

Check out the Chicken Bread Pakora Chaat Recipe in Urdu. Learn how to make best Chicken Bread Pakora Chaat Recipe , cooking at its finest by chef Shireen Anwar at Masala TV show Masala Mornings. Check all the Pakistan Cooking recipes in Urdu of Masala TV. Also Check Chicken Bread Pakora Chaat Recipe , ingredients and complete Method.
Chicken Bread Pakora is a unique fusion of all our favorites in one dish. Give this crispy, spicy and mouthwatering chaat a try!
Watch this Masala TV video to learn how to make Chicken Bread Pakora Chaat , Coconut Prawn Pulao , Chocolate mousse and Tiramisu Mousse Recipes. This show of Masala Mornings with Shireen Anwar aired on 16 December 2020.
Ingredients for batter:
Gram flour ½ cup
Corn flour 1tbsp
Ginger Garlic paste ½tsp
Red chilli powder 1tsp
Salt ½tsp
Chaat masala 1 tsp
Water as required
Ingredients for filling :
Pomegranate seeds ½ cup
Onion 1
Tomato 1
Green chili 2
Chopped coriander leaves as required
Chaat masala ½ tsp
Chicken tikka boti chopped ½ cup
To make bread chaat:
Fried bread slices as required
Mint and coriander chutney as required
Tamarind chutney as required
Pomegranate toppings as required
Chaat masala 1tsp
Sev as required
Method:
Make batter with all the ingredients under the batter column ( thick consistency )
Mix everything in the fillings column together and keep aside
Take 8 to 20 large bread slices cut with cutter from the Centre , dip in batter shallow fry keep aside .
Arrange them on a platter spread both chutneys top with filling and sev garnish with pomograte seeds
Ingredients:
Basmati rice boiled 2 cups
Prawns cleaned ½ kg
Clarified butter ½ cup
Cinnamon 2 inch piece
Cloves 5
Cardamom 4
Black peppercorns 10
Onion sliced 1 cup
Tomato chopped ½ cup
Ginger Garlic paste 2 tsp
Green chilli slit 2
Coconut milk ½ cup
Salt 2 tsp
Sugar 1 tsp
Lemon juice 1 tsp
Cashew nut 10 fried
Method:
Wash and soak rice for at least 20 minutes. Boil with salt .
In a pan heat the oil and add cinnamon, cloves, peppercorns and cardamom. Add the onions and green chilies. Cook until the onions turns translucent. Add the ginger garlic paste. Saute for 1 minute. To this, add chopped tomato. Add the coconut milk and prawns. Add the salt and sugar. Bhuno well, add the lemon juice and the top with boiled rice .Cover with a lid and cook on low flame for 20 minutes. Top with fried cashew nut and coriander leaves .
Ingredients:
Instant coffee 1- ½tsp
Hot water ¼ cup
Heavy whipping cream 1 cup
Powdered sugar 1 -1/2 cup
Cream cheese 8 ounces
Vanilla extracts 1 tsp
Unsweetened cocoa powder 1 tsp
semi sweet baking chocolate 1 ounce
Method:
Mix instant coffee in the hot water. Let it cool for 5 minutes. Beat heavy whipping cream until stiff peaks form. Chill until ready to use . Mix powdered sugar and cream cheese with a hand mixer until smooth. Mix in vanilla extract and 1 tbsp of the coffee. Add up to the entire amount of coffee, depending on how strong you want your tiramisu. Mix in vanilla.
Fold whipped cream into coffee mixture gently place the tiramisu in a piping bag .
Pipe a small amount the bottom of each of serving glasses. Top the layer with a dusting of cocoa powder. Continue layering the tiramisu and cocoa powder. Once you get to the top layer, grate the 1 ounce of semi sweet baking chocolate over the top.

Chicken Bread Pakora Chaat Recipe in Urdu and English
At Masala TV you can check complete Chicken Bread Pakora Chaat Recipe in Urdu and English. This is one of the best recipes by chef Shireen Anwar at Masala TV show Masala Mornings. Check out the other best recipes of chefs Shireen Anwar.
Top relevant recipes of Chicken Bread Pakora Chaat Recipe in Urdu