Chicken Bun Kabab Recipe | Food Diaries | Chef Zarnak Sidhwa | Fast Food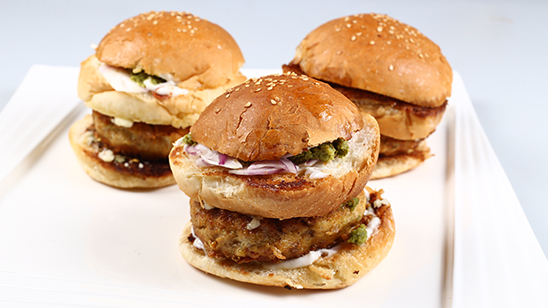 Dec 11, 2023 at 03:19 AM (GMT -05:00)

Check out the Chicken Bun Kabab Recipe in Urdu. Learn how to make best Chicken Bun Kabab Recipe , cooking at its finest by chef Zarnak Sidhwa at Masala TV show Food Diaries. Check all the Pakistan Cooking recipes in Urdu of Masala TV. Also Check Chicken Bun Kabab Recipe , ingredients and complete Method.
Chicken Bun Kabab makes the easiest and yummiest food that there is. If you are a fan of street food but also give importance to hygiene, give this recipe a try!
Watch this Masala TV video to learn how to make Chicken Bun Kabab , Peri Peri Masala and Gingerbread Honey Loaf Recipes. This show of Food Diaries with Chef Zarnak Sidhwa aired on 26 July 2021.
Ingredients:
Chicken mince 200 gm
Buns 4
Turmeric powder 1/2 tsp
Red chili powder 3/4 tsp
Chaat masala 1/2 tsp
All spice powder 1 1/2 tsp
Salt to taste
Green chilies (chopped) 2-3
Onion (chopped) 1
Eggs 3
Oil as required
Butter for toasting
Mayonnaise as required
Green chutney as required
Onions (sliced) as required
Peri peri masala as required
Cheese (grated) as required
Method:
Mix in the chicken mince, turmeric powder, red chili powder, chaat masala powder, all spice powder, salt, green chilies and onion. Divide the mixture into equal portions and shape them into patties and keep them on a plate. Break the eggs into another bowl, add salt and whisk well. Dip each tikki in the egg mixture and shallow fry in hot oil. Drizzle some beaten egg over each tikki. Drain on absorbent paper. Toast the sliced buns in butter. Apply green chutney on the base part of the bun, place chicken kebab on it. Put sliced onion and piri piri masala and place the middle slice of the bun on top. Apply mayonnaise and green chutney on this slice, sprinkle grated cheese and piri piri masala, and cover it with the top slice of the bun. Apply butter on top, flip and toast till golden and crisp. Take it off the heat. Cut the bun kebab diagonally and place on serving plates. Serve hot with sliced onion and green chutney.
Ingredients:
Cayenne pepper powder 1 tbsp
Garlic powder 2 tsp
Ginger powder 1/4 tsp
Pepper powder 1/4 tsp
Black salt 1/2 tsp
Salt 1/2 tsp
Dry mango powder 1/4 tsp
Oregano 1 tsp
Red chili flakes 1 tsp
Onion flakes 1 tsp
Dried parsley 1/2 tsp
Sugar 1 tsp
Method:
Mix all spices well and store in a jar labeled peri peri masala.
Ingredients:
Butter 100 gm
Honey 100 gm
Dark brown sugar 125 gm
Milk 4 tbsp
Vanilla essence ½ tsp
Flour 200 gm
Baking powder 1 tbsp
Baking soda ¼ tsp
Ground ginger 1 tsp
Ground cinnamon 1 tsp
Nutmeg (grated) a pinch
Ground cloves a pinch
Allspice powder a pinch
Salt a pinch
Egg 1
Method:
Put the honey, butter and sugar in a saucepan and warm over a low heat, stirring occasionally, until the butter has melted and the sugar dissolved. Remove from the heat and pour in the milk and vanilla, then set aside to cool. Mix the flour with the baking powder, spices and a pinch of salt. Add the egg, then gently fold in along with the melted butter mixture. Once combined, put into a greased and lined tin, sprinkle baking powder and place on a baking tray, and bake at 200 degrees C for 40 minutes until a skewer inserted into the middle comes out clean. Leave to cool for 10 minutes in the tin, then place on a cooling rack and leave to cool completely. Slice and serve.

Chicken Bun Kabab Recipe in Urdu and English
At Masala TV you can check complete Chicken Bun Kabab Recipe in Urdu and English. This is one of the best recipes by chef Zarnak Sidhwa at Masala TV show Food Diaries. Check out the other best recipes of chefs Zarnak Sidhwa.
Top relevant recipes of Chicken Bun Kabab Recipe in Urdu