Chicken Manchow Soup Recipe | Masala Mornings | Shireen Anwar | Appetizer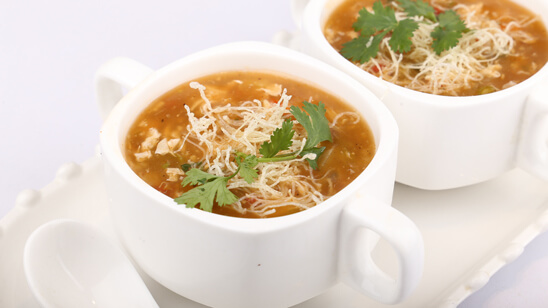 Feb 26, 2021 at 07:45 AM (GMT -05:00)

Check out the Chicken Manchow Soup Recipe in Urdu. Learn how to make best Chicken Manchow Soup Recipe , cooking at its finest by chef Shireen Anwar at Masala TV show Masala Mornings. Check all the Pakistan Cooking recipes in Urdu of Masala TV. Also Check Chicken Manchow Soup Recipe , ingredients and complete Method.
Celebrate the start of winter season with this Chicken Manchow Soup that tastes incredibly delicious.
Watch this Masala TV video to learn how to make Chicken Manchow Soup ,Butter garlic prawns and Saucy chicken lollipop Recipes. This show of Masala Mornings with Chef Shireen Anwar aired on 28 October 2020 .
Ingredients:
Onions chopped 2
Cabbage chopped ½ medium
French beans chopped 10 to 15
Carrot chopped 1
Capsicum chopped 1
Garlic Chopped 1 tbsp
Chopped ginger ½ tbsp
Green chilies chopped ½ tbsp
Soya sauce 3 tbsp
Chili sauce 1 tbsp
Black pepper powder 1 tsp
sugar 1 tsp
tomato sauce 1 tbsp
vinegar 2 tsp
chicken stock 5 cups
egg whites 2
chopped coriander 3 tbsp
boiled and shredded chicken ½ cup
Corn flour slurry as per thickness
Method:
Heat some oil in a pan. Add ginger garlic and green chilies and sauté for half a minute add onions and sauté till soft add all the vegetables and fry for a minute. Now add soya sauce, chili sauce, tomato sauce, vinegar, pepper powder, sugar, and chicken and mix well add the chicken stock. After 1 boil lower the flame and cook for 3 to 4 minutes, add corn flour slurry according to the desired consistency. Beat 2 egg whites with little salt add it to the soup by stirring it gently sprinkle freshly chopped coriander cover and cook this for another 2 minutes of slow flame. Turn off the flame and let it rest for 5 to 10 minutes. Your restaurant style manchow soup is ready. Serve it hot with crispy fried noodles.
Ingredients to marinate:
Cleaned prawns 250 gm
Salt to taste
Black pepper powder ½ tsp
Oregano ½ tsp
Other ingredients:
Butter 100 gm
Garlic chopped 3 tbsp
Coriander leaves chopped 2-3 tbsp
red chili flakes pinch
Lemon juice 2-3 drops
Spring onion leaves to sprinkle
Method:
In a pan heat 100 gms of butter, add 3 tbsp chopped garlic, sauté for 2 mins on slow flame, add the marinated prawns along with 2 -3 tbsp of chopped coriander leaves, and cook till prawns are done, sprinkle a pinch of red chilli flakes, add 2-3 drops of lemon juice mix well and turn off the flame. While serving put more butter if you want sprinkle some spring onion leaves. Serve hot and enjoy.
Ingredients for marination:
Chicken lollipops fried ½ kg
Flour 4 tbsp
Corn flour 4 tbsp
Egg 1
Salt according to taste
Black pepper powder ½ tsp
Soya sauce ½ tbsp
Red chili sauce ½ tbsp
Vinegar 1 tsp
Ingredients for sauce:
Chopped garlic ½ tbsp
Ginger chopped 1 tbsp
Chopped green chilies 1 tsp
Tomato sauce ½ tbsp
Chili sauce ½ tbsp
Soya sauce 2 tbsp
schezwan sauce 1 ½ tbsp
Vinegar ½ tbsp
Black pepper powder ½ tsp
Chicken stock ½ cup
Method:
In a bowl take 4 tbsp maida, mix everything well without adding water, add lollipops to it, mix everything well. The lollipops should be nicely coated with the marination. Let it rest for an hour. After 1 hour mix it again nicely and deep fry till golden brown.Method for sauceIn a non-stick pan heat some oil, use the oil in which we have fried the chicken lollipops, add ½ tbsp chopped garlic, 1 tbsp chopped ginger, 1 tsp chopped green chilies, fry for 1 minute. Do not change its color. Now add ½ tbsp tomato sauce, ½ tbsp chili sauce, 2 tbsp soya sauce, 1 ½ tbsp schezwan sauce, ½ tbsp vinegar, ½ tsp black pepper powder, cook all these on medium flame for 1 minute, add the fried lollipops to this sauce and toss them well. It should be nicely coated with the sauces, add ½ cup chicken stock and cook for 2 minutes till you get a thick saucy texture. Keep stirring. Sprinkle chopped spring onion leaves and serve.

Chicken Manchow Soup Recipe in Urdu and English
At Masala TV you can check complete Chicken Manchow Soup Recipe in Urdu and English. This is one of the best recipes by chef Shireen Anwar at Masala TV show Masala Mornings. Check out the other best recipes of chefs Shireen Anwar.
Top relevant recipes of Chicken Manchow Soup Recipe in Urdu