Chicken Pasta Recipe | Food Diaries | Zarnak Sidhwa | Fusioon Food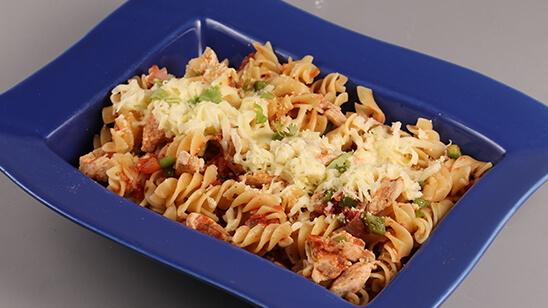 Jul 04, 2022 at 08:13 AM (GMT -04:00)

Check out the Chicken Pasta Recipe in Urdu. Learn how to make best Chicken Pasta Recipe , cooking at its finest by chef Zarnak Sidhwa at Masala TV show Food Diaries. Check all the Pakistan Cooking recipes in Urdu of Masala TV. Also Check Chicken Pasta Recipe , ingredients and complete Method.
Chicken Pasta is a fusion of all most delicious things that you won't be able to resist at any cost.
Watch this Masala TV video to learn how to make Chicken Pasta, Date Cereal Bars and Mayonnaise Egg Salad Recipes. This show of Food Diaries with Chef Zarnak Sidhwa aired on 3 May 2021.
.
Ingredients:
Chicken breasts, cut in strips 2
Olive oil 1 tbsp
Onion chopped 1
Capsicum chopped 1
Garlic minced 3 cloves
Salt 1/2 tsp
Pepper ½ tsp
Garlic powder ½ tsp
Tomato sauce 1 cup
Mozzarella cheese 1/2 cup
Parmesan cheese 1/4 cup
Cooked pasta 3 cups
Method:
Heat 1 tablespoon oil. Add the onion,garlic and capsicum and saute. Add the chicken strips, salt, pepper and garlic powder and cook the chicken until done.add the tomato sauce and allow to simmer for 5 minutes while the pan is covered. Drain the water from the pasta and add in. Mix well, add the cheese and turn off flame. The cheese will melt from the heat of the pan. Put in individual plates and just before serving, top with parmesan cheese.
Ingredients:
Oats 230gm
Mixed chopped nuts and seeds 130gm
Dates chopped 75gm
Peanut butter 170gm
Honey 110ml
Dark chocolate melted 100gm
Salt as required
Method:
Combine all the ingredients for the bars apart from the dark chocolate and sea salt. Stir well until well combined. If the mixture is dry, in a little more honey. Spread the mixture a greased tin or dish and press down firmly with the back of a spoon. Chill in the fridge overnight. Top bars with melted dark chocolate and a sprinkle of sea salt. Cut into bars and wrap individually. Refrigerate for up to 2 weeks.
Ingredients:
Eggs 6
Onions 2
Coriander leaves 1 handful
Black pepper 1 tsp
Oregano as required
Mixed herbs 1 tbsp
Mayonnaise 5 tbsp
Green chilies 3
Salt to taste
Chili flakes as required
Method:
Mix the onions with mayonnaise and green chilies, season with salt and black pepper powder. Add the sliced boiled eggs. Mix in coriander leaves, mixed herbs, chili flakes and oregano.

Chicken Pasta Recipe in Urdu and English
At Masala TV you can check complete Chicken Pasta Recipe in Urdu and English. This is one of the best recipes by chef Zarnak Sidhwa at Masala TV show Food Diaries. Check out the other best recipes of chefs Zarnak Sidhwa.
Top relevant recipes of Chicken Pasta Recipe in Urdu