Chicken Salad Sandwich Recipe | Food Diaries | Masala TV | Zarnak Sidhwa | Fast Food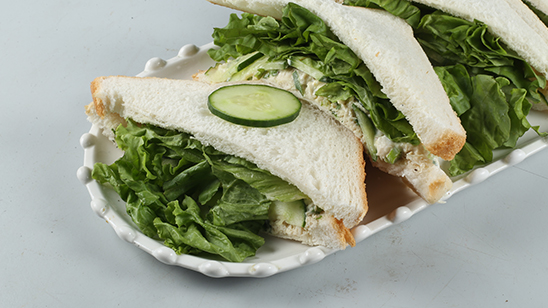 May 21, 2022 at 02:45 PM (GMT -04:00)

Check out the Chicken Salad Sandwich Recipe in Urdu. Learn how to make best Chicken Salad Sandwich Recipe , cooking at its finest by chef Zarnak Sidhwa at Masala TV show Food Diaries. Check all the Pakistan Cooking recipes in Urdu of Masala TV. Also Check Chicken Salad Sandwich Recipe , ingredients and complete Method.
Chicken Salad Sandwich a time saving, healthy and delicious sub that you can make and eat anytime. Try it and share this with your loved ones.
Watch this Masala TV video to learn how to make Chicken Salad Sandwich and Profiterole Tower Recipes. This show of Food Diaries with Chef Zarnak Sidhwa aired on 20 September 2021.
Ingredients:
Chicken (chopped & cooked) 2 cups
Mayonnaise ½ cup
Celery (chopped) 1 stalk
Green onion (chopped) 1
Dijon mustard 1 tsp
Salt ½ tsp
Black pepper to taste
Fresh dill 1 tsp
Bread or salad to serve
Method:
Combine all ingredients and mix well. Season with salt and pepper to taste. Serve as a sandwich or over salad.
Ingredients For Choux Pastry:
Water 250 ml
Cold butter (diced) 100 gm
Caster sugar 1 tsp
Salt a pinch
Flour 150 gm
Eggs 4
For Chocolate Sauce:
Brown sugar 75 gm
Cocoa powder 40 gm
Golden syrup 75 gm
Dark chocolate (chopped) 150 gm
For Almond Brittle:
Almonds (chopped) 2 tbsp
Sugar 150 gm
For The Filling:
Chocolate spread 75 gm
Icing sugar 24 gm
Cream 600 ml
Coffee essence 1 tsp
Method:
For Choux Pastry, Pour the water into a pan and add the butter, sugar and pinch of salt. Bring to the boil slowly and boil for 1 minute. Add the flour in one go. Cook for a few minutes, beating all the time, until the mixture comes away from the sides of the pan cleanly and is smooth. Leave to cool for 5 minutes. Transfer the cooled mixture to a large bowl and beat in the eggs, gradually adding one at a time, then continue to beat until the mixture is smooth and shiny, about 2 more minutes. Spoon the mixture into a piping bag fitted with a large, plain nozzle, then pipe 10cm-long éclair shapes onto a baking sheet. Smooth out any bumps with the tip of a wet finger. Bake at 180 degrees C for 25–30 minutes until golden brown and crisp. Remove from the oven and transfer the éclairs from the baking tray to a wire rack to cool. Using the tip of a sharp knife, pierce a hole in the rounded end of each éclair. Place the éclairs on their sides and return to the oven for a further 5 minutes so that they become dry and crisp. Remove from the oven and cool on a wire rack.
Make the chocolate sauce, by putting the sugar, cocoa and golden syrup in a pan with 200ml water. Let it boil, remove from the heat and stir in the chocolate until it has melted. Pour into a bowl and leave to cool, then cover and chill.
For the almond brittle, heat the sugar in a steel pan without stirring. When it is melted and turns a golden caramel colour, add the almonds and pour the caramel straight onto a silicon sheet or lid, tilting to spread as thinly as possible. Once cold and set, bash the brittle in a mortar and pestle to get small pieces.
For the filling, beat the chocolate spread with half the icing sugar and half the cream and whip to soft peaks. Beat the remaining cream with the remaining icing sugar and coffee essence to soft peaks.
When the profiteroles are cold, you're ready to assemble. Poke holes in the bottom of each bun with a small piping nozzle. Spoon both fillings into separate piping bags fitted with small nozzles, and pipe into 15 profiteroles each.
To assemble, dunk each profiterole in the chocolate sauce to cover the top as you stack on a serving plate. Sprinkle over the nutty brittle shards and serve the profiterole tower.

Chicken Salad Sandwich Recipe in Urdu and English
At Masala TV you can check complete Chicken Salad Sandwich Recipe in Urdu and English. This is one of the best recipes by chef Zarnak Sidhwa at Masala TV show Food Diaries. Check out the other best recipes of chefs Zarnak Sidhwa.
Top relevant recipes of Chicken Salad Sandwich Recipe in Urdu