Chicken Stew Recipe | Food Diaries | Zarnak Sidhwa | Desi Food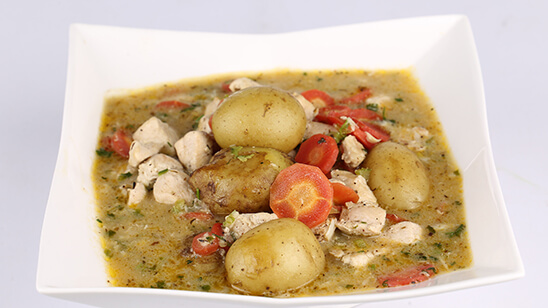 Jul 01, 2022 at 06:33 PM (GMT -04:00)

Check out the Chicken Stew Recipe in Urdu. Learn how to make best Chicken Stew Recipe , cooking at its finest by chef Zarnak Sidhwa at Masala TV show Food Diaries. Check all the Pakistan Cooking recipes in Urdu of Masala TV. Also Check Chicken Stew Recipe , ingredients and complete Method.
Chicken Stew is a different take on the regular Stew dishes we often have. Try cooking this to make Stew that will be loved by all your family members.
Watch this Masala TV video to learn how to make Chicken Stew and Cannoli Recipes. This show of Food Diaries with Chef Zarnak Sidhwa aired on 24 December 2020.
Ingredients:
Butter 2 tbsp.
Carrots, peeled and sliced into coins 2
Celery chopped 1
Salt and ground black pepper as required
Garlic, minced 3cloves
Flour 1 tbsp
Chicken breasts 1/2 kg
Thyme 1 tsp
Bay leaf 1
Baby potatoes 6-8
Chicken stock 3 cups
Chopped parsley for garnish
Method:
Melt butter. Add garlic, carrots, celery, salt and pepper. Sauté few minutes and then add flour and stir until vegetables are coated, then add chicken, thyme, bay leaf, potatoes and chicken stock. Bring mixture to a simmer and cook until the chicken is no longer pink and potatoes are done. Using two forks, shred chicken into pieces and garnish with parsley before serving.
Ingredients:
Cannoli filling:
Ricotta cheese 475 gm
Sugar 1/2 cup
Vanilla essence 1 tsp
Dried fruits, finely chopped 1/4 cup
Dark chocolate, chopped 1 oz
Icing sugar 2 tbsp
Cannoli dough:
Flour 1- 1/3 cups
Baking powder 1 tsp
nutmeg 1/4 tsp
Butter 2 tbsp
Red vinegar 1 tbsp
Sugar 2 tbsp
Orange juice 3 tbsp
Egg 1
Egg for brushing
Oil for frying
Water 3 tbsp
Method:
To make the cannoli filling, mix the ricotta cheese, dried fruits, chocolate, orange zest, vanilla essence, orange juice and the sugar. Cover and refrigerate. To make the cannoli dough, in a food processor, combine the flour, sugar, nutmeg, baking powder and salt.add the butter, egg orange juice, red wine vinegar and pulse until the dough forms into a ball. Add water, if needed. On a floured surface, knead the dough for 3 minutes. Make a ball and cover it. Let it rest for 1 hour at room temperature. Roll the dough into a long shape. Cut into slices, each disc should be about ½" thick. This should give you about 18 cannolis. Using a rolling pin, make a flat round shape of each disc. Take each disc and roll them around the cannoli tubes. Using the beaten egg and a brush, brush the last part of the disc to make it stick to the roll.heat oil. Fry 1 or 2 cannolis at a time for about 2 minutes. Drain on paper towels. Cool the cannoli completely.
To assemble, using a pastry bag fill up the tubes from each side.lay them downon a serving plate and dust them with some icing sugar.

Chicken Stew Recipe in Urdu and English
At Masala TV you can check complete Chicken Stew Recipe in Urdu and English. This is one of the best recipes by chef Zarnak Sidhwa at Masala TV show Food Diaries. Check out the other best recipes of chefs Zarnak Sidhwa.
Top relevant recipes of Chicken Stew Recipe in Urdu