Chicken Tandori Trizza Recipe | Lively Weekends | Fusion Food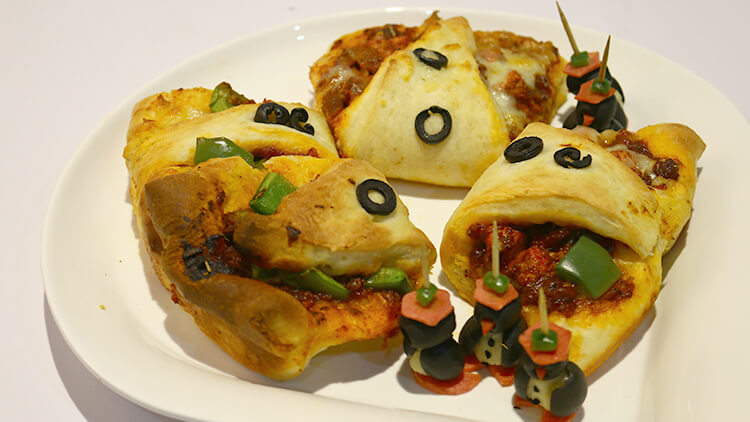 Dec 11, 2023 at 05:07 AM (GMT -05:00)

Check out the Chicken Tandori Trizza Recipe in Urdu. Learn how to make best Chicken Tandori Trizza Recipe , cooking at its finest by chef at Masala TV show Lively Weekend. Check all the Pakistan Cooking recipes in Urdu of Masala TV. Also Check Chicken Tandori Trizza Recipe , ingredients and complete Method.
This Chicken Tandoori Trizza is an unbeatable snack that will be loved by all age groups. It has a crispy dough crust with a filling of the yummiest spices and cheese to add on to the deliciousness.
Watch this Masala TV video to learn how to make Chicken Tandori Trizza with Rice, Rajhistani Red Mutton and Savoury Doll Cake Recipes. This show of Lively Weekend with Host Kiran Khan aired on 9 February 2020.
INGREDIENTS FOR PIZZA DOUGH :
Flour 250gm
Sugar 10gm
Salt 3gm
Yeast 10gm
Egg 1pc
Oil/Butter 50gm
Milk 100ml
INGREDIENTS FOR TOMATO SAUCE:
Tomatoes paste 4medium
Onion 1
Ginger garlic paste 1/2tsp
Red chilli flakes 1tbsp
Ketchup 2tbsp
Chicken powder as required
Salt as required
Oregano 1/2tbsp
INGREDIENTS FOR TANDORI CHICKEN:
Chicken 500gm
Yogurt 2tbsp
Red chilli flakes 1 tsp
Red chilli powder 1tsp
Salt ½ tsp
Ginger garlic paste 1 tsp
Coriander powder ½ tbsp
Chaat masala ½ tsp
Kashmiri red chili powder 1/4 tsp
Whole spices powder ¼ tsp
Coriander powder ½ tbsp
Red food colour 1/3 tsp
Lemon juice 2tbsp
Oil ½ tbsp
ASSEMBLEING INGREDIENTS:
Capsicum cubes as required
Chicken tandoori cubes as required
Tomato sauce as required
Pizza mix cheese as required
olives as required
INGREDIENTS FOR MARINATION:
Talhar chili paste 6-8 chilies
Mutton 325 grams
Yogurt ¼ cup
Cumin powder 1tsp
Coriander powder 1tsp
Turmeric powder 1/3 tsp
Salt to taste
Ginger paste ½ tbsp
Garlic paste ½ tbsp
INGREDIENTS FOR GRAVY:
Butter 2tbsp
Bay leaves 1
Black cardamom 1
Green cardamom 2
Cinnamon sticks 1
Cloves 3
Onion chopped 2 medium
Garlic ½ tbsp
Ginger ½ tbsp
Salt to taste
Water 1cup
METHOD:
In mutton all marination ingredients mix and leave to marinate for 1 hour .after this in a pan add butter and add all gravy masala and cook .then add onion ,ginger garlic , water and marinated mutton add and cook for 2 to 3 minutes .finally cover and further cook 7 to 8 minutes .then do the smoke and serve .
INGREDIENTS FO CAKE BATTER:
Eggs 2pcs
Oil 150ml
Yogurt 125gm
Milk 6 tbsp
Salt to taste
Flour 1cup
Corn flour 45gm
Baking soda ¼ tsp
Red chili flakes ½ tbsp
Chicken powder ½ tbsp
Capsicum ½ cup
Green chilies chopped 2
Fresh coriander ¼ cup
Spring onion chopped ½ cup
INGREDIENTS FOR CHICKEN PATTIE:
Beef mince 1kg
Salt 1tsp
Black pepper 1tsp
Ketchup 2tbsp
Bread crumbs 1/2cup
Cumin powder 1tsp
Sriracha sauce 2tbsp
Ketchup 2tbsp
Oil 1tbsp
INGREDIENTS FOR CARAMEL SPREAD:
Oil 2tbsp
Salt 1pinch
Onion chopped 1cup
Red chili flakes 2tbsp
Garlic paste 2tbsp
Mayonnaise ½ cup
Ketchup 4tbsp
CAKE ASSEMBLING INGREDIENTS:
Mayonnaise as required
Cake layer as required
Burger patties as required
Cucumber as required
Caramel spread as required
Salad leaves as required
Ketchup as required
Method:
Preheat the oven at 180 degree centigrade .after this cake batter all ingredients mix and make batter then keep in oven and bake 30 to 40 minutes and remove then remove and cool it .now make the layer .for caramel spread heat oil and sauté onion garlic paste and divided in to two parts . now half onion ,crushed red chili and salt mix .then in a bowl add mayonnaise and remaining onion and ketchup mix .after this all Pattie ingredients mix in a bowl and add ready half mixture add then bake Pattie .finally do the cake layer ,then Pattie and then caramel spread apply again so the cake and Pattie layer and assemble with assembling ingredients .now do the shape as your desire and serve .

Chicken Tandori Trizza Recipe in Urdu and English
At Masala TV you can check complete Chicken Tandori Trizza Recipe in Urdu and English. This is one of the best recipes by chef at Masala TV show Lively Weekend. Check out the other best recipes of chefs .
Top relevant recipes of Chicken Tandori Trizza Recipe in Urdu