Chicken Tidbits Recipe | Masala Mornings | Shireen Anwar | Appetizer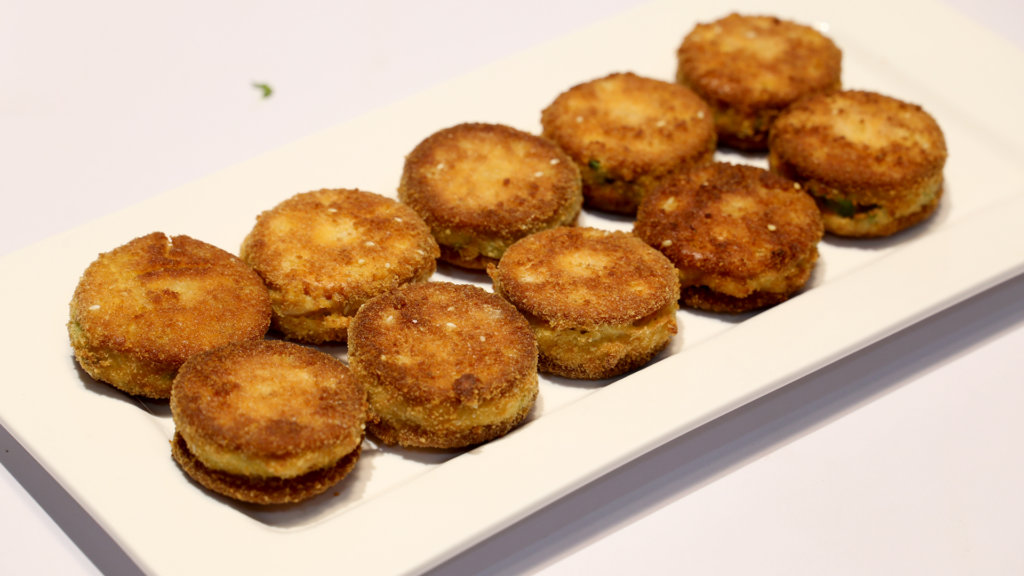 Jul 04, 2020 at 12:39 PM (GMT -04:00)

Check out the Chicken Tidbits Recipe in Urdu. Learn how to make best Chicken Tidbits Recipe , cooking at its finest by chef Shireen Anwar at Masala TV show Masala Mornings. Check all the Pakistan Cooking recipes in Urdu of Masala TV. Also Check Chicken Tidbits Recipe , ingredients and complete Method.
These Chicken Tidbits will melt in your mouth and give you a burst of flavor. Try these ones out and let us know how you liked it.
Watch this Masala TV video to learn how to make Chicken Tidbits , Sikandari Fish and Swiss Roll Yum Yum Recipes. This show of Masala Mornings with Chef Shireen Anwar aired on 1  June 2020.
Ingredients:
Saltish biscuits as required
Boiled and shredded chicken 1 ½ cup
Spring onion 2 chopped
Sweet corn ½ cup
Capsicum ½ cut into tiny cubes
Eggs 2-3 beaten
Fresh bread crumbs as required
Ingredients for white Sauce:
Butter 2 tbsp
Flour 3 tbsp
Salt ½ tsp
Crushed red pepper 1 tsp
Milk ¾ cup
Water ¼ cup
Vinegar 1 tbsp
Coriander leaves 1 tbsp
Green chilies 2 chopped
METHOD:
Make thick white sauce, cool, add in all the above ingredients to white sauce, spread on saltish biscuits, cover with second biscuit, dip in egg, coat in crumbs, chill for 1 hour, deep fry on high flame
Ingredients:
Boneless fish cubes ½ kg
Carom ½ tsp
Ginger garlic paste 1 tsp
Salt 1 tsp
Black pepper ½ tsp
Chili powder 1 tsp
Lemon juice 2tbsp
Turmeric ½ tsp
Chat masala ½ tsp
Flour 4 tbsp
Water ½ cup
Oil as required
METHOD:
In a bowl mix together ginger garlic paste, salt, chili powder, carom, turmeric, chat masala, flour and lemon juice, add 2 tbsp water and form it into a thick paste, add to it fish cubes, leave it for a while, deep fry, serve fish with tamarind chutney and fries.
Ingredients for Swiss Roll:
Eggs 5
Caster sugar 4 ounce
Flour 4 ounce
Cocoa powder 1 ounce
Vanilla essence 1 tsp
Ingredients for Filling:
Chilled cream 2 cups
Fruit cocktail 1 cup
Chocolate chips 2 tbsp
Ingredients for Topping:
Milk chocolate grated 2 cups
Whipped cream as required
METHOD FOR SWISS ROLL:
Beat eggs with caster sugar till light and fluffy, add in essence, very gently fold in the flour and coco mixture, spread mixture in a well-greased and paper lined swiss roll tray, bake on 200 C for 10 mins, remove on a napkin dusted with icing sugar.
METHOD:
On your swiss roll spread cream then fruit cocktail and chocolate chips, roll gently, lift and keep in a serving dish.
METHOD FOR TOPPING:
Melt chocolate and cream, pour over swiss roll to cover completely, put to chill for at least 2 hours, before serving sprinkle with grated chocolate and decorate as you like.

Chicken Tidbits Recipe in Urdu and English
At Masala TV you can check complete Chicken Tidbits Recipe in Urdu and English. This is one of the best recipes by chef Shireen Anwar at Masala TV show Masala Mornings. Check out the other best recipes of chefs Shireen Anwar.
Top relevant recipes of Chicken Tidbits Recipe in Urdu