Chicken Tikka Karahi Recipe | Dawat | Abida Baloch | Desi Food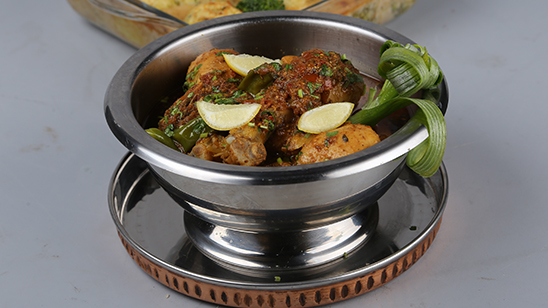 Apr 21, 2021 at 05:25 PM (GMT -04:00)

Check out the Chicken Tikka Karahi Recipe in Urdu. Learn how to make best Chicken Tikka Karahi Recipe , cooking at its finest by chef Abida Baloch at Masala TV show Dawat. Check all the Pakistan Cooking recipes in Urdu of Masala TV. Also Check Chicken Tikka Karahi Recipe , ingredients and complete Method.
Chicken Tikka Karahi is a full of scrumptious spices and flavors so give it a try for tonight's dinner!
Watch this Masala TV video to learn how to make Chicken Tikka Karahi and Broccoli Pie Recipes. This show of Dawat with Chef Abida Baloch aired on 23 February 2021.
Ingredients:
Chicken (tikka cut) 500 gm
Chaat masala 1 tsp
Dried fenugreek leaves 1 tsp
Turmeric powder 1/2 tsp
Red chili powder 1 tsp
Black pepper crushed 1 tsp
White vinegar 1 tbsp
Orange food color 1/4 tsp
Yogurt beaten 4 tbsp
Oil 1tbsp
For Karahi:
Oil 1/2 cup
Ginger garlic paste 1 tbsp
Tomatoes chopped 3
Salt 1 tsp
Red chili powder 1 tsp
Turmeric powder 1/2 tsp
Coriander Seeds (roasted and coarsely ground) 1tbsp
Cumin Seeds (roasted and coarsely ground) 1/2 tbsp
Red chili flakes 1/2 tbsp
Green chilies sliced 2-3
Ginger julienne 1 inch
For Garnish:
Chopped Coriander 3tbsp
Green Chilies chopped 2
Lemon juice 1 lemon
Method:
In a bowl whisk together all the marinade ingredients. Add the chicken and coat well with the marinade. Cover the bowl and allow to marinate for 30 minutes.
Heat oil in a grill pan or non-stick pan over high heat and place the chicken pieces on it. keep the left over marinade. Cook for 5-6 minutes on each side about 5-6 minutes each side. Take out and keep in a bowl
In the wok heat oil over medium-high heat add ginger and garlic paste.
When fragrant and lightly golden add chopped tomatoes along with the salt, red chili powder and turmeric. Mix and add 1/2 cup water
when the tomatoes are soft reduce the heat to medium and add in the remaining chicken tikka marinade, mix well. Add coarsely ground cumin, coriander and red chili flakes. Give it a mix. Now add the prepared Chicken Tikka along with green chilies and ginger, mix it all and cover the pan for 5 minutes. Let cook on medium heat for 15 minutes. Garnish with fresh coriander, green chilies and ginger with a squeeze of lemon juice serve hot.
Ingredients:
Onion (diced) 1
Garlic (diced) 2 cloves
Butter 2tbsp
Flour 2tbsp
Mustard powder 1/2 tsp
Paprika powder 1/4 tsp
Milk 2 cups
Cheddar cheese 1cup
Broccoli, cut into florets and parboiled 1
Boiled, mashed potatoes 1 ½ kg
Spring onions, chopped 4
Salt 1 tsp
Black pepper 1 tsp
Mozzarella cheese 1/2 cup
Method:
Heat half butter to a pan over a medium heat. Then add onion and fry for 5-10 mins until soft and starting to caramelize. Now add garlic and cook out for ami. Then add the rest of the butter into the pan and allow it to melt. Now add the flour and cook for about 2 mins. Then gradually pour in the milk in small increments, whisking all the while until a smooth sauce. Once all the milk has been added, bring to a boil. Then simmer for about 2 mins until thickened. Now add half cheddar cheese, salt, papri ka powder, mustard and black pepper. Stir until the cheese melts. Then pop up the broccoli and stir until everything is coated. Now in a bowl mash the cooked potatoes. Stir in spring onions, the remaining cheddar cheese, salt and black pepper until well combined. Now make small balls of mashed potatoes mixture. Now pour the broccoli mixture into a dish and place the potato balls on top. Then add the mozzarella cheese on the top and bake it in an oven on 180 c for about 25 mins. Lastly sprinkle spring onions and serve.

Chicken Tikka Karahi Recipe in Urdu and English
At Masala TV you can check complete Chicken Tikka Karahi Recipe in Urdu and English. This is one of the best recipes by chef Abida Baloch at Masala TV show Dawat. Check out the other best recipes of chefs Abida Baloch.
Top relevant recipes of Chicken Tikka Karahi Recipe in Urdu