Chicken With Corn & Mushrooms Recipe | Food Diaries | Zarnak Sidhwa | Continental Food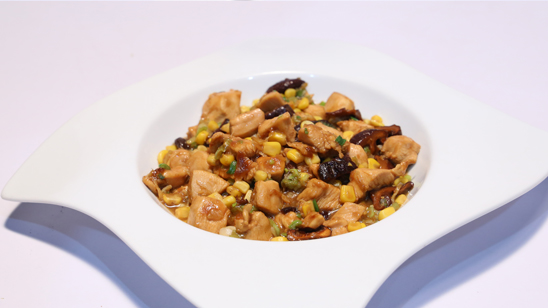 Jun 04, 2023 at 04:49 PM (GMT -04:00)

Check out the Chicken With Corn & Mushrooms Recipe in Urdu. Learn how to make best Chicken With Corn & Mushrooms Recipe , cooking at its finest by chef Zarnak Sidhwa at Masala TV show Food Diaries. Check all the Pakistan Cooking recipes in Urdu of Masala TV. Also Check Chicken With Corn & Mushrooms Recipe , ingredients and complete Method.
Chicken With Corn & Mushroom has the ingredients of the classic corn and mushroom combination that is a delight to have. Try it because you'll love it.
Watch this Masala TV video to learn how to Chicken With Corn & Mushrooms And Caramel Soaked Almond Cake Recipes. This show of Food Diaries with Chef Zarnak Sidhwa aired on 7 April 2020.
Ingredients:
Chicken breasts, cubed ½ kg
For the Marination:
Soy sauce 2 tbsp
Rice wine vinegar 1 tbsp
Sesame oil 1 tsp
Corn flour 1 tbsp
For the Sauce:
Corn flour 1 ½ tbsp
Water 1/3 cup
Soy sauce 1 tbsp
Oyster sauce 2 tbsp
Sugar 1 tsp
Sesame oil 1 tsp
For the Stir-Fry:
Oil 2 tbsp
Garlic minced 1 clove
Ginger minced 1 tsp
Green onions sliced 2
Dried mushrooms 3-4
Baby corn, cut in half 1 cup
Method:
Combine the first three marinade ingredients in a bowl. Add the chicken and toss to coat; sprinkle the cornflour evenly and toss again. Marinate the chicken in the refrigerator for 10 to 15 minutes. While the chicken marinates, dissolve the corn flour in the water, then mix it with all of the other sauce ingredients in a clean bowl. Heat a wok with 1 tablespoon oil. When the oil shimmers, add the garlic, ginger, and green onion, then stir-fry for about 1 minute. Add the chicken and stir-fry, stirring frequently, until the chicken changes color, about 3 to 4 minutes Add the remaining oil and stir-fry the mushrooms and baby corn for 1 minute. Add the sauce, giving it a quick re-stir before combining it with the chicken and vegetables. Stir-fry for an additional 1 to 2 minutes, or until the sauce thickens and coats all of the ingredients.
Ingredients:
Unsalted butter 3/4 cup
Caster sugar ½ cup
Caramel ½ cup
Eggs 3
Vanilla essence 1 tsp
Milk ½ cup
Flour 1 ½ cup
Almonds ground ½ cup
Baking powder 2 tsp
Salt ¼ tsp
Sliced almonds, toasted 1 cup
Salt ½ tsp
Caramel Sauce:
Caster sugar 1 cup
Water ¼ cup
Cream ½ cup
Unsalted butter 4 tbsp
Vanilla essence 1 tsp
Method:
Beat butter, sugar and caramel until pale and fluffy. Add in eggs and vanilla essence and add in milk, mixture may look curdled but it's fine. Mix in flour, ground almonds, baking powder and salt. Pour batter into greased and lined 9" springform pan and smooth top. Bake in preheated oven at 180 degrees C for 30 – 35 minutes, the sides should be set but the center slightly under-baked. To prepare the caramel sauce, in a steel pan heat sugar and water until sugar dissolves and reaches a dark amber color, carefully swirling pan occasionally.
Immediately add butter and whisk until butter has melted then remove from heat.
Carefully pour in cream and whisk until mixture is smooth then pour into a bowl so it doesn't continue to cook. Remove cake once done, then pierce all over with a skewer. Slowly pour prepared caramel sauce over the cake, reserve few tablespoons to drizzle over the top before serving. Sprinkle with almonds.
Return cake to oven and bake until cooked through, about 10 minutes longer.
Sprinkle with sea salt, serve warm.

Chicken With Corn & Mushrooms Recipe in Urdu and English
At Masala TV you can check complete Chicken With Corn & Mushrooms Recipe in Urdu and English. This is one of the best recipes by chef Zarnak Sidhwa at Masala TV show Food Diaries. Check out the other best recipes of chefs Zarnak Sidhwa.
Top relevant recipes of Chicken With Corn & Mushrooms Recipe in Urdu