Chocolate Balls Recipe | Masala Mornings | Shireen Anwer | Masala Tv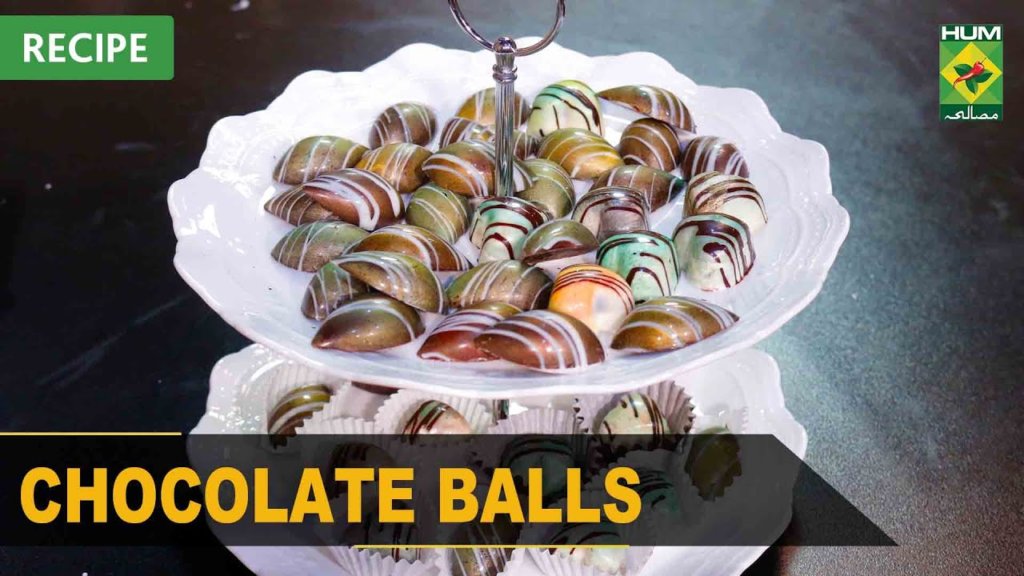 Sep 28, 2023 at 04:46 AM (GMT -04:00)

Check out the Chocolate Balls Recipe in Urdu. Learn how to make best Chocolate Balls Recipe , cooking at its finest by chef Shireen Anwar at Masala TV show Masala Mornings. Check all the Pakistan Cooking recipes in Urdu of Masala TV. Also Check Chocolate Balls Recipe , ingredients and complete Method.
The best Desi food recipes right at your finger tips. Subscribe to Masala Tv Recipes YouTube channel and never miss an updates !
Subscribe To Masala TV Recipes YouTube Channel! https://bit.ly/MasalaTV
Chocolate Balls Recipe will help you achieve the perfect combination of flavours. Try out this very yummy recipe!
#ChocolateBalls #cakesicles #MasalaTv #Foodie #food
Watch this Masala TV video to learn how to make Chocolate Balls and Cakesicles Recipe.
If you enjoy cooking Pakistani food and are looking for recipes, videos of LIVE shows, totkas, and other food stories in both Urdu and English, subscribe to this YouTube channel @ https://bit.ly/3ac5djo or go to our website: https://www.masala.tv/
Ingredients:
Eggs 4
Sugar 125 gm
Flour 100 gm
Cocoa powder 25 gm
Oil 125 gm
Baking powder ½ tsp
Baking soda ½ tsp
Chocolate ganache 300 gm
Coconut powder as required
Butter cream as required
Milkyz chocolate as required
Chocolate for garnish
Method:
In a bowl beat together eggs and sugar well. Then add oil and beat for about 2-3 minutes. Now add in flour, cocoa powder, baking powder and baking soda. Fold it properly. Now add the batter into a greased cake pan and bake it in an oven at 160 c for about 25 minutes. Then remove the cake from an oven and allow it to cool completely. Now crumble the cake and add chocolate ganache, mix well. Then add coconut powder and butter cream, mix well until well combined. Now melt the Milkyz chocolate and spread evenly onto the popsicle mould. Then add the prepared mixture. Now melt the chocolate and pour it onto the cakesicle mixture. Then allow it to them to cool in the fridge. Lastly decorate the cakesicles and serve.
Ingredients:
Milkyz white chocolate 300 gm
Milkyz dark chocolate 300 gm
Almonds as required
Caramel sauce as required
Chocolate sauce as required
Strawberry sauce as required
Chocolate 200 gm
Method:
In a bowl melt Milkyz white chocolate and Milkyz dark chocolate separately. Then add them into acrylic moulds and allow it to set in the fridge. Now add in almonds, caramel sauce, chocolate sauce and strawberry sauce. Then layer the chocolate and allow the mixture to cool. Lastly decorate it well. Serve.

Chocolate Balls Recipe in Urdu and English
At Masala TV you can check complete Chocolate Balls Recipe in Urdu and English. This is one of the best recipes by chef Shireen Anwar at Masala TV show Masala Mornings. Check out the other best recipes of chefs Shireen Anwar.
Top relevant recipes of Chocolate Balls Recipe in Urdu