Chocolate Doughnuts Recipe | Food Diaries | Zarnak Sidhwa | Dessert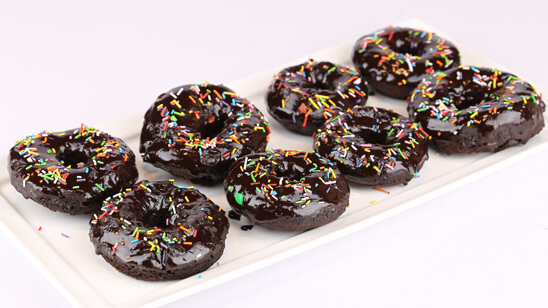 Mar 05, 2021 at 11:33 PM (GMT -05:00)

Check out the Chocolate Doughnuts Recipe in Urdu. Learn how to make best Chocolate Doughnuts Recipe , cooking at its finest by chef Zarnak Sidhwa at Masala TV show Food Diaries. Check all the Pakistan Cooking recipes in Urdu of Masala TV. Also Check Chocolate Doughnuts Recipe , ingredients and complete Method.
Aren't Chocolate Doughnuts our all time favorite? Here is the ultimate recipe to ace these at home so enjoy every bite of this whenever you wish!
Watch this Masala TV video to learn how to make Chocolate Doughnuts and Hawaiiian Chicken Recipes. This show of Food Diaries with Chef Zarnak Sidhwa aired on 18 December 2020.
Ingredients:
Flour 2½ cups
Cocoa powder 1 cup
Baking powder 2 tsp
Salt ½ tsp
Eggs 4
Caster sugar 1½ cups
Buttermilk 1/3 cup
Butter, melted 3 tbsp
Oil for frying
For Mocha glaze:
Chocolate chopped 6 oz
Cream ½ cup
Butter 1 tbsp
Corn syrup 2 tsp
Method:
Combine flour, cocoa, baking powder and salt. In another bowl, whisk eggs, sugar, buttermilk, and melted butter to blend. Stir into dry ingredients until well blended.
Chill for at least 1 hour or up to 3 hours. Scrape dough onto a generously floured surface. With floured hands, pat dough out to about 1/2 inch thick. With a 3-inch doughnut cutter, cut out doughnuts. Place doughnuts on a well-floured baking sheet. I used well floured fingers to get the hole in the middle, make sure the hole is large or when frying, it will close up. Heat oil and fry doughnuts until puffy and cooked through, transfer doughnuts to paper towels to drain. When cool enough to handle, dip the top half of each doughnut in warm mocha glaze and place on a plate. Let stand until glaze is set, about 5 minutes. To make the mocha glaze, melt on low the chocolate, cream, butter and corn syrup. Stir, until smooth.
Ingredients:
Chicken breasts, cubed ½ kg
Diced onion 1
Grated ginger 1 tbsp
Capsicum cubed 1
Pineapple chunks 1cup
BBQ sauce 1/2 cup
Soya sauce 2 tbsp
Chopped spring onions 1 cup
Oil 2 tbsp
Method:
Heat oil. Add the onions and grated ginger. Sauté for a minute. Then add in the chicken pieces. Add the capsicum, pineapple chunks, BBQ sauce and soya sauce. Stir well to coat and simmer. Sprinkle with spring onions.

Chocolate Doughnuts Recipe in Urdu and English
At Masala TV you can check complete Chocolate Doughnuts Recipe in Urdu and English. This is one of the best recipes by chef Zarnak Sidhwa at Masala TV show Food Diaries. Check out the other best recipes of chefs Zarnak Sidhwa.
Top relevant recipes of Chocolate Doughnuts Recipe in Urdu