Chocolate Ganache Tarts Recipe | Food Diaries | Zarnak Sidhwa | Dessert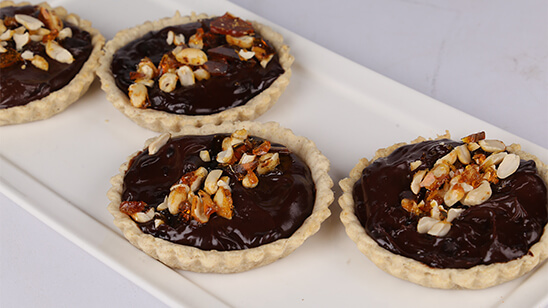 Jan 27, 2021 at 03:36 PM (GMT -05:00)

Check out the Chocolate Ganache Tarts Recipe in Urdu. Learn how to make best Chocolate Ganache Tarts Recipe , cooking at its finest by chef Zarnak Sidhwa at Masala TV show Food Diaries. Check all the Pakistan Cooking recipes in Urdu of Masala TV. Also Check Chocolate Ganache Tarts Recipe , ingredients and complete Method.
These Chocolate Ganache Tarts make an iconic dessert. It is the perfect thing to make at tea-time. Enjoy a relaxing cup of coffee or tea with these beautiful looking tarts.
Watch this Masala TV video to learn how to make Chocolate Ganache Tarts , Thai Chicken Meatloaf and Water Chestnut Curry Recipes. This show of Food Diaries with Chef Zarnak Sidhwa aired on 16 November 2020.
Ingredients:
Flour 2 cups
Almonds, ground 1 cup
Icing sugar 2 tbsp
Salted butter chopped 140gm
Ground cinnamon 1/2 tsp
Egg yolk 1
Chilled water 2 tbsp
Cream 1-1/2 cups
Salted butter, chopped 130gm
Chocolate, chopped 300gm
Salted roasted peanuts 2 cups
Caster sugar 2 cups
Whipped cream to serve
Method:
Place the flour, ground almonds, icing sugar, butter and cinnamon in a food processor and process until the mixture resembles fine breadcrumbs. Add the egg yolk and chilled water. Process until the mixture just comes together. Turn the pastry onto a clean work surface and shape into a disc. Cover with plastic wrap and place in the fridge for 30 minutes to chill. Divide the pastry into 8 portions. Roll out each portion between 2 pieces of baking paper to a disc the size of your tart tins. Line the tins with pastry and trim excess. Chill for 10 minutes. Place tart tins on a baking tray. Line pastry cases with paper and fill with baking weights or rice. Bake at 180 degrees c for 10-12 minutes. Remove paper and weights. Bake again for a further 5-6 minutes or until the pastry is golden. Set aside to cool. Melt cream, chocolate and 50g of the extra butter in a saucepan. Remove from heat. Pour evenly among the pastry cases. Place in the fridge for 1 hour to set. To make the peanut brittle, place sugar in a saucepan, once the sugar dissolves and turns amber, add in little water and remove from heat. Carefully stir in remaining butter, mix and then pour this toffee over the peanuts set on a tray. Set aside to cool. Break into pieces. Arrange the tarts on serving plates. Top with whipped cream and sprinkle with peanut brittle.
Ingredients :
chicken mince 800gm
fresh breadcrumbs 1 cup
egg 1
stem lemon grass, chopped 1
kaffir lime leaves, chopped 2
coriander, chopped 1/4 cup
sweet chili sauce 2 tbsp
Salt & ground black pepper as required
green onion, thinly sliced 1
fresh red chili, sliced 1
coriander leaves 1 tbsp
Sweet chili sauce to serve
Olive oil to grease
Method:
Preheat oven to 180°C. Combine the chicken mince with breadcrumbs, egg, lemon grass, lime leaves, coriander and sweet chili sauce. Season with salt and pepper. Press chicken mixture into a greased loaf pan. Bake at 180 degrees C in a preheated oven for 35-40 minutes or until juices run clear when a skewer is inserted into the center. Remove from oven. Set aside in the pan for 5 minutes to rest. Turn onto a serving platter. Sprinkle meatloaf with green onions, red chilli and coriander leaves. Cut into slices and serve with extra sweet chili sauce.
Ingredients :
Water Chestnuts – 400 gms
onion chopped 1
garlic cloves chopped 2-4
Tomatoes pureed 2 pureed
Ginger chopped ½ inch
Green chillies – 2
Oil – 4 tbsp
coriander chopped 2 to 3 tbsp
Cumin Seeds – ½ tsp
Turmeric Powder – ½ tsp
Coriander Powder – 1 Tsp
Red chilli powder – ½ tsp
All spice powder ¼ tsp
Salt – ¾ tsp
Chickpea Flour – 1 tbsp
Method:
Boil the water chestnuts and then cool and peel black skin off, set aside. Heat 2tbsp oil, add onion, garlic and sauté and then add the cumin seeds, turmeric powder, coriander powder, red chilli powder, pureed tomatoes, chopped green chillies and ginger. Take a tempering pan, add 2 tbsp Oil, add chickpea flour in it and roast while continuously stirring until it changes colour. Add the roasted chickpea flour in the masala mixture. Add the boiled Water Chestnuts in the masala mixture along with ½ tsp of Salt, less than ¼ tsp of Garam Masala, 2 to 3 tbsp of finely chopped Green coriander and roast while continuously stirring them for 2 minutes. Add ½ / 1 cup of water in it and cook while covering it for 5 minutes on the low flame.
Garnish it with finely chopped Green Coriander.
Serve with Chappati or Rice.

Chocolate Ganache Tarts Recipe in Urdu and English
At Masala TV you can check complete Chocolate Ganache Tarts Recipe in Urdu and English. This is one of the best recipes by chef Zarnak Sidhwa at Masala TV show Food Diaries. Check out the other best recipes of chefs Zarnak Sidhwa.
Top relevant recipes of Chocolate Ganache Tarts Recipe in Urdu