Chocolate Gateau Recipe | Food Diaries | Zarnak Sidhwa | Dessert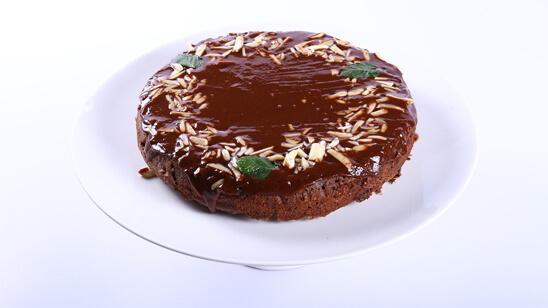 Jul 01, 2022 at 07:45 PM (GMT -04:00)

Check out the Chocolate Gateau Recipe in Urdu. Learn how to make best Chocolate Gateau Recipe , cooking at its finest by chef Zarnak Sidhwa at Masala TV show Food Diaries. Check all the Pakistan Cooking recipes in Urdu of Masala TV. Also Check Chocolate Gateau Recipe , ingredients and complete Method.
Chocolate Gateau will give you the ultimate experience of the dessert world. It's so rich in flavor that you'll love it instantly!
watch this Masala TV video to learn how to make Chocolate Gateau and Meatballs pasta Recipes. This show of Food Diaries with Chef Zarnak Sidhwa aired on 12 March 2020.
Ingredients:
Butter 2/3 cup
Sugar ¾ cup
Eggs (separated) 3
Chocolate (melted) 1 cup
Vanilla essence 1 tsp
Flour ¾ cup
Salt ½ tsp
Milk ¼ cup
Ground almonds (toasted) 2/3 cup
GLAZE:
Butter 3 tbsp
Light corn syrup 2 tbsp
Water 1 tbsp
Chocolate spread 1 cup
Slivered almonds (toasted) handful
Mint leaves few
Method:
Beat butter and sugar until light and fluffy. Add in egg yolks, melted chocolate and vanilla. Combine the flour and salt; gradually add to creamed mixture alternately with milk, beating well after each addition. Stir in the almonds. Beat egg whites until stiff peaks form; carefully fold into batter. Spread into a greased 9-in. springform pan. Place pan on a baking sheet. Bake at 180° C for 30-35 minutes or until a toothpick inserted in the center comes out clean. Cool on wire rack for 10 minutes. Carefully run a knife around edge of pan to loosen; remove sides of pan. Cool completely. In a saucepan, bring the butter, corn syrup and water to a boil; stirring constantly. Remove from the heat. Add the chocolate spread, stir until smooth. Cool to room temperature. Spread over top and sides of cake. Garnish with almonds and mint.
Ingredients:
Spaghetti 1 packet
Ground beef ½ kg
Bread crumbs 1/3 cup
Finely chopped parsley ¼ cup
Grated Parmesan ¼ cup
Egg 1
Garlic (minced) 2 cloves
Salt to taste
Red chili flakes ½ tsp
Extra-virgin olive oil 2 tbsp
Onion (chopped) ½ cup
Crushed tomatoes 1 cup
Bay leaf 1
Ground black pepper to taste
Method:
Combine beef with bread crumbs, parsley, Parmesan, egg, garlic, 1 teaspoon salt, and red chili flakes. Form into balls. Heat oil, add meatballs and cook, turning occasionally, until browned on all sides, about 10 minutes. Transfer meatballs to a plate. Add onion to pan and cook until soft. Add crushed tomatoes, bay leaf, salt and pepper and bring to a simmer. Return meatballs to pot and cover. Simmer until sauce has thickened, 8 to 10 minutes. Serve pasta with meatballs and sauce. Top with Parmesan before serving.

Chocolate Gateau Recipe in Urdu and English
At Masala TV you can check complete Chocolate Gateau Recipe in Urdu and English. This is one of the best recipes by chef Zarnak Sidhwa at Masala TV show Food Diaries. Check out the other best recipes of chefs Zarnak Sidhwa.
Top relevant recipes of Chocolate Gateau Recipe in Urdu