Chocolate Mousse Slice Recipe | Food Diaries | Zarnak Sidhwa | Dessert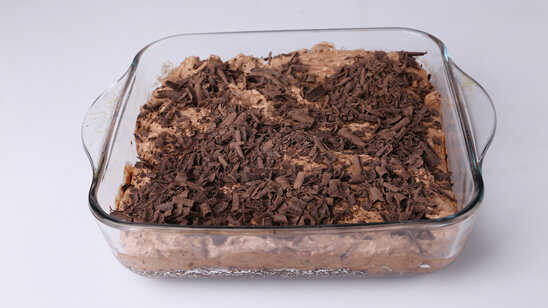 Jan 22, 2021 at 05:24 AM (GMT -05:00)

Check out the Chocolate Mousse Slice Recipe in Urdu. Learn how to make best Chocolate Mousse Slice Recipe , cooking at its finest by chef Zarnak Sidhwa at Masala TV show Food Diaries. Check all the Pakistan Cooking recipes in Urdu of Masala TV. Also Check Chocolate Mousse Slice Recipe , ingredients and complete Method.
Chocolate Mousse Slice makes one of the most amazing chocolate desserts that taste irresistible.
Watch this Masala TV video to learn how to make Chocolate Mousse Slice and Dahi Vadas Recipes. This show of Food Diaries with Chef Zarnak Sidhwa aired on 12 November 2020.
Ingredients:
Cake
Flour 1 1/2 cups
Baking powder 1 tsp
Brown sugar 1/2 cup
Butter, melted 200 grams
Cocoa powder 1/4 cup
Mousse:
Dark chocolate, chopped 300g dark
Eggs, separated 2
Cream 3/4 cup
Shaved dark chocolate and cream, to serve
Method:
Combine flour, sugar, butter and cocoa powder in a bowl. Press over the base of a greased and lined rectangle pan. Bake at 180 degrees c for 20-25 minutes or until firm to touch. Cool completely. To make the mousse, melt chocolate and let cool. Stir in egg yolks. Fold in cream. Beat egg whites until soft peaks form. Fold into chocolate mixture. Spoon over base. Using a spatula, level top. Refrigerate for 6 hours or until firm. Cut into squares. Serve garnished with dark chocolate and cream.
Ingredients:
For the Vada :
Urad Dal 1 cup
Ginger Chopped 1 tsp
Green Chilli Chopped 1 tsp
Baking Soda 1 pinch
Oil for frying
For soaking:
For curd:
Curd Whisked 3 cups
Sugar 1 tsp
Salt 1/2 tsp
For Topping:
Coriander Mint Chutney 1/4 cup
Tamarind Chutney 1/4 cup
coriander seeds roasted and ground ½ tsp
Red Chilli Powder 1/2 tsp
Roasted Cumin Powder 1/2 tsp
Chaat masala for sprinkling
Salt to taste
Coriander Chopped 2 tbsp
Method:
For vada, wash the daal and soak in 3-4 cups of water for 4-5 hours. Drain the water and add the daal in a blender along with ginger, green chilli and salt. Blend to make a thick paste. Just add 2-3 tsp of water while grinding. Whisk the dal for 4-5 minutes using a beater, until it is very light. Cover the bowl and keep aside for 15 minutes. Add the baking soda and whisk for another minute. Take a bowl filled with water and drop a teaspoon of batter in it. If the batter immediately starts to float on top of the water, the batter is ready. If not, then whisk it some more. Heat oil. Wet your hands with water and take out small portion of the batter in your palms. Shape it into a flat round vada. Drop the vada in hot oil. reduce the heat to medium and fry all the vadas until they are golden brown. Drain.
For the soaking water, mix all the ingredients in a bowl and keep aside. For curd, whisk the curd with sugar and salt. Add the fried vadas in soaking water and let them soak for 15 minutes. Press the vada between your palm lightly and arrange them in the serving plate. Top with whisked curd. Add coriander mint chutney and tamarind chutney. Sprinkle chaat masala, coriander powder, red chilli powder, roasted cumin powder, salt and chopped coriander. Chill for a few hours before serving.

Chocolate Mousse Slice Recipe in Urdu and English
At Masala TV you can check complete Chocolate Mousse Slice Recipe in Urdu and English. This is one of the best recipes by chef Zarnak Sidhwa at Masala TV show Food Diaries. Check out the other best recipes of chefs Zarnak Sidhwa.
Top relevant recipes of Chocolate Mousse Slice Recipe in Urdu