Chutney Sandwiches Recipe | Food Diaries | Zarnak Sidhwa | Street Food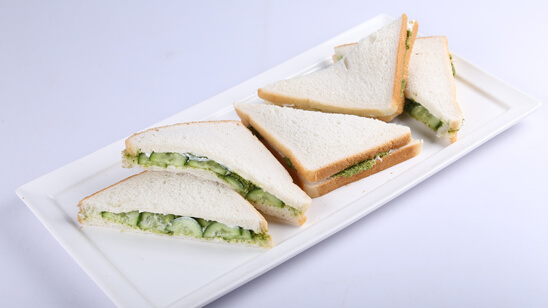 Jan 26, 2021 at 10:30 AM (GMT -05:00)

Check out the Chutney Sandwiches Recipe in Urdu. Learn how to make best Chutney Sandwiches Recipe , cooking at its finest by chef Zarnak Sidhwa at Masala TV show Food Diaries. Check all the Pakistan Cooking recipes in Urdu of Masala TV. Also Check Chutney Sandwiches Recipe , ingredients and complete Method.
The simpler dishes in life often turn out to be the yummiest. These Chutney Sandwiches are very easy and basic; you'll love these!
Watch this Masala TV video to learn how to make Chutney Sandwiches and Concorde Recipes. This show of Food Diaries with Chef Zarnak Sidhwa aired on 12 October 2020.
Ingredients:
Bread slices 6
Cucumber, thinly sliced 1
Mayonnaise 3tbsp
Green Chutney 3 tbsp
Salt and pepper as required
Method:
Spread the mayo on one slice of bread and green chutney on the other. Arrange thin slices of cucumber over the mayo. Sprinkle black pepper and salt. Cover the cucumber layer with another green chutney bread slice. Gently press the sandwich. Cut diagonally into equal size triangles and serve.
FOR THE MERINGUE:
egg whites 8 large
caster sugar 1 1/4 cup
cocoa powder 1/2 cup
FOR THE MOUSSE:
dark chocolate 2 cups
salt ½ tsp
eggs 2
egg yolk 1
caster sugar 1/3 cup
water 1 tbsp
heavy whipping cream2 cups
Method :
FOR THE MERINGUE:
Whisk the egg whites until soft peaks form. Slowly add the sugar while whisking, and continue to whip the meringue until stiff, glossy peaks form. Sift the cocoa powder into the mixing bowl and fold into the meringue until evenly incorporated. Transfer mixture to a large pastry bag fitted with a plain tip. On silicon lined sheets, pipe the meringue into three 8-inch rounds, piping in a spiral circle. With the remaining meringue, pipe as many meringue sticks as possible, about 5 inches long. Bake at 120°C or the lowest oven temperature in your oven, until crisp, about 1 hour. Cool completely.
FOR THE MOUSSE:
Whisk the eggs and egg yolk until frothy. In a saucepan, heat the sugar and water to 120 degrees C on a sugar thermometer. Pour 1/3 of the sugar liquid into the eggs and mix on medium-high for about 30 seconds. Repeat two more times, stopping to add the sugar syrup each time. Then beat on high until the eggs are light and airy, about 5 minutes. Fold the egg mixture into melted chocolate. Whip the cream to soft peaks and fold into the chocolate mixture.
TO ASSEMBLE:
Set aside enough mousse to frost sides and top. With remaining mousse, divide in half and assemble layers of meringue and mousse into a 3-layer cake. Chill to firm. Spread remaining mousse over top and sides of cake. Press meringue sticks along the side of the cake. You can keep the meringues uniform, or cut to a rough, staggered look. To do this, cut two different lengths of sticks and then place them alternating short and long. Chop the remaining meringue sticks randomly and fill in the top of the cake. Chill the cake before serving, and finish with dusting of icing sugar.

Chutney Sandwiches Recipe in Urdu and English
At Masala TV you can check complete Chutney Sandwiches Recipe in Urdu and English. This is one of the best recipes by chef Zarnak Sidhwa at Masala TV show Food Diaries. Check out the other best recipes of chefs Zarnak Sidhwa.
Top relevant recipes of Chutney Sandwiches Recipe in Urdu