Club Sandwich Recipe | Dawat | Chef Abida Baloch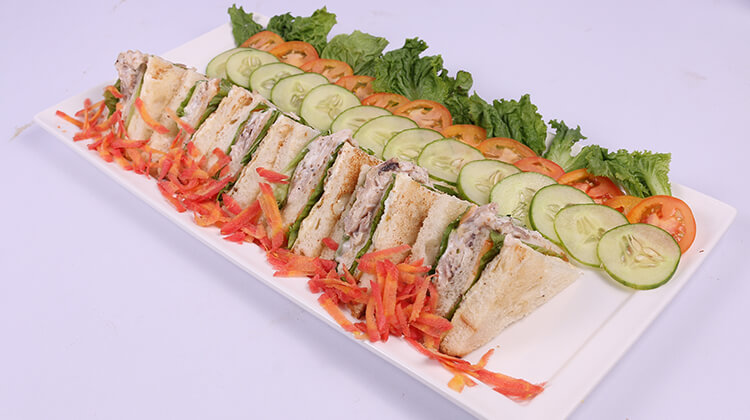 Jun 08, 2023 at 02:28 AM (GMT -04:00)

Check out the Club Sandwich Recipe in Urdu. Learn how to make best Club Sandwich Recipe , cooking at its finest by chef Abida Baloch at Masala TV show Dawat. Check all the Pakistan Cooking recipes in Urdu of Masala TV. Also Check Club Sandwich Recipe , ingredients and complete Method.
Basic club sandwich recipe that everybody should know!! Try it!
Watch this Masala TV video to learn how to make Club sandwich ,Coleslaw and Chicken Nuggets. This show of Dawat with Chef Abida Baloch aired on 3 October 2019.
Ingredients:
Eggs 2
Shredded chicken 1cup
Lemon juice 1tsp
Mayonnaise ½ cup
Salt to taste
Black pepper ½ tsp
White pepper ½ tsp
Sandwich bread 6 slices
Lettuce leaves 3-4
Sliced tomato 1
Sliced cucumber 1
Cheese 2 slices
Butter 4 tbsp
Toothpick as required
Method:
Put butter on bread and grill it. Make 2 omelettes with egg and salt in it. Mix chicken, salt, black pepper, white pepper, lemon juice and mayonnaise. Put lettuce leave on bread slice then spread chicken mixture add cheese slice, omelette, cucumber, tomato slice and in last put bread slice and secure it with toothpick. Cut it in 4 pieces and serve with coleslaw.
Ingredients:
Raisins 2 tbsp
For coleslaw mix:
Shredded red cabbage 1cup
Shredded white cabbage 1cup
Shredded carrot ½ cup
For dressing:
Mayonnaise 1 cup
Sugar 2 tbsp
Lemon juice 1-1/2 tbsp
White vinegar 1 tbsp
Salt ¼ tsp
Ground white pepper ½ tsp
Method:
Mix mayonnaise, sugar, lemon juice, white vinegar, salt and white pepper in a bowl. Then add coleslaw mix, garnish with raisins and serve cold.
Ingredients:
Egg 1
Oil for frying
For brine:
Chicken breasts (cubed) 500 gm
Water 2 cups
Salt 1 tbsp
Soy sauce 2 tbsp
For coating:
All purpose flour 1 cup
Breadcrumbs 1 cup
Black pepper 1 tsp
Garlic powder ½ tsp
Baking soda ½ tsp
Salt ½ tsp
For chicken marination:
Mustard paste 1 tsp
Black pepper 1tsp
White pepper 1tsp
Soy sauce 1tsp
Chili sauce 1tsp
Salt to taste
Method:
In a bowl add water, salt, soy sauce and mix well. Then add chicken and let it soak for 30 minutes. Mix flour, breadcrumbs, baking soda, salt, black pepper and garlic powder. Then whisk eggs separately. Then take out chicken from brine and marinate it with marinating ingredients for 30 minutes. Then coat chicken in dry ingredients first then in egg then again in dry ingredients and deep fry it and serve.

Club Sandwich Recipe in Urdu and English
At Masala TV you can check complete Club Sandwich Recipe in Urdu and English. This is one of the best recipes by chef Abida Baloch at Masala TV show Dawat. Check out the other best recipes of chefs Abida Baloch.
Top relevant recipes of Club Sandwich Recipe in Urdu