Daal Dhokli Recipe | Lazzat | Samina Jalil | Desi Food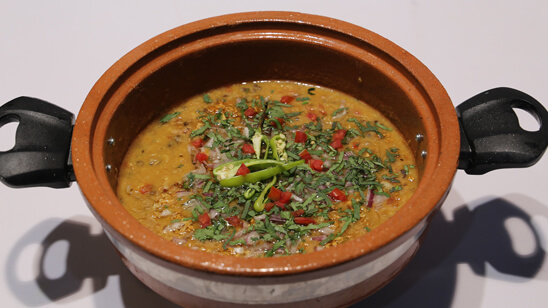 Jan 19, 2021 at 07:50 PM (GMT -05:00)

Check out the Daal Dhokli Recipe in Urdu. Learn how to make best Daal Dhokli Recipe , cooking at its finest by chef Samina Jalil at Masala TV show Lazzat. Check all the Pakistan Cooking recipes in Urdu of Masala TV. Also Check Daal Dhokli Recipe , ingredients and complete Method.
Daal Dhokli is an irresistible tasting dish that will be loved by all at the dinner table. Try making this at home and taste what having a good daal feels like.
Watch this Masala TV video to learn how to make Daal Dhokli , Bihari Mirch Fry and Tawa Qeema Kaleji Masala Recipes. This show of Lazzat with Chef Samina Jalil aired on 17 September 2020.
Ingredients:
Boiled pigeon lentil 1 cup
Boiled red gram 1 cup
Boiled green gram 1 cup
Peanut 2 tbsp
Chopped tomato 2
Oil 4 tbsp
Salt as taste
Red chili powder 1 ½ tsp
Jaggery 1 tbsp
Turmeric ¼ tsp
For Garnish:
Chopped onion 2 tbsp
Chopped coriander, ginger as required
Lemon juice 2 tbsp
For Dough:
Flour ½ cup
Gram flour ½ cup
Salt, black pepper, turmeric as taste
Asafoetida 2 pinches
Carom seeds ½ tsp
Oil 1 tbsp
Fenugreek 2 pinches
For Tempering:
Oil ½ cup
Fenugreek ½ tsp
Cumin ½ tsp
Crushed ginger garlic 1 tbsp
Method:
In a pan add boiled lentils; also add salt, red chili powder, turmeric, jiggery, tomato, peanut, ginger garlic paste and 2 cups of water. Cook well until combine. Now for the dough, mix all the ingredients and knead a hard dough. Make balls out of it and spread evenly. Then cut them and cook on a hot oil. For tempering, heat oil add fenugreek, crushed ginger garlic and cumin. Cook well for about 10 minutes. Now add in the dish. In the end garnish with chopped onion, chopped coriander, ginger and lemon juice. Serve hot.
Ingredients:
For filling ingredients:
Boiled potatoes ½ cup
Citric powder 1tsp
Salt as required
Coating ingredients:
Gram flour ½ cup
Rice flour 1tbsp
Salt, chilies, turmeric as required
Soda 1 pinch
Oil for frying
Garnishing ingredients:
Chopped onion 3 tbsp
Chopped tomatoes 1 tbsp
Chopped green coriander as required
Red chili powder 2 pinch
Lemon 1
Method:
Large green chilies cut and remove the seeds .now for filling all ingredients mix and then fill in the chilies .for coating all ingredients mix and make batter then dip chili and fry in heated oil till than golden .then remove then cut and garnish with the ingredients .finally add red chili powder and serve .
Ingredients:
Beef minced ½ kg
Chicken liver 250 gm
Onion finely chopped 2
Ginger garlic finely chopped 1-1/2 tbsp
Crushed red chilies 1 tbsp
Ginger garlic ground 1 tbsp
Boiled and chopped tomatoes 4-5
Butter 2 tbsp
Green coriander finely chopped ½ cup
Green chilies finely chopped ½ cup
Tikka masala 2 tbsp
Onion cubes 1
Chopped green chilies 3-4
Clarified butter ¾ cup
Finely chopped ginger as required
Chaat masala as required
Salt as required
Method:
Place onion, tomato, ginger garlic and water on tawa cook till tender. Add mince, salt, crushed red chilies, tikka masala and ½ cup of water cook more. In a separate pan add butter and sauté liver. Also add green chilies along with salt. Fry mince well. Add green chilies, chaat masala, onion cubes and green chilies left for simmer. Add remaining green coriander and chopped ginger, serve.

Daal Dhokli Recipe in Urdu and English
At Masala TV you can check complete Daal Dhokli Recipe in Urdu and English. This is one of the best recipes by chef Samina Jalil at Masala TV show Lazzat. Check out the other best recipes of chefs Samina Jalil.
Top relevant recipes of Daal Dhokli Recipe in Urdu