Degi Palak Gosht Recipe | Lazzat | Samina Jalil | Desi Food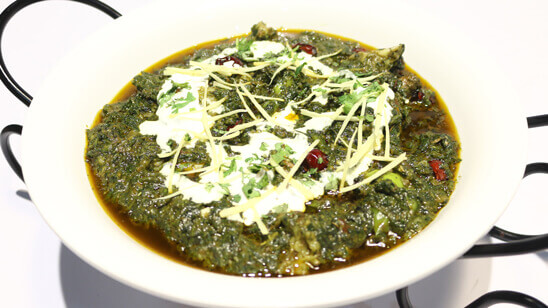 Sep 17, 2021 at 05:31 AM (GMT -04:00)

Check out the Degi Palak Gosht Recipe in Urdu. Learn how to make best Degi Palak Gosht Recipe , cooking at its finest by chef Samina Jalil at Masala TV show Lazzat. Check all the Pakistan Cooking recipes in Urdu of Masala TV. Also Check Degi Palak Gosht Recipe , ingredients and complete Method.
Degi Palak Gosht makes an amazing dish that works well with rice as well as chapati. Try this for dinner tonight!
Watch this Masala TV video to learn how to make Degi Palak Gosht and Special Chapli Kabab Recipes. This show of Lazzat with Chef Samina Jalil aired on 7 August 2020.
Ingredients:
Mutton ½ kg
Spinach 1-1/2 kg
Onion 1
Green coriander ½ bunch
White cumin 1 tsp
Red chili powder 1 tsp
Turmeric ¼ tsp
Salt to taste
Whole red chilies 8-10
Milk 1 cup
Clarified butter ¾ cup
All spice powder 1 tsp
Ginger garlic paste 1 tbsp
Green chilies 1 tbsp
Ginger 1 tbsp
Chopped coriander 1-1/2 tsp
Cumin powder 1 tsp
Fenugreek 1 tsp
Tomatoes 2
Method:
Wash spinach add green coriander and green chilies boil for 15 to 20 minute. Keep in sieve. When water removes blend thick form. Add 4 tbsp of clarified butter add spinach cook well. Add milk coo till milk is dissolved. Heat clarified butter add onion fry well. Add meat, ginger garlic paste, salt, chili, turmeric, white pepper, white cumin, chopped tomato and yogurt cook well. Add water cook till meat is tender. Add spinach and whole red chilies cook. Add cumin, all spice powder, cream, crushed coriander leave for simmer. After 15 minute remove and serve.
Ingredients:
Beef mince 750grams
Ginger garlic paste ½ tsp
Salt ½ tsp
Chopped red chili 1-1/2 tbsp
Crushed red chili 1 tsp
Chopped coriander 2 tbsp
Chopped white cumin 1 tbsp
Carom seed 1-1/2 tbsp
Pomegranate seed 2 tbsp
Finely cut onions 2
Chopped mint 1/2 bunch
Chopped green chili 7-8
Finely cut tomatoes 2
Eggs 3
Cornflower ¾ cup
Oil for frying
Boiled bones pulp ½ cup
Sliced tomatoes as needed
Method :
Marinate the beef with salt and garlic ginger paste for 30mins. Half fry an egg then put 2 eggs cornflower and bones pulp and mix them thoroughly then add tomatoes and cook them on a medium flame. Garnish it with chopped Tomato and serve it with yogurt and naan.
More than half of the women in Pakistan are reported to be anemic, why is that the case? It is probably because women get so busy taking care of others they forget about their own nutrient needs, their own diet and their own health. While nobody can stop a woman from living the busy life she has built for herself we for sure can encourage them to add some important food as their daily intake to increase growth of red blood cells and make them stronger.
One such vegetable which is considered extremely important for becoming strong is Spinach or Palak. It not only reduces oxidative stress levels, it also reduces your blood pressure levels and is a great source of vitamins live A B and K. You can always eat it raw in the form of salad or variety of dishes could be made out of Palak, so you always have the option of cooked or raw version.
For some great cooked versions, you can try Palak chicken recipe, it is great, both chicken and palak are some healthy options and it is actually very easy to cook. Any Palak chicken recipe requires some basic ingredients like chicken, spinach and your preferred spices. That's all you need to make a perfect Murgh Palak. Some steps for easy yet delicious murgh palak could be mastered by following any basic palak chicken recipe in Urdu or English. These basic steps for chicken and spinach curry are like, heating oil in a pan, adding tomatoes, garlic and other spices to it, then add chicken to it, then add all preferred spices to it like cinnamon, red chili, ginger etc., all this will give a great taste to your palak chicken curry. After this add two bunches of palak, and then let it cook. Cooking a good Chicken and spinach curry takes very less time, but it is always great for your health and body. So start incorporating Palak Chicken Recipe Pakistani as your everyday dish, eat it at least once a week to make sure your body gets the nutrients it wants. Best part is even if you are trying to stay fit, it is a great option.
All this process of cooking chicken spinach curry hardly takes 30 minutes, so what are you waiting for, follow that perfect palak chicken recipe in Urdu, and make your delicious palak chicken curry today!

Degi Palak Gosht Recipe in Urdu and English
At Masala TV you can check complete Degi Palak Gosht Recipe in Urdu and English. This is one of the best recipes by chef Samina Jalil at Masala TV show Lazzat. Check out the other best recipes of chefs Samina Jalil.
Top relevant recipes of Degi Palak Gosht Recipe in Urdu