Dry Fruit Barfi Recipe | Masala Mornings | Shireen Anwar | Dessert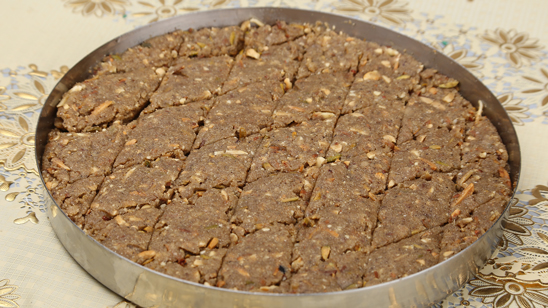 Sep 25, 2023 at 04:06 PM (GMT -04:00)

Check out the Dry Fruit Barfi Recipe in Urdu. Learn how to make best Dry Fruit Barfi Recipe , cooking at its finest by chef Shireen Anwar at Masala TV show Masala Mornings. Check all the Pakistan Cooking recipes in Urdu of Masala TV. Also Check Dry Fruit Barfi Recipe , ingredients and complete Method.
Apart from Halwas and Ladoos, one of the most famous sweet is Dry Fruit Barfi. This is a soft and quick recipe for sweet lovers.
Watch this Masala TV video to learn how to make Dry Fruit Barfi , Mutton Seekh Paratha And Chicken Makhan Malai Recipes. This show of Masala Mornings with Shireen Anwar aired on 26 February 2021.
Ingredients:
Clarified butter 3 cups
Edible gum 100 gm
Lotus seeds 100 gm
Almonds (sliced) 50 gm
Pistachios (sliced) 50gm
Cashew nuts (chopped) 50 gm
Melon seeds 100 gm
Dried grated coconut 100 gm
Wheat flour 120 gm
Water caltrop flour 400 gm
Jaggery (chopped) 400 gm
Water ½ cup
Cardamom powder 1 ½ tsp
METHOD:
Heat ½ cup ghee in a wok and fry edible gum in 2-3 batches until golden and puffed, remove in a platter, then add ¼ cup clarified butter and fry lotus seeds until light golden and crisp, grind edible gum and lotus seeds before it cools down, keep it in a plate, add another ¼ cup ghee, fry almonds, pistachios and remove, add another ¼ cup clarified butter and add melon seeds, fry and remove, add some more ghee and fry coconut for 2 mins, remove, then fry cashew nuts and pistachios, melon seeds, mix all well and remove in a platter, then add some more ghee and fry both the flours for 10 mins till nice smell comes, remove that too in a same platter, mix well, add cardamom powder. Now put the remaining ghee in a wok, fry the chopped Jaggery, stir until melted, when jaggery melts nicely and bubbles comes, add ½ cup water cook stirring on high flame for 1 min, off the flame and pour this jaggery mixture, mix everything well with the help of 2 spoons, set in a thal pressing well, bring to room temperature, cut into cubes, you should eat this warm.
Ingredients:
Mutton mince 500 gm
Meat tenderizer ½ tsp
Ginger garlic paste 2 tbsp
Green chilies (finely chopped) 4
Bread slices 4
Roasted gram flour 3 tbsp
Egg 1
Chopped coriander 2tbsp
Chopped mint 1 tbsp
Lemon juice 2 tbsp
Red chili powder 1 tsp
Turmeric ¼ tsp
Coriander powder 2 tsp
Cumin powder ½ tsp
Allspice 1 tsp
Seekh kebab masala 2tbsp
Onion (chopped) 1
Salt to taste
Coal 1 piece
Oil as required
Ingredients For Paratha:
Flour 2 cups
Wheat flour 1 cup
Salt ½ tsp
Sugar 1 tbsp
Water to knead
Oil 2 tbsp
Method Mutton Seekh Paratha:
Mix all above together and grind well to a smooth mixture, give dum of coal, leave it for 1 hour, make seekh kabab with the help of greased hand on a skewer, fry with a little oil, keep aside.
Method For Paratha:
Knead with water, leave it for 2 hours, make into parathas, shallow fry till golden and crisp. Any chutney to be used.
Ingredients:
Chicken 1 kg (12 pieces)
Yogurt 1 cup
Lemon juice 2 tbsp
Ginger garlic paste 2 tbsp heaped
Green chilies (grinded) 10
Cream 200 gm
Salt 1 ½ tsp
Cashew nuts (grinded) 3 tbsp
Melon seeds (grinded) 2 tbsp
Black pepper whole (grinded) 1 tbsp
Dried fenugreek leaves 1 tbsp
Oil ¼ cup
Butter 2 ounce
Whole spices mixed 1 tbsp
Coriander leaves (chopped) 2 tbsp
METHOD:
Wash chicken and give cuts on pieces, marinate with yogurt, lemon juice, ginger garlic paste, green chili paste, cream, salt, grinded cashew nut, grinded melon seeds, grinded whole black pepper, dried fenugreek leaves, leave it to marinate for 30 mins. Heat butter and oil in a wok, add whole spices, and add the marinated chicken along with the marinade, cook well till chicken is cooked and gravy is thick, lastly add some chopped coriander, serve with frozen parathas.

Dry Fruit Barfi Recipe in Urdu and English
At Masala TV you can check complete Dry Fruit Barfi Recipe in Urdu and English. This is one of the best recipes by chef Shireen Anwar at Masala TV show Masala Mornings. Check out the other best recipes of chefs Shireen Anwar.
Top relevant recipes of Dry Fruit Barfi Recipe in Urdu