Dum ka Qeema Recipe | Dawat | Abida Baloch | Desi Food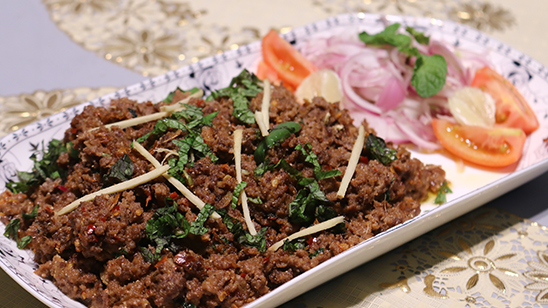 Dec 02, 2022 at 08:56 PM (GMT -05:00)

Check out the Dum ka Qeema Recipe in Urdu. Learn how to make best Dum ka Qeema Recipe , cooking at its finest by chef Abida Baloch at Masala TV show Dawat. Check all the Pakistan Cooking recipes in Urdu of Masala TV. Also Check Dum ka Qeema Recipe , ingredients and complete Method.
If you are a fan of Dum ka Qeema but you find it difficult to achieve the right taste and texture, this recipe will be a lifesaver for you.
Watch this Masala TV video to learn how to make Dum ka Qeema , Strawberry Pie and Podinay Ka Raita Recipes. This show of Dawat with Chef Abida Baloch aired on 8 March 2021.
Ingredients:
Beef mince 500 gm
Onions fried 2
Gram flour 3 tbsp
Coriander powder 1 tbsp
Cumin seeds 1 tbsp
Whole peppers 6-8
Cloves 3-4
Black cardamom 2
Green cardamoms 3
Poppy seeds 2 tbsp
Chilli flakes 1 ½ tbsp
Red chilli powder ½ tbsp
Salt 1 ½ tsp
Yogurt 1 cup
Lemon juice 3 tbsp
Garlic paste 1 tbsp
Ginger paste 1 tbsp
Papaya paste 2 tbsp
Coal 1 piece
Oil 1/2 cup
For garnishing:
Green chilies 4-6
Lemon as required
Mint as required
Ginger (julienned) 3 inch
Method:
Dry roast the gram flour, add the cumin seeds, cloves, black pepper, black cardamom, green cardamom to the mix and toast for another minute or two, Add poppy seeds and grind these spices. Mix the ground spices and the remaining marinade ingredients mix into the meat, Marinate overnight. Add oil to a pan and cook the meat mixture, cook on medium high heat for 10-15 minutes, Then cook covered for another 20 minutes on low heat,. Add ginger, the slit green chilies, and a tsp of garam masala, cook for another few minutes. Heat a piece of coal and give a good smoke to qeema. Serve with paratha, sliced onions, mint leaves, lemon wedges, and ginger.
Ingredients:
For Crust:
Flour 1-1/4 cup
Salt 1/2 tsp
Granulated sugar 1 tbsp
Salted butter(chilled) 1/2 cup
Iced water ¼ cup
Strawberries pie filling 3 cups
Whipped cream to serve
Rice as required
Method:
For the crust:
Put dry crust ingredients in a food processor pulse to combine. Add butter and ¼ cup ice cold water and pulse until the dough just holds together. Do not process more than 30 seconds. Turn the dough onto your work surface and gather into a ball, flattening into a disk over pie pan Use the fork to praise the bottom of the crust then line the crust with butter paper and filled with rice. cover with plastic wrap, and refrigerate for at least one hour, and up to one day, before using. Bake in your preheated oven for about 35 – 45 minutes or until the crust is a deep golden brown. Place the baked pie on a wire rack to cool for at least 3 hours. Serve with strawberries pie filling and cream
Ingredients:
Boiled potatoes ½ cup
Yogurt 1 cup
Black pepper ½ tsp
Salt ½ tsp
Mint leaves 2 tbsp
Green chili 1
Crushed garlic 1 tbsp
Method:
In a bowl whisk yogurt, add boiled potatoes, salt, black pepper, mint leaves, green chili and crushed garlic. Mix well and serve.

Dum ka Qeema Recipe in Urdu and English
At Masala TV you can check complete Dum ka Qeema Recipe in Urdu and English. This is one of the best recipes by chef Abida Baloch at Masala TV show Dawat. Check out the other best recipes of chefs Abida Baloch.
Top relevant recipes of Dum ka Qeema Recipe in Urdu