Easy Dragon Chicken Recipe | Lively Weekends | Masala TV Show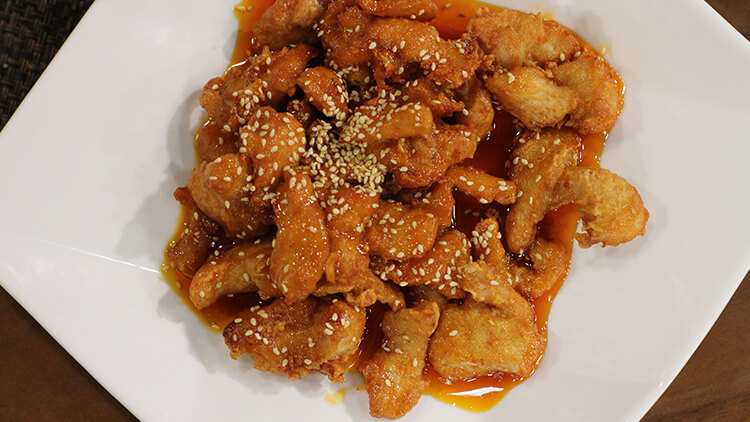 Jul 04, 2022 at 02:00 AM (GMT -04:00)

Check out the Easy Dragon Chicken Recipe in Urdu. Learn how to make best Easy Dragon Chicken Recipe , cooking at its finest by chef at Masala TV show Lively Weekends. Check all the Pakistan Cooking recipes in Urdu of Masala TV. Also Check Easy Dragon Chicken Recipe , ingredients and complete Method.
Can't think of anything to make with chicken this weekend? Then try this chicken dragon recipe that can be served with Chinese rice or plain rice.
Watch this Masala TV video to learn how to make Easy Dragon Chicken,Black Pepper Steak Burger ,Cheese Cake Bites and Mexican Street Corn Salad Recipes. This show of Lively Weekend with Host Kiran Khan aired on 3 November 2019.
Ingredients:
Chili oil 3/4 cup
Garlic (chopped) 2 tbsp
Honey 4 tbsp
Red chili powder 1 tsp
Sugar 1 tsp
Food color a pinch
Vinegar 2 tbsp
Salt to taste
Chili garlic sauce 3/4 cup
Sesame seeds 1 tbsp
Ingredients for Marination:
Chicken breast (Julienned) 250 grams
Salt to taste
Chicken powder 1 tsp
White pepper 1/2 tsp
Egg 1
Corn flour 2 tbsp
Flour 2 tbsp
Method:
Marinate the chicken with marination ingredients. Deep fry and keep aside.
In a pan, heat chili oil. Fry garlic till golden brown. Add rest of the ingredients. Sauté for 2-3 min and add fried chicken.
Mix well so that chicken is coated with sauce. Sprinkle sesame seeds and serve.
Ingredients:
Biscuits as required
Butter as required
Pineapple chunks as required
Cream 3 packets
Chocolate bars 3
Chocolate spread 1 tbsp
Chocolate 1 tbsp
Cream cheese 1-1/2 cup
Cream 1-2 packets
Powdered sugar 4-5 tbsp
Vanilla essence few drops
Chocolate for garnish
Gelatin 2 tsp
Method:
In a grinder grind biscuits and take it out in a bowl , add butter and mix it.
Take a dish spread this mixture in it and keep it in freezer for 1 Hour. Then put pineapple chunks.
Chocolate cream:
Put a pan on stove add cream when it get slightly hot add chocolate bars and let it melt stir it with spoon. When chocolate dissolves completely add chocolate spread and drinking chocolate and cook for 3-4 few more min. Let it cool and pour this mixture on biscuits and put it in freezer.
Take another bowl put cream cheese, whipping cream, powdered sugar, vanilla essence and beat it. (Also add gelatin so it can be set) beat it. Pour this mixture on chocolate cream, and keep it in freezer. Garnish it with grated chocolate.
Note:
Add 2 tsp gelatin in 3 tbsp hot water.
Black Pepper Steak Burger:
Ingredients for Marinate:
Beef or chicken steak 6
Black pepper crushed 1-1/2 tbsp
Mustard paste 1/2 tsp
Lemon juice 1/2 large lemon
Chili garlic sauce 2 tbsp
Hot sauce 2 tbsp
Ginger garlic paste 1 tbsp
Salt to taste
Oyster sauce 1 tbsp
Worcestershire sauce 1 tbsp
Ingredients for Black Pepper Sauce:
Black pepper ½ tsp
Oil as required
Salt ½ tsp
Corn flour 2 tbsp
Onion chopped 1
Garlic chopped 1 tbsp
Butter 1 tbsp
Cream 1 packet
Beef or chicken stock ½ cups
Mustard paste 1/2 tsp
Thyme a pinch
Rosemary a pinch
Oyster sauce 1 tsp
Worcestershire sauce 1 tsp
To Assemble:
Bun as required
Cheese sliced 2-3
Jalapenos 2-3
French fries to serve
Serve hot with French fries.
Mexican Street Corn Salad:
Ingredients:
Corn 1 can
Coriander chopped 1/2 cup
Feta cheese crumbled 1/2 cup
Lemon juice 1/2 lemon
Yogurt 1/4 cup
Mayonnaise 3 tbsp
Salt a pinch
Ground black pepper to taste
Cayenne pepper 1/4 tsp
Capsicum red 1 (diced)
Capsicum green 1 (diced)
Cabbage half
Black Pepper Steak Burger:
Method:
Marinate the steak pieces with all the ingredients and keep it over night.
Take a grill pan and grill the pieces till it get tender.
Burger Making Method:
In a pan pour oil and butter, add chopped onion and garlic and sauté for 5-10 min until onion get soft and becomes pinkish. Add chicken / beef stock, cream, mustard paste, black pepper, oyster sauce, – sauce, thyme, rosemary and salt and cook for 10 min at least. Adjust spices according to taste.
Add corn flour to make it thick cook for 2-3 min. Switch off the stove.
Assembling:
Take a bun, spread some black pepper sauce, place steak piece, little caramelized onion, jalapenos, and pour some black pepper sauce again. Put cheese.
Mexican Street Corn Salad Method:
In a large bowl, add corn, coriander, feta cheese, lemon juice, mayonnaise, salt, cayenne pepper and black pepper. Pour some whipped yogurt.
Stir gently and serve warm or cold.

Easy Dragon Chicken Recipe in Urdu and English
At Masala TV you can check complete Easy Dragon Chicken Recipe in Urdu and English. This is one of the best recipes by chef at Masala TV show Lively Weekends. Check out the other best recipes of chefs .
Top relevant recipes of Easy Dragon Chicken Recipe in Urdu