Egg Qorma Recipe | Masala Mornings | Shireen Anwar | Desi Food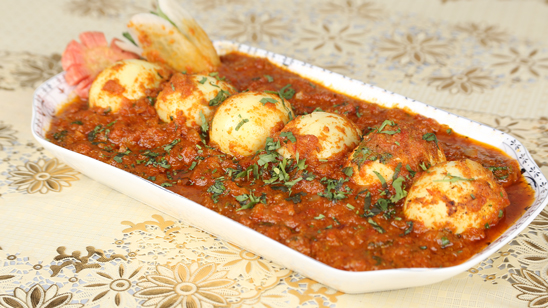 Dec 02, 2022 at 10:33 PM (GMT -05:00)

Check out the Egg Qorma Recipe in Urdu. Learn how to make best Egg Qorma Recipe , cooking at its finest by chef Shireen Anwar at Masala TV show Masala Mornings. Check all the Pakistan Cooking recipes in Urdu of Masala TV. Also Check Egg Qorma Recipe , ingredients and complete Method.
Egg Qorma is ultimate desi dish that pairs wonderfully with a hot and crispy naan. What are you waiting for? Give it a try today!
Watch this Masala TV video to learn how to make Egg Qorma , Stewed Apricot Delight and Spicy Masala Prawns Recipes. This show of Masala Mornings with Shireen Anwar aired on 12 February 2021.
Ingredients:
Boiled eggs 6
Onions finely chopped (320 gm) 4 medium
Ginger garlic paste 1 tbsp heap
Chopped green chilies or paste ½ tbsp
Coconut paste 2 tbsp
Coriander powder 2 tbsp
Cumin powder ½ tbsp
Red chili powder ½ tbsp
Turmeric powder 1 tsp
Salt to taste
All spice powder ½ tsp
Chopped coriander as required
METHOD:
Lightly prick the boiled eggs with a fork and fry them in little oil till they get a golden coating. Remove and keep aside. In the same pan add onion and fry till golden, add ginger garlic paste and chilies. Fry for a minute, add coconut paste, all the powdered spices and tomatoes. Mix well. Cover and cook on slow flame for 1 minute, add ¼ cup water. Mix well. Again cover and cook on slow flame till the tomatoes are tender and the raw smell of the masalas disappear. Once done add all spice powder. Mix well. Add the eggs, cover and cook on slow flame for 5 minutes, add ¼ cup water or as required. Mix well cook for 2 minutes, sprinkle some chopped coriander. Serve hot.
Ingredients:
Apricots 250 gm
Water ½ liter
Sugar ¼ cup
Vanilla ice cream or Rabri to serve
METHOD:
Take 250 gm dry apricots wash and soak in half liter water overnight. Next day separate the apricots with its seed and keep aside. Break the seeds remove the almonds and keep aside. Save the water in which we soaked the apricots. Heat a pan. Add ¼ cup sugar or according to taste add the apricots and cook till sugar melts. Then add the water in which we soaked apricots. After a boil, lower the flame, cover and cook for 20 minutes, take ¼ quantity of the apricots and grind it to a fine paste, add this paste back to the pan where we are cooking the whole apricots, cover and cook it on slow flame for 10 minutes. Now the apricots are nice and thick. We have a combination of some whole apricots and some puree, add all the almonds to it, mix well and switch off the flame. Allow it to come on room temperature. Then refrigerate it till it's nice and chilled. Serve chilled with rabri or vanilla ice cream or as it.
Ingredients:
Jumbo prawns 1 packet
Oil ¼ cup
Clarified butter 2 tbsp
Black cumin seeds 1 tsp
Garlic chopped 10 to 12 cloves
Onions chopped 2 medium
Tomato sauce 2 tbsp
Vinegar 1 tsp
Cumin powder 2 tsp
Coriander powder 2 tsp
Kashmiri red chili paste 4 tbsp
Chopped coriander 4 tbsp
Salt to taste
METHOD:
Heat oil and Clarified butter. Add Black cumin seeds and sauté for a minute. Add garlic and onion and cook till onion turns light golden, add red chili paste, coriander powder, cumin powder and little water, sauté till oil separates. Add prawns and salt and mix well. Cover & Cook for 5 to 6 minutes and add little water if needed, add tomato sauce, vinegar and coriander mix well, cook for a minute and serve hot with roti or paratha.

Egg Qorma Recipe in Urdu and English
At Masala TV you can check complete Egg Qorma Recipe in Urdu and English. This is one of the best recipes by chef Shireen Anwar at Masala TV show Masala Mornings. Check out the other best recipes of chefs Shireen Anwar.
Top relevant recipes of Egg Qorma Recipe in Urdu