Eggs in Toast Recipe | Food Diaries | Zarnak Sidhwa | Breakfast Item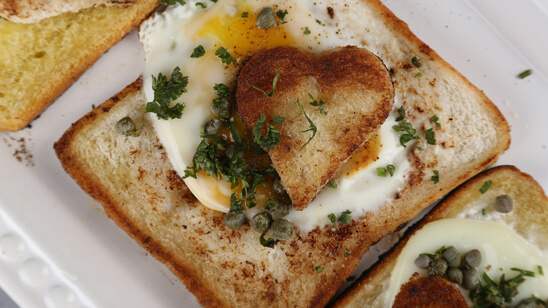 May 31, 2023 at 12:42 PM (GMT -04:00)

Check out the Eggs in Toast Recipe in Urdu. Learn how to make best Eggs in Toast Recipe , cooking at its finest by chef Zarnak Sidhwa at Masala TV show Food Diaries. Check all the Pakistan Cooking recipes in Urdu of Masala TV. Also Check Eggs in Toast Recipe , ingredients and complete Method.
Eggs in Toast is the perfect breakfast. Have your eggs and toast the fancy way to break the monotony.
Watch this Masala TV video to learn how to make Eggs in Toast and Tiny chocolate cakes Recipes. This show of Food Diaries with Chef Zarnak Sidhwa aired on 16 February 2021.
Ingredients:
Mayonnaise 4 tsp.
Bread 2 slices
Butter 1 tbsp
Eggs 2
Salt to taste
Pepper to taste
Capers Few
Chopped fresh herbs as required
Method:
Spread mayonnaise on both sides of 2 slices white sandwich bread. With a heart-shaped cookie cutter, cut centers from bread. In a pan melt butter. Add bread (and centers) to pan. Cook 5 minutes or until golden brown. Turn bread over. To each heart-shaped hole, add 1 egg; sprinkle eggs with pinch of salt and pepper. Reduce heat. Cook 5 to 7 minutes or until whites are set. Sprinkle with capers and herbs.
Ingredients:
For the cake:
Chocolate, chopped 1 oz
Coffee 1/2 cup
Flour 3/4 cup
Cocoa powder 1/2 cup
Sugar 1 cup
Baking powder 1/4 tsp
Baking soda 3/4 tsp
Salt 1/4 tsp
Egg 1
Oil 1/4 cup
Buttermilk 1/2 cup
Vanilla 1/2 tsp
Frosting:
Egg white 1
Sugar 1/4 cup
Light corn syrup 1/8 cup
Water 1 tbsp
Vanilla essence 1 tsp
Salt a pinch
Chocolate ganache:
Cream 1/2 cup
Unsalted butter 1 tsp
Chocolate, chopped 6 oz
Method
Cake:
Mix the sugar, flour, cocoa powder, baking powder, baking soda and salt. Beat eggs then add oil, buttermilk, vanilla and chopped melted chocolate and coffee. Add dry mixture into wet mixture and beat until evenly combined but don't over-mix it. Spread batter in a greased and lined pan and bake at 180 degrees c for 30-35 minutes or until a toothpick inserted in the center comes out almost clean. Cool cake in the pans 5-10mins and transfer it on the wire racks to cool completely. Using heart shaped cookie-cutter, carefully cut hearts of the cake. Place hearts upside on a large baking sheet lined with parchment paper. Using a cupcake corer (or a sharp knife) carefully cut out a core of cake from each heart.
For the frosting:
combine all ingredients in a metal bowl set over a saucepan of simmering water and beat with an electric mixer at high speed until frosting is thick and fluffy (6 to 7 minutes). Remove bowl from heat and continue beating until slightly cooled.
To make the ganache, melt chocolate with cream until smooth.
To assemble the hearts: carefully pipe a small amount of frosting in each heart. Spoon a small amount of ganache on to each heart and spread into a thin layer on the top of the cake. Place cakes into refrigerator for 20 minutes to firm the ganache so you can turn the hearts and cover the other side with the ganache. Pour the ganache over each heart to cover it evenly and drip to cover the sides over all edges. Return cakes to the refrigerator until the ganache is completely hardened. Transfer a little frosting in a small piping bag and pipe "love" on each cooled heart.

Eggs in Toast Recipe in Urdu and English
At Masala TV you can check complete Eggs in Toast Recipe in Urdu and English. This is one of the best recipes by chef Zarnak Sidhwa at Masala TV show Food Diaries. Check out the other best recipes of chefs Zarnak Sidhwa.
Top relevant recipes of Eggs in Toast Recipe in Urdu