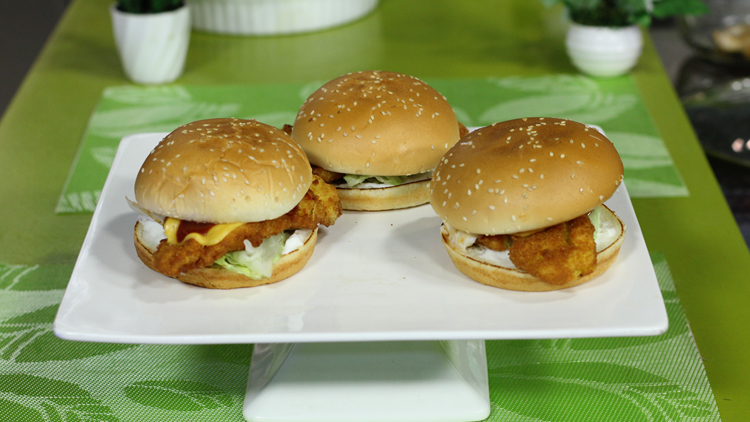 Ingredients
Boneless fish                                     ½ kg
Flour                                                      1 cup
Egg                                                         1
White Pepper                                    ½ tsp
Salt                                                         ½ tsp
Oil                                                           for frying
Mustard paste                                  1 tsp
Bread crumbs                                    1 cup
Garlic powder                                    1 tsp
Cheese (sliced)                                 3
Burger bun                                         3
Iceberg (shredded)                         1 cup
Mayonnaise                                       5 tbsp
Ketchup                                               6 tbsp
Potato chips                                       2 cup
Methods
In fish add salt, mustard paste, garlic powder and white pepper mix and leave to marinate for half an hour.
Then fillet fish coat in flour now coat with egg and bread crumb then fry deep in oil .
Then cheese slices keep on top and fry potatoes chips fry and set aside .
Now on top of bread toast spread the mayonnaise
Then ice berg and 1 tbsp of ketchup spread
Then keep fish patty and 1 tbsp of ketchup spread .
Finally serve with fries.