Fish Soup Recipe | Food Diaries | Zarnak Sidhwa | Appetizer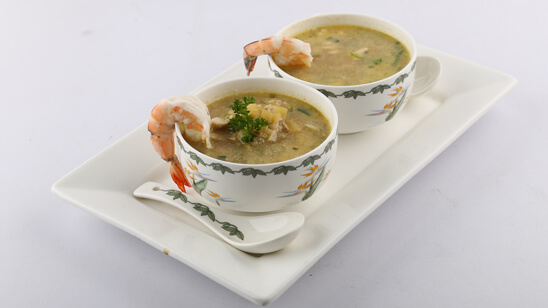 Jan 24, 2021 at 10:17 PM (GMT -05:00)

Check out the Fish Soup Recipe in Urdu. Learn how to make best Fish Soup Recipe , cooking at its finest by chef Zarnak Sidhwa at Masala TV show Food Diaries. Check all the Pakistan Cooking recipes in Urdu of Masala TV. Also Check Fish Soup Recipe , ingredients and complete Method.
Fish Soup will give you tatse, as well as comfort in these winter nights. It's a treat for your tounge and your stomach.
Watch this Masala TV video to learn how to make Fish Soup and Pineapple Sheera Recipes. This show of Food Diaries with Chef Zarnak Sidhwa aired on 30 November 2020.
Ingredients:
Unsalted butter 1 tbsp
Onion 1
Potatoes, cubed 2
Fish fillets 250gm
Milk 250ml
Sprigs parsley, chopped few
Spring onion chopped 1
Salt and pepper to taste
Method:
Melt the butter in a saucepan, add the onion and fry for few minutes until translucent but not browned. Add the potatoes and 2 cups water and bring to the boil. Reduce the heat slightly and simmer for 10-15 minutes. Meanwhile, put the fish and milk in another pan and cook for 5 minutes or until just tender. Remove the fish from the milk, reserving the milk. When cool enough to touch, flake into large pieces. Put the reserved milk and flaked fish in the pan with the potato mixture and cook for another 5 minutes. Add finely sliced spring onion and season with salt and pepper. Sprinkle the parsley before serving.
Ingredients:
Clarified butter 3/4 cup
Semolina 1 cup
Wheat flour 1/4 cup
Gram flour 2 tbsp
Pineapple, cubed 3-4
Sugar 1 cup
Water 3 cups
Saffron 1/4 tsp
Almonds sliced 1 tbsp
Pistachios sliced 1 tbsp
Method:
Heat clarified butter add in semolina, wheat flour and gram flour. Roast on low heat stirring frequently until golden and aromatic. In another pan cook pineapple, sugar and water. Add the pineapple to the pan, add all the ingredients. Make sure to lower the heat as the sheera will start to splatter. Add saffron, cover the pan with a lid. Turn off the heat and let it sit covered for 5 minutes. Garnish with almonds and pistachios. Enjoy warm.

Fish Soup Recipe in Urdu and English
At Masala TV you can check complete Fish Soup Recipe in Urdu and English. This is one of the best recipes by chef Zarnak Sidhwa at Masala TV show Food Diaries. Check out the other best recipes of chefs Zarnak Sidhwa.
Top relevant recipes of Fish Soup Recipe in Urdu