Fish Tikka Tacos Recipe | Food Diaries | Masala TV | Zarnak Sidhwa | Malaysian Food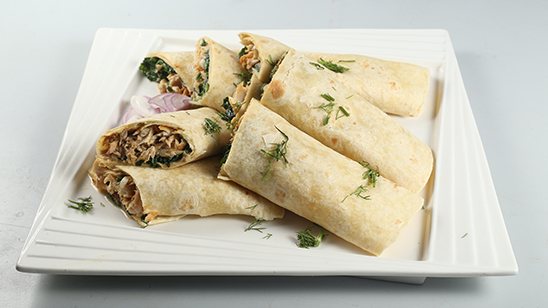 Oct 02, 2023 at 06:01 PM (GMT -04:00)

Check out the Fish Tikka Tacos Recipe in Urdu. Learn how to make best Fish Tikka Tacos Recipe , cooking at its finest by chef Zarnak Sidhwa at Masala TV show Food Diaries. Check all the Pakistan Cooking recipes in Urdu of Masala TV. Also Check Fish Tikka Tacos Recipe , ingredients and complete Method.
Fish Tikka Tacos are for all Taco lovers who don't want to ruin their diet but also crave for delicious tasting tacos. These are easy to prepare and you can have these without any guilt.
Watch this Masala TV video to learn how to make Fish Tikka Tacos, Lemon Raisin Cake and Apple Mint Smoothie Recipes. This show of Food Diaries with Chef Zarnak Sidhwa aired on 5 October 2021.
Ingredients:
Fish fillet ½ kg
Oil as required
For The Marinade:
Thick yoghurt 2/3 cup
Ginger (grated) 2"
Garlic (minced) 1clove
Green chilies 3
Tikka masala 3 tbsp
Salt 1/2 tsp
For The Yoghurt Sauce:
Yoghurt 1/2 cup
Fresh Dill 2 tbsp
Garlic (peeled) 1 clove
Salt to taste
To Serve:
Baby spinach leaves 1 cup
Onion (sliced) 1
Fresh dill few sprigs
Tortillas (quartered) as required
Lemon wedges as required
Method:
Blend the marinade ingredients until smooth. Marinate the fish and cover with cling wrap and place in the fridge for at least an hour. Blend the yoghurt sauce ingredients until the garlic is well incorporated. In a hot grill pan, drizzle oil, cook the fish until nice char marks on both sides. Once cooled, chop the fish up into bite-sized pieces. To serve, lay out the tortillas. Along the middle of each tortilla, place a few spinach leaves, then some fish. Top with yoghurt sauce, onions, dill, then lemon juice.
Ingredients:
Flour 1 1/2 cups
Baking powder 1 tbsp
Lemon zest 1 tbsp
Salt 1/2 tsp
Unsalted butter 1/2 cup
Caster sugar 1 cup
Eggs 2
Vanilla essence 1 tsp
Lemon juice 2 tbsp
Buttermilk 1/2 cup
Raisins ¼ cup
For The Lemon Syrup:
Lemon juice 1/4 cup
Icing sugar 3 tbsp
For The Lemon Glaze:
Icing sugar (sifted) 1 cup
Lemon juice 2 tbsp
Milk 2 -3 tbsp
Method:
Beat the butter and sugar till fluffy. Add eggs one by one. Add vanilla essence and lemon juice. In a bowl mix sifted flour, salt, baking powder and the lemon zest. Add this in, mix it in gently along with the buttermilk and raisins. Pour in a greased and lined baking dish and bake at 180 degrees C for around 30 minutes or till the cake is cooked through. Mix the lemon juice and sugar for the syrup and brush it over the cake. Let it cool completely. Mix all the icing ingredients, keep this thick not runny. Pour over the cooled cake. Refrigerate for some time and the icing will set.
Ingredients:
Apples 2
Honey 1-2 tbsp
Mint leaves ¼ cup
Cold water ½ cup
Husk 2 tbsp
Ice 1 cup
Method:
In a blender, add all the ingredients. Blend until well combined. Pour in the serving glasses. Serve chilled.

Fish Tikka Tacos Recipe in Urdu and English
At Masala TV you can check complete Fish Tikka Tacos Recipe in Urdu and English. This is one of the best recipes by chef Zarnak Sidhwa at Masala TV show Food Diaries. Check out the other best recipes of chefs Zarnak Sidhwa.
Top relevant recipes of Fish Tikka Tacos Recipe in Urdu